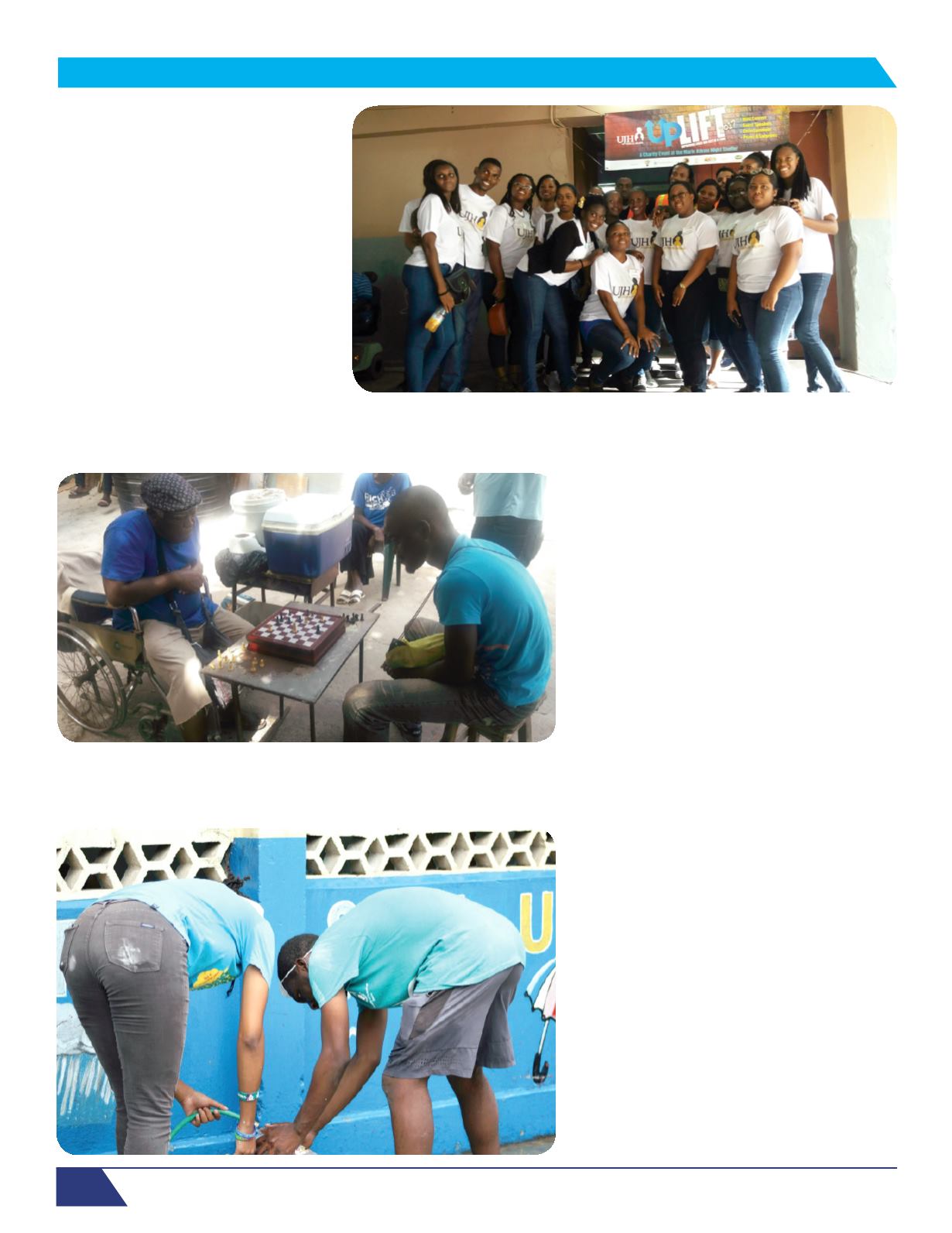 VOICES Bi-Monthly Magazine of the University of Technology, Jamaica |
June 2017
14
The shelter which houses on average of 250
persons was chosen for the event execution in
response to the high rate of homelessness in
Jamaica and to highlight the significant efforts of
the institution.
President, UTech, Ja Helpers Miss Danniell Brown,
4th Year Bachelor of Arts in Communication Arts and
Technology (BCAT) student, notes that "often times
we look at the homeless as outcasts of society but
it is important to remember people in their current
state of need and empathize with them. The night
shelter has done a great deal to assist people in
need, but does not get enough help or recognition."
The Team hosted a charity event dubbed, "UpLift"
with the tagline "Improving Lives One Act at a Time"
at the Marie Atkins Night Shelter on Tuesday, April
18, 2017 from 7:00 am to 3:00 pm.
Members of UTech, Jamaica Helpers pose for a photograph at the Marie Atkins Night Shelter during their
charity event.
A member the UTech, Jamaica Helpers group engages a resident of the shelter in a game of chess.
Cont'd from page 13
UTech Jamaica in the Community
T
he Department of Community Service and
Development on Labour Day led a special project to
restore and beautify the August Town Police Station
and Primary School, roads in the communities of Standpipe,
Sandy Park Basic School and the Jacks Hill Community
Centre. Members of staff and students participated in the
2017 Labour Day Project.
Beautification work in progress at August Town
Primary School on Labour Day, May 23, 2017.
Labour Day Project
The event included a mini concert, guest presenters, a
clothing drive and recreational activities with the residents.
Minister Kerrian Johnson of the Faith Worshipers Assembly
of God and KJ Outreach Deliverance Ministry was among
the presenters and performers.
Sponsors of the event included UTech, Jamaica, Five Star
WaterSports, Jojo Jerk Pit, Paperboy Jamaica, United
Church of God, comedian Dutty Berry and the Jamaica
foundation for Life Long Learning.