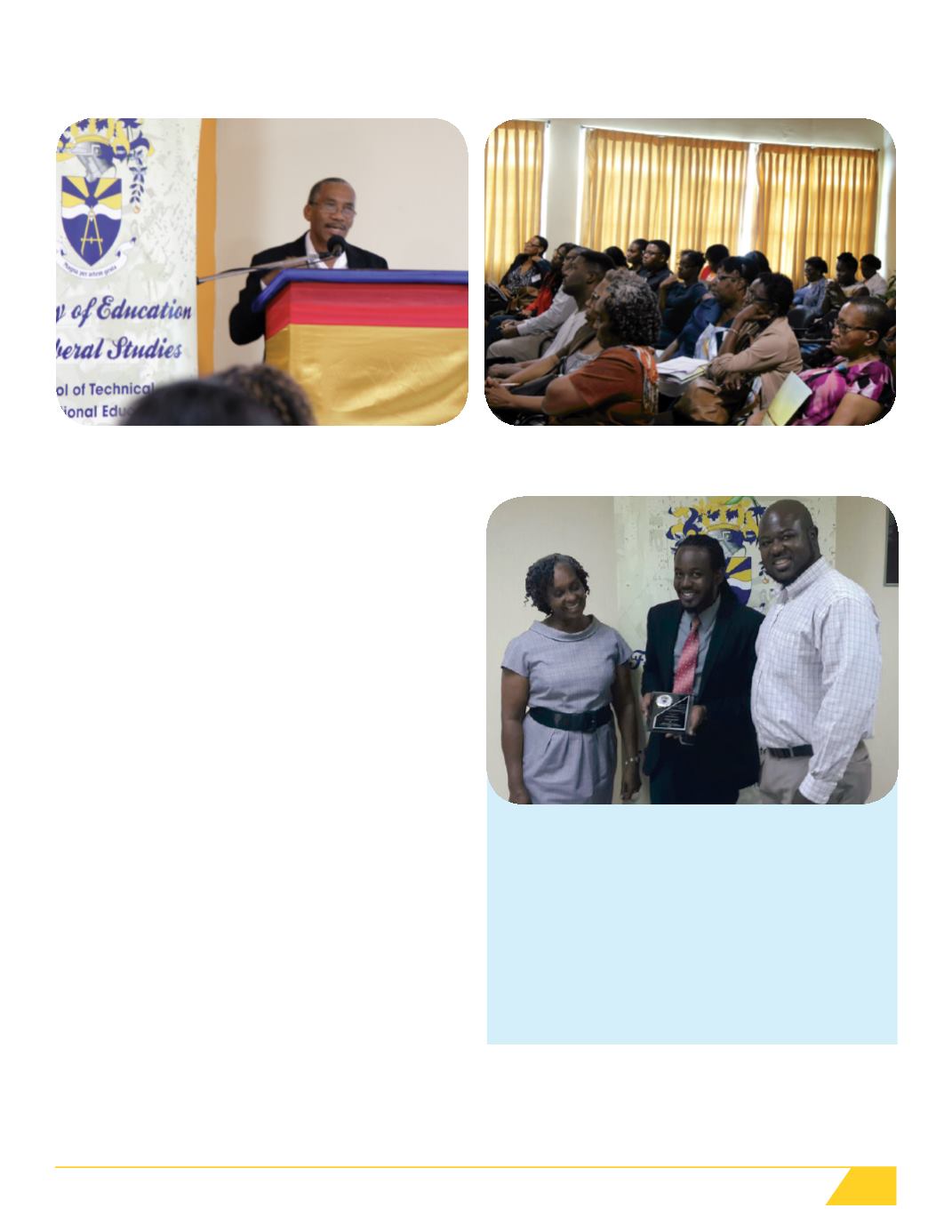 9
June 2017
| VOICES Bi-Monthly Magazine of the University of Technology, Jamaica
FELS Graduate Students' Conference 2017
T
he Faculty of Education and Liberal Studies (FELS) Graduate Studies
Unit hosted its 5
th
Graduate Students' Conference on May 25, 2017.
The conference was guided by the theme "Research, Innovation and
Knowledge Sharing: Imperatives for 21
st
Century Development". Professor
Halden Morris, Senior Lecturer, Faculty of Humanities and Education, UWI
(Mona) the keynote speaker unpacked this theme and provided a thought
provoking discussion and thinking about research and innovation in the 21
st
century.
Eleven (11) Graduate students presented papers on cutting edge research
in their field. Paper presentations covered research in problem based/
project based learning, Information Communication Technology, Queering
Educational Leadership, School Leadership and the Virtual Learning
classroom, Advancing the theory and Practice of Human Resource
Development, Students perception of career choices in TVET, Selection
criteria for appointing leaders in secondary schools, The DREEM model
to improve student achievement at UTech, Jamaica and Academic
Performance: Does the Teacher Matter?
In an effort to prepare Graduate students for the conference presentations
mentoring sessions were facilitated by members of faculty, FELS: Dr.
Cynthia Onyefulu, Dr. Leonie Clarke, Dr. Gareth Phillips, Dr. Hope Mayne,
Dr. Shermaine Barrett, Mrs. Anita Thomas-James and Miss Grace Hughes.
The mentoring process continued at the conference with Dr. Shermaine
Barrett cementing the process with a presentation titled "From Concept to
Publication". This provided graduate students with in-depth knowledge on
how to get published.
Prof. Halden Morris, Senior Lecturer, Faculty of Humanities and Education, UWI (Mona) delivers the keynote address at the 5th FELS
Graduate Students' Conference held at the Papine campus on Thursday, May 25, 2017.
Best Conference Paper
The Best Conference Paper was awarded to Mr. Craig
McNally (centre), PhD student in the Education Leadership
and Management Programme. His paper title is "Queering
Educational Leadership: The Lived Experiences & Perceptions
of LGB Students at a selected university in Jamaica."
Congratulating him on his award are Dr. Leonie Clarke, Head,
School of Technical and Vocational Education and Dr. Rohan
Lewis, Dean, Faculty of Education and Liberal Studies.