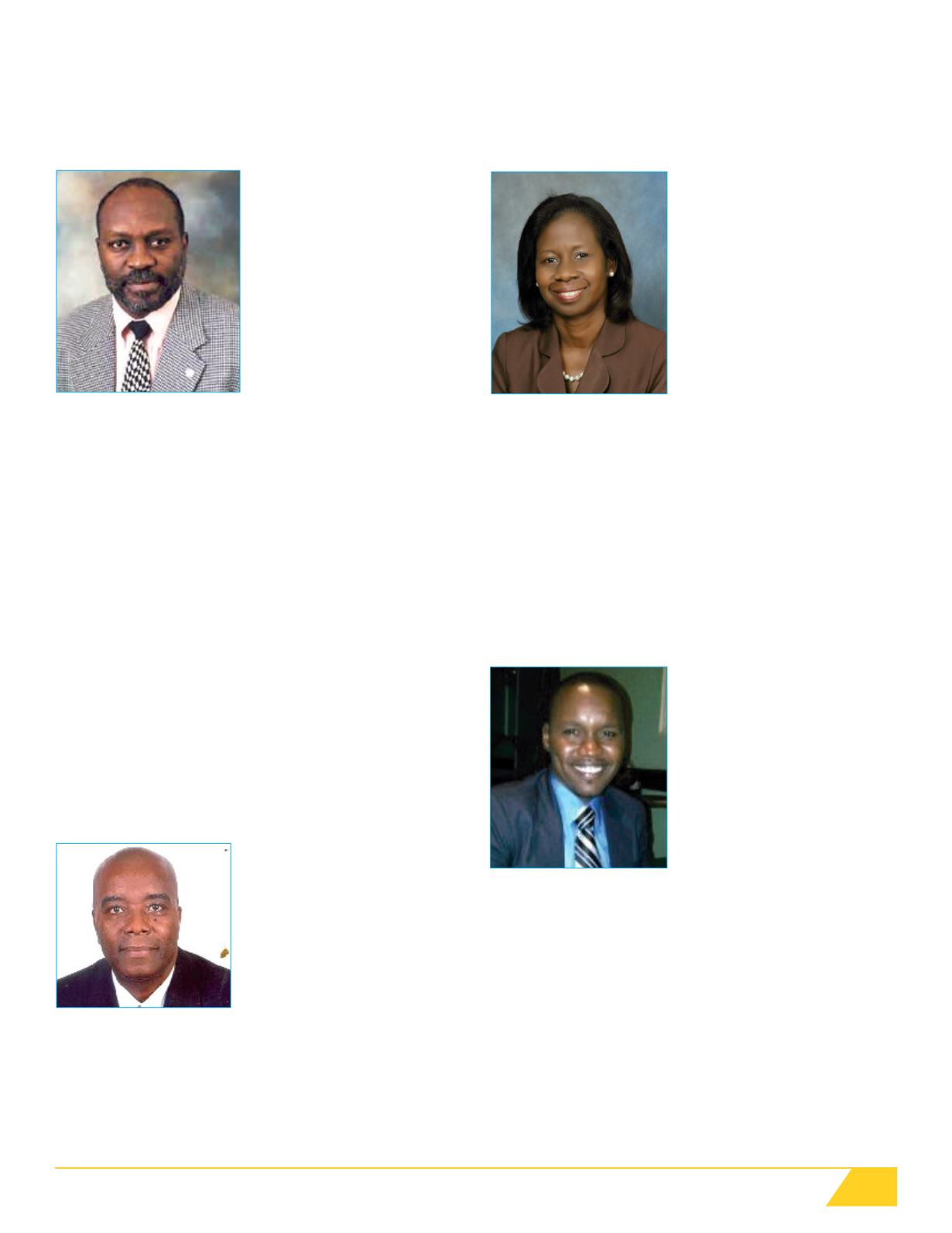 11
June 2017
| VOICES Bi-Monthly Magazine of the University of Technology, Jamaica
Mr. Jermaine Levell was appointed as
Industrial Relations Manager in the Division
of Human Resources and Administration
effective April 3, 2017.
Mr. Levell's last employment was with J
Wray and Nephew Limited (Appleton Estate)
where he served in the capacity as Industrial
Relations and Employment Engagement
Specialist for over five years. His other
work experience includes assignment as
Negotiating Officer for the National Workers
Union.
In managing the industrial relations portfolio
at the University, Mr. Levell's responsibilities
will include providing day-to-day industrial
relations support to both management
and staff, negotiating collective bargaining agreements in compliance with the
Collective Bargaining Contract, and managing grievance procedures working with
internal and external partners in handling complainants arising from disputes with
employees.
Mr. Levell is a graduate of the University of the West Indies (UWI), Mona where he
obtained a Bachelor of Arts Degree in 2007. He is currently pursuing his Master of
Science Degree in Human Resource Development at the UWI.
Dr. Janet Campbell-Shelly has been
appointed Dean of the College of Health
Sciences, for one term effective April 19,
2017 to April 17, 2021. Dr. Campbell-Shelly
has served the College in various capacities
for 30 years having joined the University of
Technology, Jamaica in September 1987.
Her extensive experience includes holding
positions such as Pharmacy Programme
Director for 12 years, Acting Head of School
of Pharmacy, Vice Dean and Acting Dean.
She contributes to the wider University
through her participation on a number of
committees. At the national level, she is a
member of the Pesticides Control Authority
Review Committee and serves as Presenter
to Mid-wives and Nurse Practitioners in the
nurses in-service programme.
Dr. Campbell-Shelly was admitted to the Degree of Doctor of Philosophy in
Pharmacology on November 10, 2007. Known for her high level of professionalism
and sound organizational and leadership abilities, Dr. Campbell-Shelly has
contributed significantly to the expansion of the Pharmacy Division through her
academic and administrative direction. Her research interest is in Experimental
Pharmacology with a focus in toxicological studies, Ethnopharmacology, Tissue
culture research using both primary explants and commercial cell line.
Recent Senior Academic and Administrative Appointments
The University Council approved the following appointments made by the University Appointments and Promotions Committee (UAPC) at it respective
meetings held on Wednesday, April 19, 2017 and Thursday, April 27, 2017.
Prof. Fitzroy Henry's appointment as
Professor of Public Health Nutrition in
the College of Health Sciences has been
extended for the period of one year
effective April 2, 2017 to April 1, 2018.
Professor Henry was appointed Professor
of Public Health Nutrition in the College
of Health Sciences on April 2, 2013 on
a three-year contract. This appointment
represented
the
first
professorial
appointment in the College. Professor Henry
will also continue to serve as an advisor on
Public Health Nutrition in the School of Public
Health of the Joint Colleges.
An internationally recognized scholar,
Professor Henry's theoretical and
empirical research has established him
as an esteemed expert in the areas of
environmental sanitation, nutritional
deficiencies in vulnerable groups as well as the prevention, diagnosis and dietary
management of obesity and its co-morbidities, diabetes, hypertension and heart
disease. His presentation at lectures, major conferences and his many papers
published in peer reviewed scientific and medical journals have earned him the
respect of his peers and his place as a role model in his field.
In the four years that Professor Henry has been a part of the College of Health
Sciences he has been extensively engaged in course development (including
the Master of Science in Public Health Nutrition and a number of short courses),
research, publishing, and the training of staff and students.
Professor Henry was the 2016 recipient of the University of Technology, Jamaica's
President's Research Initiative Award for Excellence in Research as well as the
Caribbean Health Research Award for Outstanding Achievements in the area of
Public Health Nutrition. He serves as a member of the National Advisory Board,
Jamaica Tertiary Education Commission, Chairman (Cabinet appointed) of the
National Food Industry Task Force and is Chairman designate (Cabinet appointed),
National Commission on Non-communicable Diseases.
Mr. Paul Brissett was appointed Chief
Business and Finance Officer (CBFO)
with effect from Monday May 1, 2017.
Mr. Brissett is a financial management
professional with over thirty (30) years
experience. His last employment was
with the Tourism Product Development
Company Limited (TPDCo.) where he
served as the Financial Controller for ten
(10) years. He graduated from the Mona
School of Business, UWI in 2003 with a
Master's Degree in Business Administration
and was admitted as an Affiliate Member
of the Association of Certified Chartered
Accountants in 2014.
The holder of a Bachelor of Arts Degree in General Studies from the Jamaica
Theological Seminary in 2000, Mr. Brissett also has qualifications in Financial
Securities Management, and Procurement and Contracting.
Professor Fitzroy Henry
Professor of Public Health
Nutrition
College of Health Sciences
Dr. Janet Campbell-Shelly
Dean, College of Health
Sciences
Mr. Paul Brissett
Chief Business and Finance
Officer
Mr. Jermaine Levell
Industrial Relations
Manager