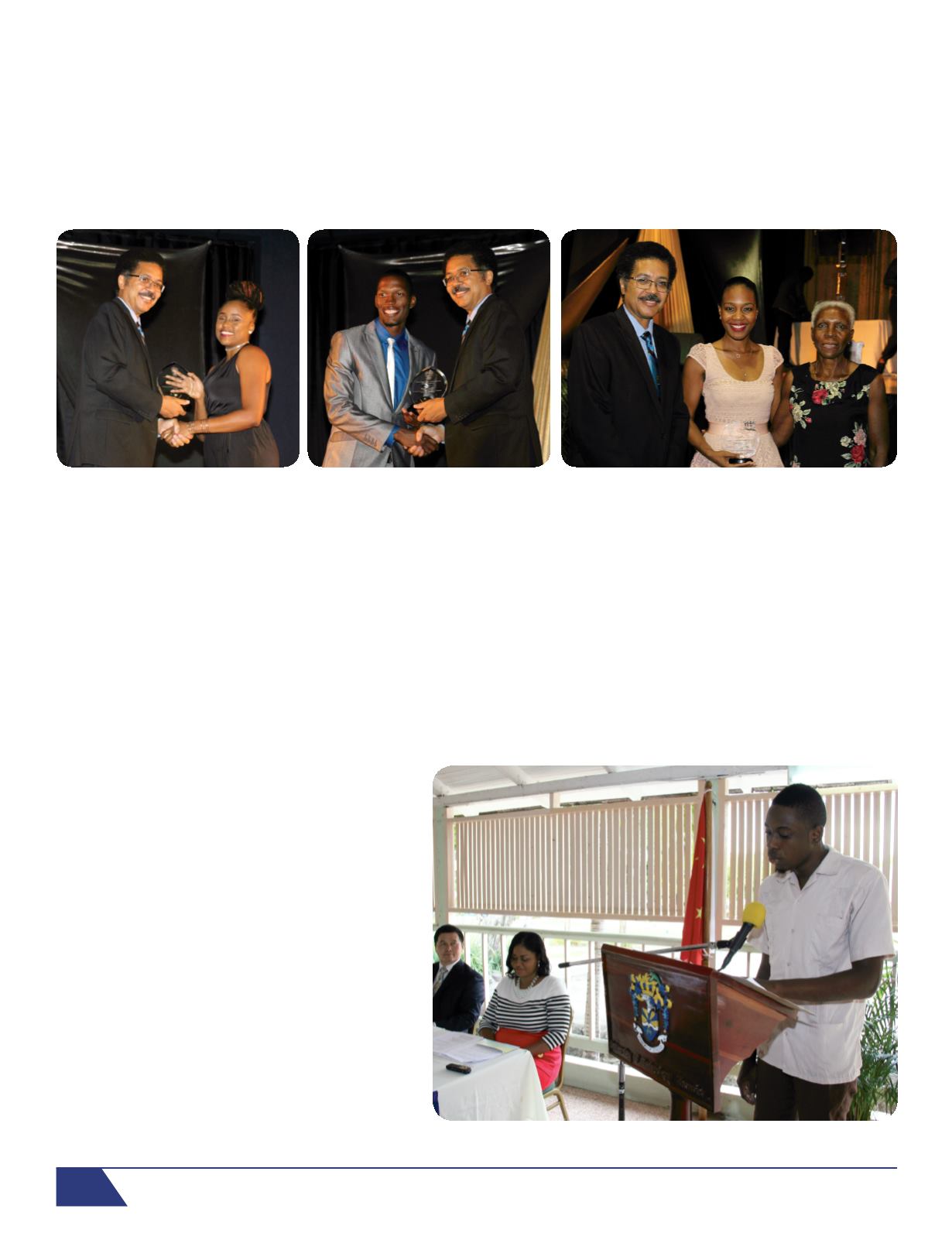 VOICES Bi-Monthly Magazine of the University of Technology, Jamaica |
June 2017
12
O
n September 26, 2014 His Excellency Dong Xiaojun, then
Chinese Ambassador to Jamaica officially handed over a
scholarship cheque valued at $1M to offset tuition fees for
select UTech, Jamaica students. Five students were awarded
scholarships during the handing over ceremony held at the Papine
campus. The Chinese Embassy has continued to provide the
annual Scholarship since 2014.
In March 2017 His Excellency Niu Qingbao, current Ambassador,
Embassy of the People's Republic of China in Jamaica pledged to
increase the scholarship funding to $1.25 million dollars.
Pictured at right, Camrie Hines, then student of the School of Public
Health and Health Technology and one of the five scholarship
awardees, gives the vote of thanks following the scholarship
presentation held at Lillian's Restaurant, Papine campus. Seated
at the head table are His Excellency Dong Xiaojun, then Chinese
Ambassador to Jamaica and Mrs. Garcia McLennon, Director,
Student Financing.
Brittany Walfall, School of Computing and
Information Technology (SCIT) student and
resident of Hall E, Papine Campus, accepts her
award for Outstanding Leadership from Prof.
Stephen Vasciannie, President.
Guest Speaker at the Halls of Residence Annual Dinner and Awards
Ceremony, Dr. Terri-Karelle Reid (centre) displays her UTech,
Jamaica Appreciation award as she poses with University Registrar,
Dr. Elaine Wallace and President, Prof. Stephen Vasciannie.
Hebert Thomas, Doctor of Medical Dentistry
student, College of Oral Health Sciences,
who resides on the Dennis Johnson Hall of
Residence, accepts his award for Outstanding
Leadership from Prof. Vasciannie.
Student Services Honours Residential Students
at Annual Reception and Awards Ceremony
Chinese Embassy Increases Scholarship Funding
to UTech, Ja Students
T
he Division of Student Services and Registry on Saturday, April 22, 2017 hosted its annual Halls of Residence Dinner and Awards Ceremony in honour
of members of the student body, for excellence in various areas of student life.