White-Barrow Vanessa, Dr.
Head- School of Allied Health and Wellness & Registered Nutritionist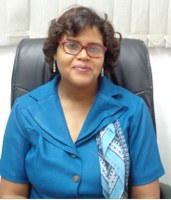 Email:
Qualifications:
PhD  Nutrition
MSc. Nutrition
BSc. Biochemistry and Zoology
Dip. Teaching, Science Education
Professional Qualifications: Master Sports Nutritionist
Teaching Area Specialization:
Nutrition Throughout the Life Cycle (DIN2001); Advanced Human Nutrition (DIN3001); Community Nutrition (DIN3002); Nutrition Education (DIN4004)
Research Interest:
Food Security, Adolescent Health/Nutrition/Eating Behaviours, Nutrition Education, Science Education.
Professional Affiliations: Jamaica Association of Professionals in Nutrition and Dietetics (JAPINAD), Caribbean Association of Nutritionists and Dietitians (CANDi), the Society of Nutrition Education and Behaviour (SNEB); Jamaica Statistical Society (JSS).