About the Caribbean Poison Information Network (CARPIN)
The Regional Nerve Centre of the Caribbean Poison Information Network, a multisectorial initiative, is located in the Drug Information Service (DIS) in the College of Health Sciences on the ground floor. The initiative is the result of over thirteen (13) years of collaboration among several stakeholders in the health and education sectors.
The network, managed by a committee of representatives from several entities, was officially launched on Friday, May 13, 2005 during the inaugural Poison Prevention Week.
The Network aims at setting up Sentinel sites through out Jamaica and other parts of the Caribbean region where data will be collected on incidences of poisoning and forwarded to the nerve centre. It is designed to attract participants and organizations, nationally, regionally and internationally, through these Sentinel sites that will report, disseminate information and participate in other activities.
Through a central database, public and private sector entities in the Caribbean can easily access information from data gathering and research.
The general public, health and education sectors, Governments among others will benefit.
Lives will be saved and healthcare costs reduced.
Activities
The activities at the nerve centre include:
Responding to queries on poisonings.
Data gathering, analysis and generation of reports.
Dissemination of information to the International Programme on Chemical Safety (IPCS), the public, governments and other users.
Generation of publications on issues related to poisoning.
Carrying out research.
Initiation of education and training programmes.
Commitment to United Nations Environmental Programme 2018-2025: Advocating for Policy and Legislation for Lead Paint in JamaicaResearch initiatives for 2018-2020:  (a) Determinants of poisoning by cleaning chemicals in Homes (b) Glycoalkaloids toxicity in susumber berries      Outreach Activities: Public Education programmes in schools, churches, communities, health fairs
Services
The Nerve Centre will provide services during the following hours:
Monday to Thursday 9:00 a.m. - 6:00 p.m.
Friday 9:00 a.m. - 4:00 p.m.
Contact: Sherika Whitelocke-Ballingsingh, Poison Information Coordinator  
Toll free line: 1-888-POISONS/ 1-888-764-7667 
Email address: carpin@utech.edu.jm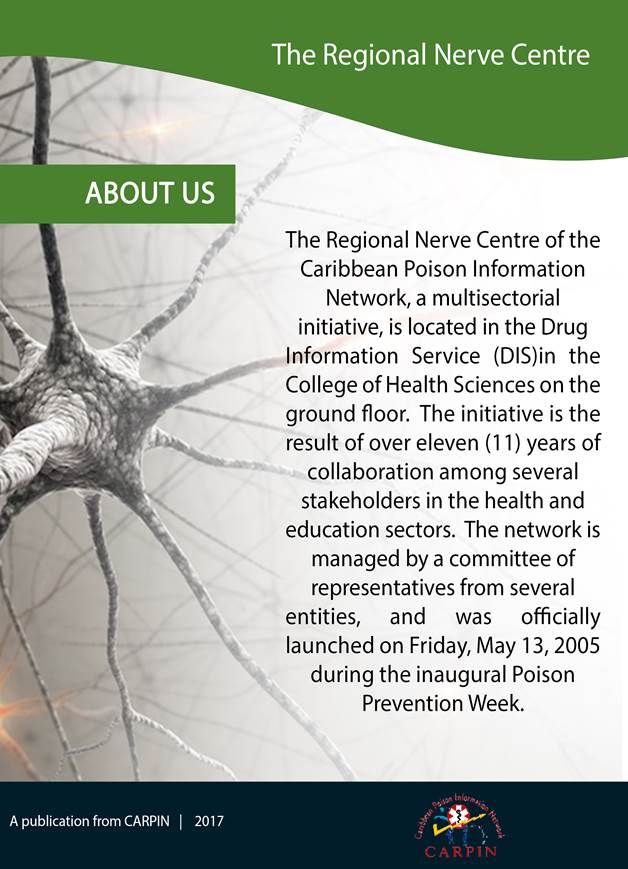 The services will be transferred to the University Hospital of the West Indies (UHWI) Accident and Emergency Department after 6:00 p.m. on weekdays, weekends and holidays.
CARPIN provides an opportunity for national and regional collaboration among a wide cross section of professionals, individuals and organizations. These include: physicians, nurses, pharmacists, medical technologists, teachers, farmers, researchers, policymakers, agriculturalists, public and private sector hospitals, pharmacies, medical centers, nursing homes, educational institutions, day care centers medical laboratories, health centers and the list goes on.