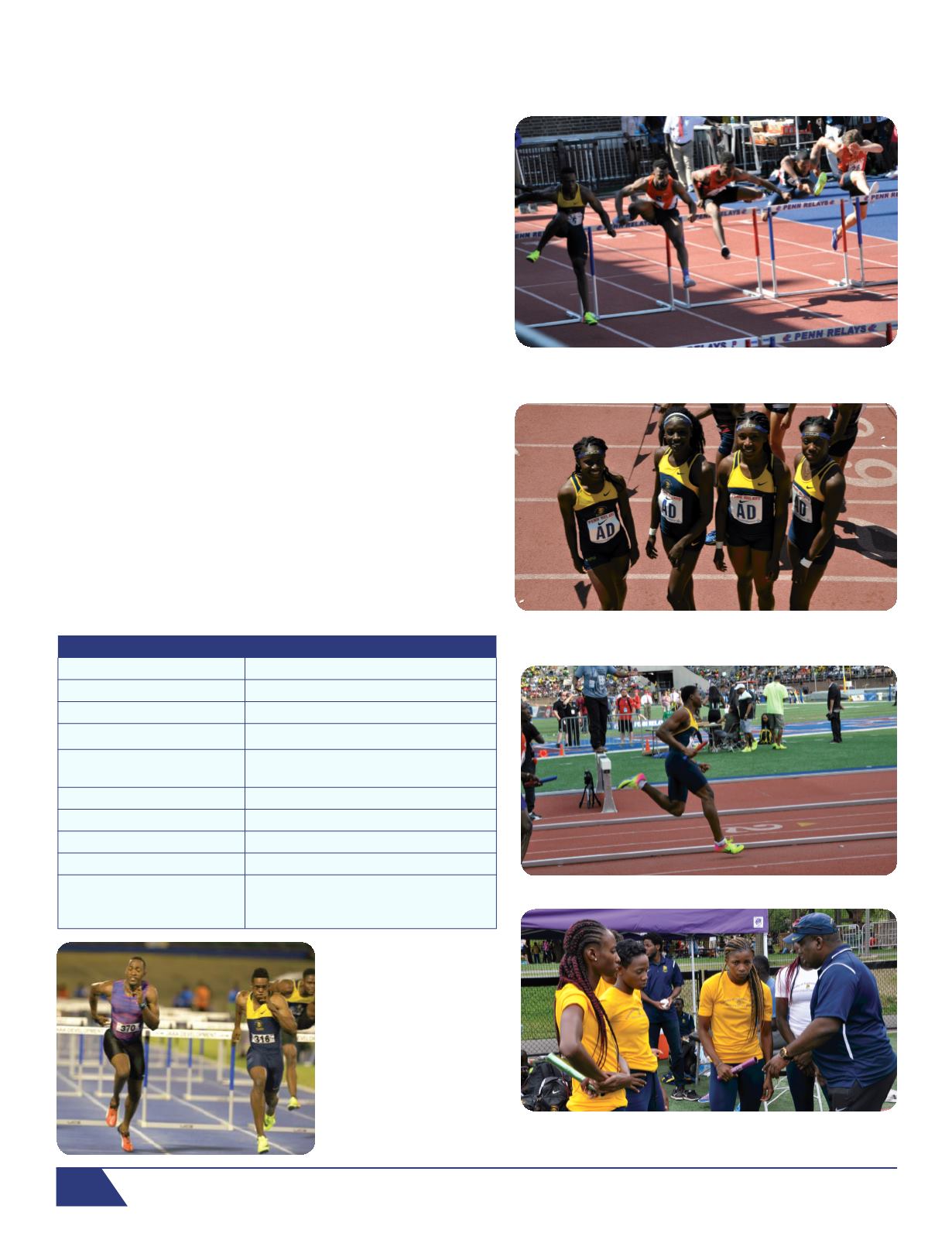 VOICES Bi-Monthly Magazine of the University of Technology, Jamaica |
June 2017
30
UTech, Jamaica Shines at Penn Relays and Racers Track Meet
Racers Grand Prix Results
Star hurdler Ronald Levy (left) shines in the College Men 110 M hurdles event
on his way to winning the race at the Penn Relays.
Athletes from left: Kimberley Leach, Shimayra Williams, Shanice Reid and
Donya Ewers as they prepare to participate in the College Women's 4x 100M.
Ronald Levy (right) getting the
better of Hansle Parchment in the
Men's 110 M hurdles at the UTech
Jamaica Track and Field Classic
held April 15, 2017 at the National
Stadium.
Coach Paul Francis discusses strategy with his charges (from left) Derrian Hill,
Shannon Kalawan, Tjipekapora Herunga and Junelle Bromfield (partially hidden).
Romarieo Turner participating in the Men's 4 x 400M event.
C
ongratulations to all UTech, Jamaica Knights student athletes, coaches,
administrators and support staff on their performance at the recently
concluded 123
rd
Penn Relays held April 27-29, 2017 in Philadelphia, USA
and at the Racers Grand Prix meet held June 10, 2017 at the National Stadium.
UTech, Ja sent a contingent of 25 student athletes to the 2017 Penn Relay
Carnival. The athletes competed in both the traditional 4 x100, 4 x400M relays,
100M sprint, 110M hurdles and field events such as long jump, shot put, high
jump and discus. A number of the athletes are first year students and so the team
is a relatively new one. Despite this, credible performances were given with some
athletes setting personal records.
Ronald Levy came out on top in his individual event – 110M Hurdles and Michael
Campbell was able to secure second place in the 100 M dash. Both women's
relay teams gave noteworthy performances winning in their respective heats.
Shanika Bryan's 1.71m jump in the high jump was the best field result. The team
coached by Stephen and Paul Francis consisted of the following student athletes:
Derriann Hill
Jesse Urikhon
Romarie Turner
Junelle Bromfield Odane Taylor
Michael Campbell
Tjipekapora Herunga Kemar Green
Devaughn Baker
Jessica Noble Ojamu Graham
Gilbert Hainuca
Shimayra Williams Shannon Kalawan
Shanan Wright
Shanice Reid Kimberly Leach
Herbert Thomas
Donya Ewers Alec-Verne Longmore
Javoy Tucker
Kalesia Hunter Ronald Levy
Latifah Smith
Kwisi McFarlane
Athlete
Placement at Racers Grand Prix 2017
Ronald Levy, student, FOBE
1st Men's 110M Hurdle
Race Time : 13.17
Junelle Broomfield, student, FOSS
2nd Women's 400M
Dash A Race Time: 52.08
Megan Simmonds, graduate, FELS 5th Women's 100M Hurdles
Race Time: 13.16
Natasha Morrison, graduate, COBAM 3rd Women's 100M
Race Time: 11.26
Aneshia McLaughin Whilby,
graduate, COBAM
4th Women's 400M
Race Time: 52.03
Christine Day, graduate, FELS
5th Women's 400M
Race Time: 52.25
Rusheen McDonald, student, COBAM 6th Men's 400M
Race Time: 45.93
O'Dayne Richards, graduate, FENC 2nd Men Shot Put
Distance: 21.11M
Twayne Crooks
6th Men 400M
Race Time: 47.18
Tjipekapora Herunga (current UTech,
Ja student athlete) representing her
home country of Namibia
5th Women's 400 M
Dash A Race Time: 53.54