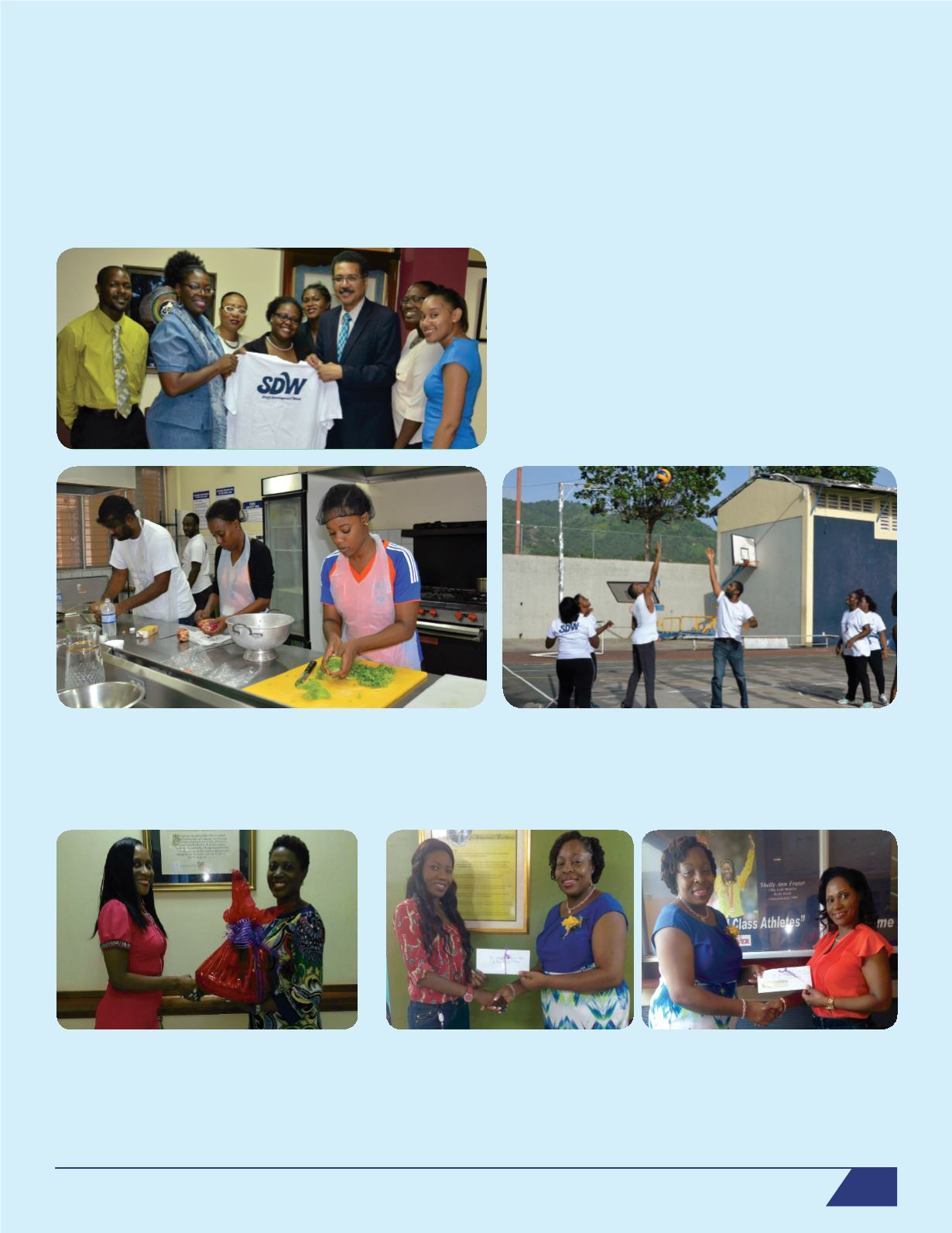 Cook-Off Competition:
Staff members of the School of Computing and
Information Technology from left, Andre Munsie, Trudian Fitzgerald, Sachell Linch-
McInnis participate in a Cook-Off Competition on Thursday, May 25. The team
dubbed, "Team SCIT" emerged winners of the competition.
A Commemorative Shirt for the President -
Mrs. Collette Crossdale-
Mitchell (left), Administrative Support in the Faculty of Science and Sport
and member of the 2017 Staff Development Week Committee presents a
commemorative t-shirt to Prof. Stephen Vasciannie, CD, President, during
the planning committee's courtesy call on him on Tuesday, June 6, 2017
to express thanks for his support of the week's activities. Committee
members sharing in the presentation from left are Mr. Valdimir Wallace,
Economic and Statistical Analyst, Miss Alicea Baines, Customer Service
Officer, Ms. Sashana Haniford, Data Analyst, Human Resources, Ms. Suzan
Brown, Administrative Support, Caribbean School of Sport Sciences and
Miss Tajhia Campbell, Multimedia Technician, Learning Technologies and
Support Unit (LTSU).
Staff Development Week
Customer Service Mystery Shopping Winners
T
he Division of Human Resources and Administration hosted its annual Staff Development Week (SDW) under the theme, "RAISE IT: Igniting Passion for
Service" from Monday, May 22 to Friday, May 26, 2017. The SDW aims to inform, develop and motivate staff members. The week's activities were
geared towards building team spirit, fostering camaraderie among staff and promoting health and wellness to create a desirable work environment
for greater productivity and service.
Activities included presentations on occupational health and safety, professional and career development, financial planning and improving customer
service and a number of health and wellness activities.
Staff Social:
Staff members participate in a game of basketball.
Mrs. Tracey-Ann Pessoa (in blue), Customer Service Advocate presents Ms Shaneaqua Ashmeade
(left) Administrative Support, COBAM Student Affairs Centre with her 2
nd
place prize and Miss
Karen Haughton, Senior Accounting Assistant, Department of Student Financing with her 3
rd
place
prize in the Mystery Shopping exercise. Both winners received a gift certificate. The Office of the
Customer Service Advocate conducted a mystery shopping exercise during Staff Development
Week to ascertain if staff members were adhering to the University's standards of answering the
telephone.
Ms Shellian Morrison (left) Administrative Support, Faculty
of Law, Western Campus was 1
st
place winner of the
Mystery Shopping exercise and the Customer Service
Trivia Question. She was presented with a gift certificate
and gift basket by Ms. Sophia McIntosh, Western Campus
Coordinator on behalf of the Office of the Customer
Service Advocate.
June 2017
| VOICES Bi-Monthly Magazine of the University of Technology, Jamaica
25