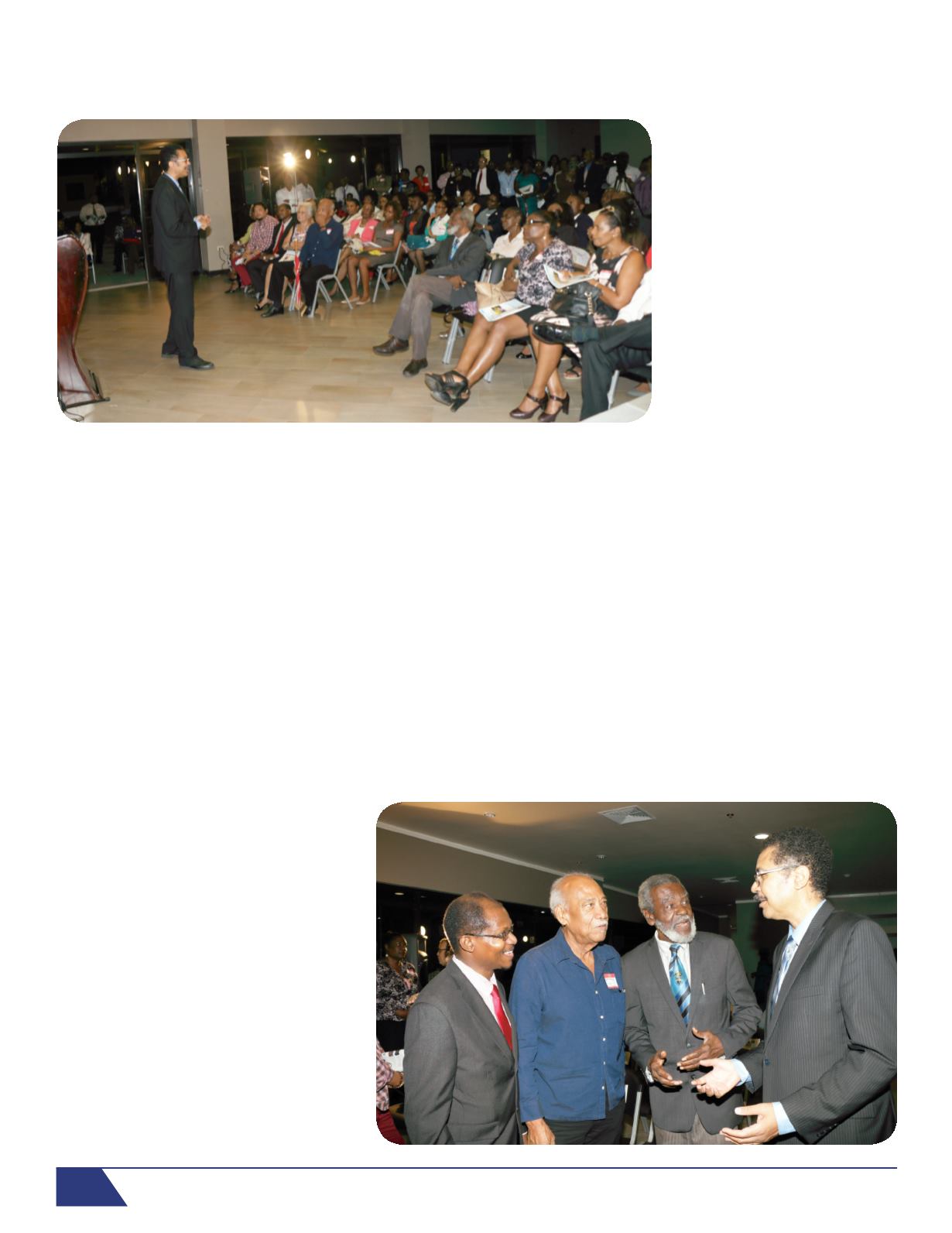 VOICES Bi-Monthly Magazine of the University of Technology, Jamaica |
June 2017
26
O
ver one hundred CAST/UTech, Jamaica alumni came out for a
cocktail reception and information-sharing session with President,
Prof. Stephen Vasciannie, CD, on Thursday, June 1, 2017. The well
attended reception organized by the Alumni Relations Office, was held at
the new School of Hospitality and Tourism Management (SHTM) Hotel,
University of Technology, Jamaica Papine campus.
In his wide-ranging talk with alumni, President Vasciannie updated the
gathering on recent developments and shared plans for the future direction
of the University.
The President provided updates on the status of accreditation; matters
concerning research and scholarships, student-related concerns, changes
in senior staffing; status of union negotiations and thoughts related to
greater engagement between the University and its alumni community.
The President closed with thanks to the alumni membership for on-going
support to the University through various activities and encouraged the
Association to think of additional ways in which alumni can be "energised."
He noted that for the period 2012-2017 contributions by alumni amounted
to $8.6 M in the form of scholarships, lab upgrades, development of a
SMART classroom and cash gifts.
The President's update was followed by a robust question and answer
session.
Mr. Ronald Sutherland, President of the Alumni Association also addressed
the gathering, commenting on the importance of positive student
experiences in promoting alumni loyalty. Mr. Sutherland, who is a member
of Council, also stressed that UTech, as Jamaica's national university should
insist on obtaining institutional accreditation from the relevant authority.
Among the Alumni in attendance was a group dubbed, "CAST Pioneers."
They represent the first set of students who entered the University of
Technology, Jamaica in 1958/59 at the then College of Arts, Science and
Technology (CAST) and who graduated in 1961.
President Hosts Reception for Alumni
President Vasciannie updates CAST/UTech,
Jamaica alumni on developments at the
University during a special reception held at the
Papine campus on Thursday, June 1, 2017.
PIONEER GRADUATES: Prof. Stephen
Vasciannie (right) raps with "CAST Pioneers"
Cowell Lyn (2nd left), retired Engineer and
Keith Lumsden (3rd left), Architect, who were
both part of the 1961 Graduating Class of the
then College of Arts, Science and Technology
(CAST). Prof. Colin Gyles, Deputy President
shares in the discussion.