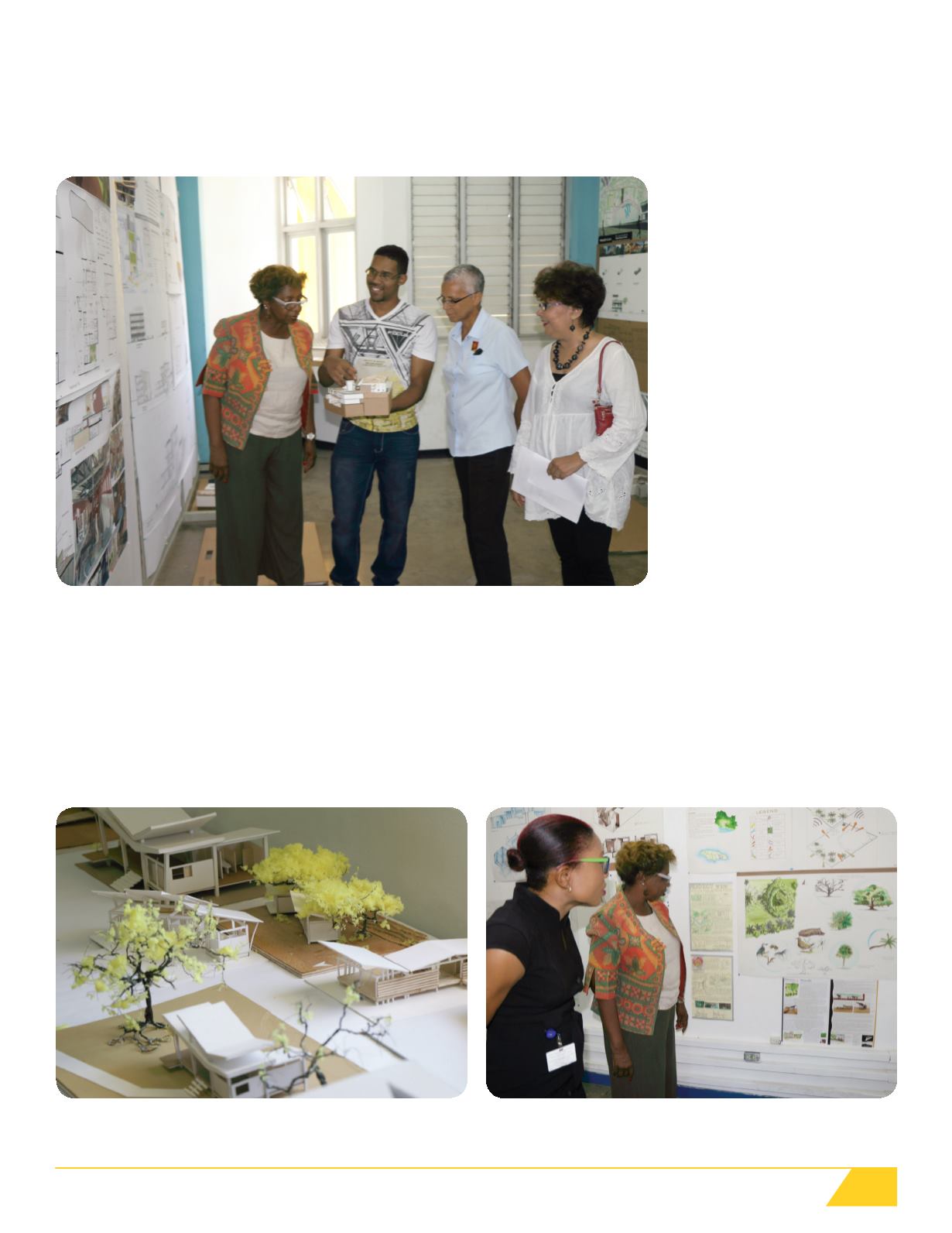 27
June 2017
| VOICES Bi-Monthly Magazine of the University of Technology, Jamaica
CSA Annual Student Exhibition showcases
innovation in Tropical Designs
T
he Caribbean School of Architecture (CSA), Faculty of The Built
Environment launched its annual end of year Student Exhibition on May
17, 2017 on the grounds of the CSA. The annual exhibition showcases
the best of student's work from all four year groups in the undergraduate
programme and by Master of Architecture graduate students done as part
of their assessment by internal and external examiners.
The exhibition was open to members of the public and ran from June 5
to 23. Guest speaker at the launch ceremony and cocktail reception
was well-known Jamaican theatre icon Mr Oliver Samuels who quipped
that "architecture is just like theatre, the buildings are the actors and
the city is the stage." In his engaging presentation he talked about his
lifelong fascination with architecture and encouraged students to pursue
"architectural integrity" in all their work.
A large gathering comprising parents and family members of students,
members of faculty and staff and members of the architecture fraternity
were impressed with the student's talent and innovation as they toured the
exhibits.
Fourth year student Nieco Francis (2
nd
left)
presents the 3D miniature model of his design
done for the Grenada National Library. The
model was developed following his group's
study tour of that island during the 2015-2016
Academic Year. Listening intently from left
are Arch Dr. Patricia Green, Head, CSA, Mrs.
Denise Ramharrack, Programme Director,
undergraduate programmes and Dr. Elizabeth
Pigou-Dennis, Programme Director, MA,
Architecture programme, CSA
At left is a first year students' miniature model of his final project – a pavilion which would house pop up exhibitions and other public gatherings. At right, Architect Dr. Patricia
Green, Head, CSA shows Mrs Michelle Beckford, Corporate Communications Manager part of a site analysis for the Hope Botanical Gardens done by first year students.