Master of Science in Sustainable Energy and Climate Change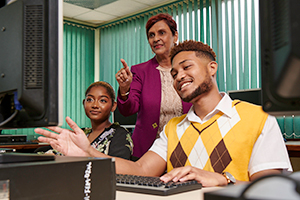 The MSc. In Sustainable Energy and Climate Change is multidisciplinary degree that takes an innovation driven, problem solving approach to prepare students who are responsive to the global drives for green business development linked to sustainable energy and climate change solutions. The curriculum integrates multiple disciplines such as engineering, natural sciences, climate change, health and social sciences, law, economics, urban planning and business. The modules are developed to advance the process of low carbon economic growth and development and include such areas as "Green Business and Green Growth," Energy Management in Buildings and Industry," "Energy and Environment Data Management" and "Green Entrepreneurship and Innovation," among others.
The MSc. In Sustainable Energy and Climate Change is a 20-month course of study which includes 160 hours of internship and an innovation focused research projects.
The Entry requirement is a BSc/BA with at least a 2.7 GPA in the related disciplines of engineering, natural sciences or social sciences. Candidates with five years management level experience in a relevant field may also apply.
---
Short Courses
Solar PV Design and Implementation
This module will teach the fundamentals of designing and implementing a solar PV energy system. Students will know how to plan a complete PV solar system including sizing investment and operating cost analysis, their construction and commissioning. Students will be proficient in the use of PV Sol * software
Climate Change and Sustainable Planning
This module introduces students to the fundamentals of Sustainable Urban and Regional Planning within the context of mitigation and adaptation to Climate Change. It focuses on the dynamics of urban design for all the elements comprising city living which is less carbon intensive and sustaining ecosystem services and sustainable livelihoods
Integrated Water Resources Management
The module covers concepts of Integrated Sustainable Water Resources Management; the application of sustainable water management like rain water harvesting, water conservation; interrelations between water use and sustainable energy; fundamentals of water footprint and sustainability and innovative waste water management solutions.
Bio-Based Economy
This module introduces students to three major fields of the bio-economy namely innovation economics, biomaterials and bio-energy, and related food technology. It will include the potential of bio based energy production, environmental impact and life cycle assessment of bio-fuels; opportunities for innovation, entrepreneurship and economic development in the bio-based economy
Smart Grid and Grid Management
This module will introduce students to smart grid management and technologies; challenges and opportunities for optimal integration of variable Renewable Energies (PV and wind) into grids.It will introduce management of Future Energy Markets Innovative Technologies for Smart Grids like storage, and the role of E-Mobility in future energy systems.
Sustainable Community Development
This module will provide students with the principles, the framework and the application of sustainable community development with specific focus on: aspects of sustainable development of communities and local enterprises, role of gender in sustainable development, social development and empowerment of people; participatory processes (e.g. Stakeholder consultation), and social entrepreneurship.
Sustainable Transport
This module introduces the concept of sustainable transportation with focus on policy, systems and technology. Students will be exposed to sustainable transportation planning with an outlook on the future, aspects of e-mobility, infrastructure for E-mobility like solar charging stations, renewable fuel opportunities and the fuel economy initiatives.
Ocean Resources Management
This module will provide students with the definition of ocean resources management, trends and issues affecting coastal and ocean resources. It will give students an overview of the utilization possibilities for energy material use options as well as utilization for energy purposes, like OTEC, sea water cooling, wave technology and the production and utilization of algae