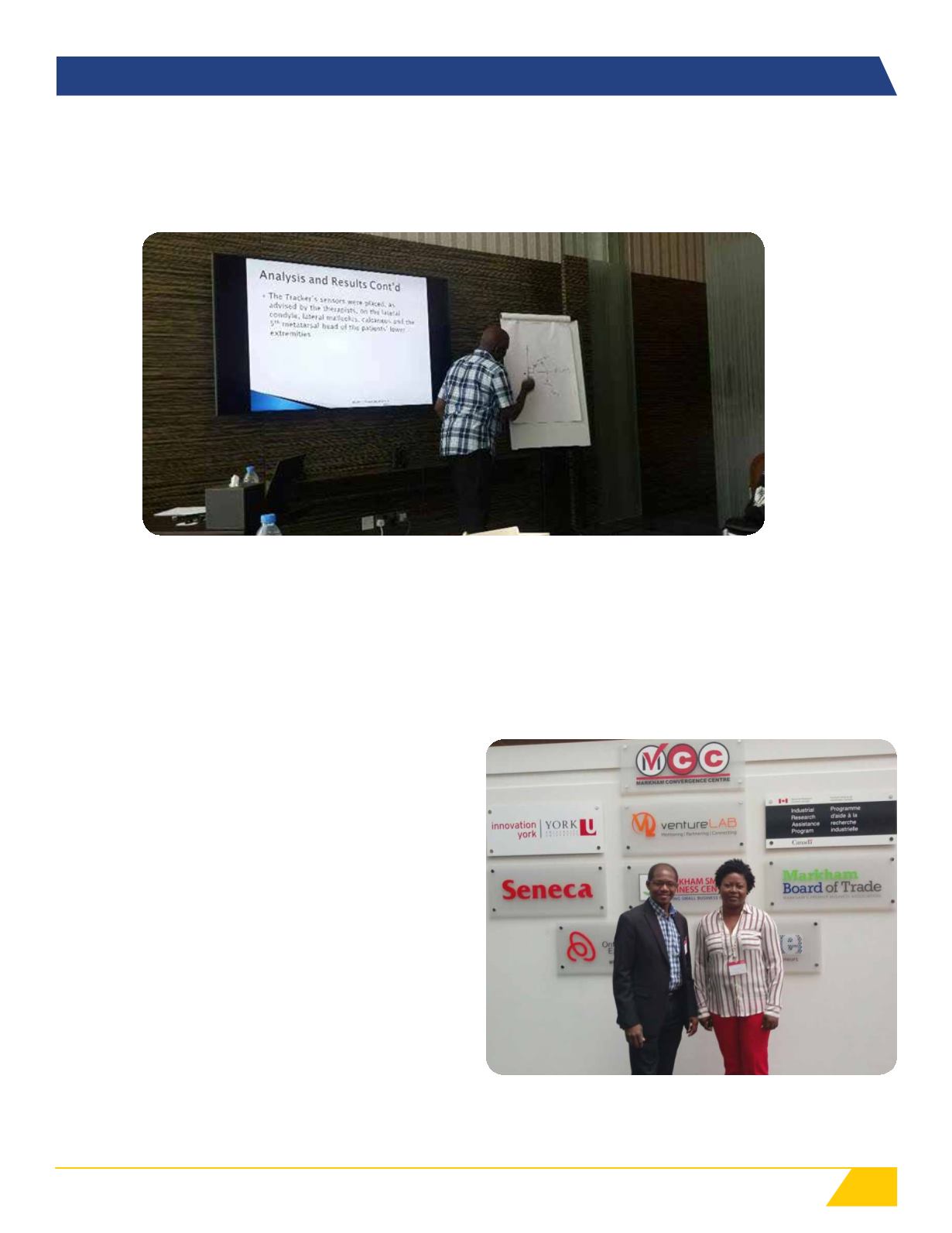 27
August - September 2017
| VOICES Bi-Monthly Magazine of the University of Technology, Jamaica
U
Tech, Jamaica through its Technology Innovation Centre (TIC) in April
2017 forged a $7 M MoU partnership with the Development Bank
of Jamaica (DBJ) under the University Incubators Capacity Building
Programme being developed by the bank's Jamaica Venture Capital
Programme (JVCP).
The objectives of the partnership include providing support to programmes
and relevant infrastructure focused on creating a deal flow of investment
ready business and stimulating a culture of entrepreneurship through well
designed and funded programmes.
Since its establishment in 2002 the Technology Innovation Centre has
nurtured over 260 client businesses in its residential, virtual and shared
space programme and graduate businesses of the Centre have gone on to
be very impactful on the economy. Some of these companies have gained
investment in their businesses and have been recipients of numerous local
and international awards.
Under the DBJ Programme, Professor Colin Gyles, Deputy President and
Miss Dionne Palmer, Incubator Manager, Technology Innovation Centre
visited technology incubators at universities in Canada during the month
of June.
UTech/DBJ Forge $7 M MoU Agreement for University
Incubators Capacity Building Programme
Dr. Felix Akinladejo making his presentation on "Technotherapy Induced Gains after a Stroke: A Case Study of Post-Acute Stroke
Patients" on Tuesday, August 1, 2017 at the Atana Hotel in Dubai, United Arab Emirates, during a University of Ibadan, College of
Medicine (UICoM) Graduating Class of 1992 conference and reunion involving medical consultants from across the world.
Prof. Colin Gyles, Deputy President and Miss Dionne Palmer, Incubator Manager,
Technology Innovation Centre pose in front of the Markham Convergence Centre,
Ontario, Canada during a visit in June 2017.
They were not receiving treatment from other rehab centers or clinicians at the time of participating in the computer-based therapy programme; hence,
any changes observed in their gait characteristics were attributed to this type of intervention technique."
This result buttressed the literature that supported the usefulness of technology in therapeutic rehabilitation. The study contributes to the current effort to
provide wider access to therapeutic intervention techniques, especially in developing countries, like Jamaica, with limited resources to handle the intensity
needed for physical rehabilitation.
Research provides hope for "Technotherapy" Induced Gains for post-acute stroke patients ... cont'd from page 26