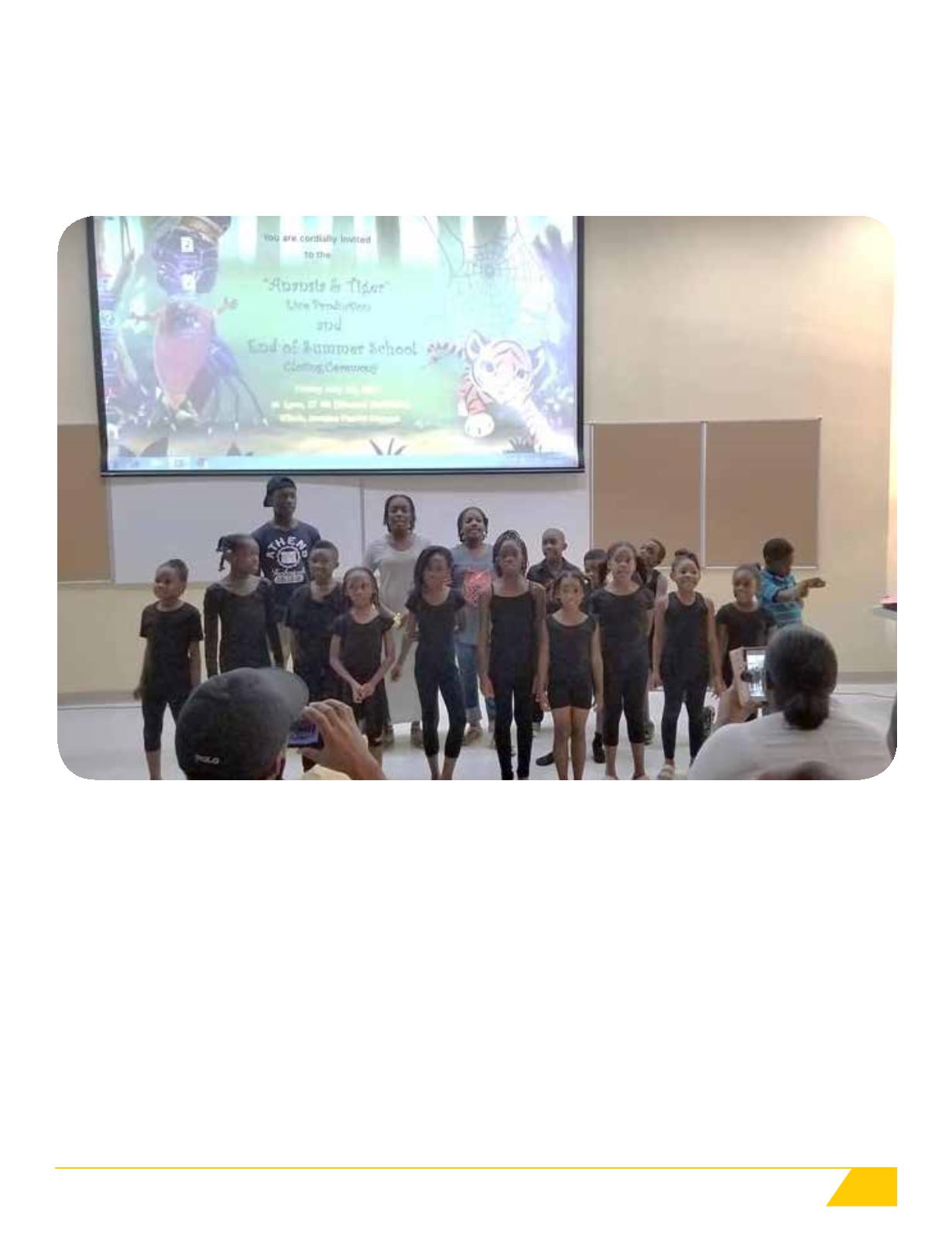 29
August - September 2017
| VOICES Bi-Monthly Magazine of the University of Technology, Jamaica
T
he curtain came down on the annual University of Technology, Jamaica's
arts and culture summer programme for children hosted by the Centre
for the Arts under the theme, "Digital Technology Meets Arts and Culture"
on Friday July 28, 2017 with a highly entertaining production and closing
ceremony showcasing the talent of the participants. The programme ran
from July 3 – 28, 2017.
The event showcased a 30 minute scripted play "Anancia & Tiger", written
and directed by Drama Instructor, Miss Gracia Thompson. The theatrical
showcase underscored the overall objective for this year's staging;
highlighting Jamaica's unwritten customs and beliefs such as storytelling,
legends and riddles.
The participants ranging in ages 4-13 years hailed from schools across the
island and from the United States were immersed in different aspects of
Jamaican oral traditions with special focus given to Anancy stories and the
importance they play in teaching life lessons/communicating moral values.
Over the four (4) weeks the students explored art forms such as music,
drama, dance and visual arts while engaging in technology for photography
and game development assignments.
The highpoint of the afternoon was the official launch of the "Anancy
Mayhem" video game, conceptualized, designed and named by the students.
Game Developer and Business Analyst, Working Enigma, Mr. Stephan Smith
provided the necessary coding support and instruction for the students to
produce a functional interactive video game at the end of the programme.
The game allows the player to individualize their own Anansi character and
create their own stories. The Game Development component of the syllabus
demonstrated a practical and innovative utilization of digital technology to
aid in safeguarding our intangible cultural heritage. The "Anancy Mayhem"
game will be made available for download on the Google Play Store free of
cost.
UTech, Jamaica Arts & Culture Summer Programme
for Children Closes with Live Production and
Launch of Video Game
Students who participated in the UTech, Jamaica Arts and Culture Summer Programme hosted by the Centre for the Arts (CFA), performing the song, 'This is Our Country'
arranged by Lorenzo Hall, Lecturer, CFA at the Closing Ceremony for the programme held on Friday, July 28, 2017 at the Shared Facilities, Papine campus.