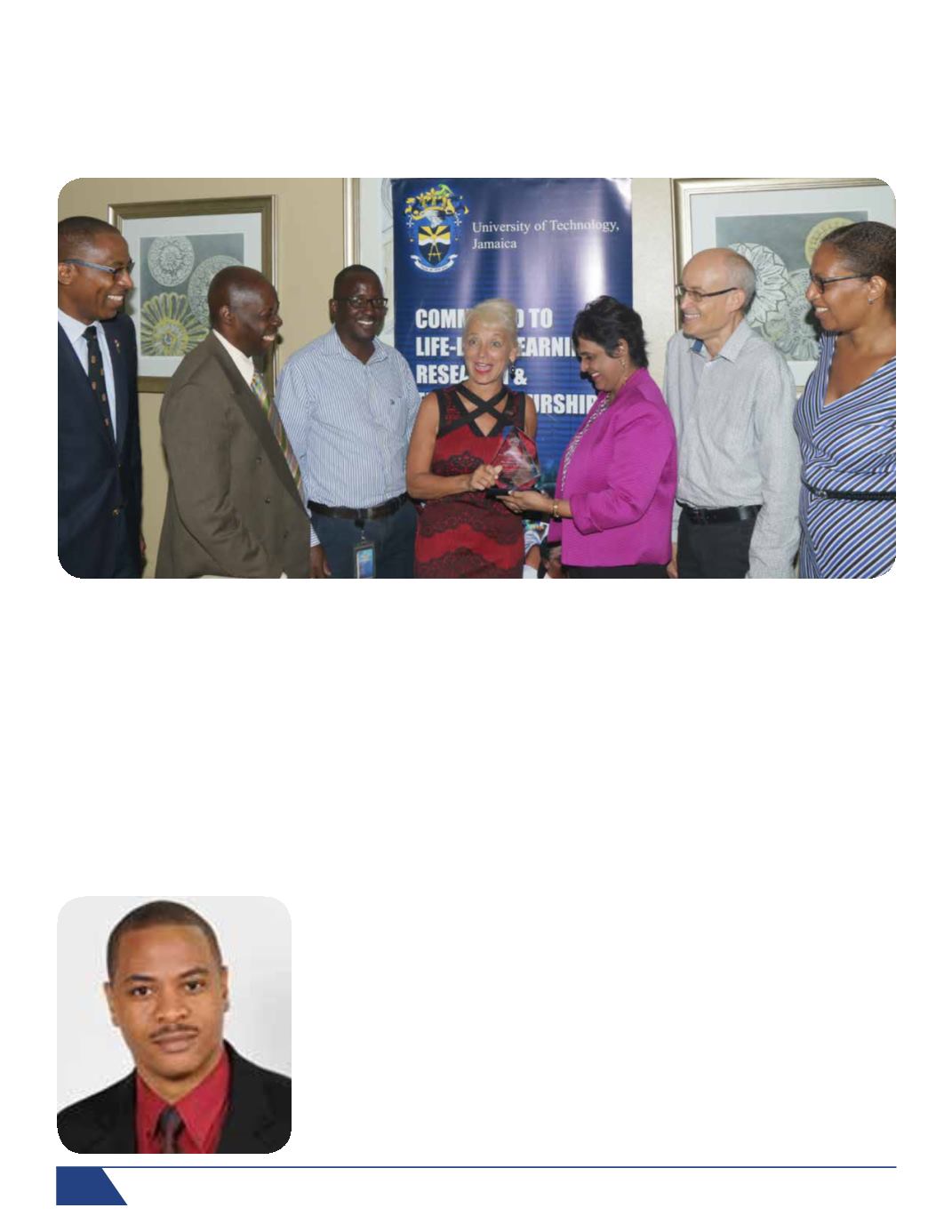 VOICES Bi-Monthly Magazine of the University of Technology, Jamaica |
August - September 2017
28
K
elly Tomblin (centre), President and CEO, JPS is delighted to receive an appreciation plaque from Dr. Ruth Potopsingh (5th left) Associate Vice
President, Sustainable Energy, University of Technology, Jamaica at a special appreciation luncheon held Monday, July 3, 2017 at the Courtleigh
Hotel. The plaque was presented to Ms Tomblin for her contribution to renewable energy development and in recognition of the donation of a 100KW
Solar PV System to UTech, Jamaica, commissioned at the University's Papine campus on July 10, 2014. The JPS fully transferred ownership of the project
to UTech, Jamaica on April 5, 2017. The Solar plant has significantly supported the University's electricity needs, reduced operating costs and provided
practical training for students.
Sharing in the occasion from left, are Dr. Garfield Young, Dean, Faculty of The Built Environment, Hector Wheeler, Associate Vice President, Advancement,
UTech, Ian Buchanan, Project Engineer, JPS, David Cooke, Head, Projects Management and Engineering, JPS and Dr. Therese Chambers, Lecturer, Faculty
of Engineering and Computing, UTech.
JPS Hands Over 100kW PV Solar System to
UTech, Jamaica
Maurice Lewin, JP Appointed Chief Human
Resource Officer
M
r. Maurice Lewin was appointed as Chief Human Resource Officer on August 3, 2017. Mr. Lewin
reports directly to the President and and is responsible for assisting the University in building
capabilities, identifying and managing talent, and establishing alignment between the University's
corporate strategies and Human Resource practices and competencies.
Mr. Lewin has had extensive experience in human resource management at the executive and managerial level
in statutory organizations, some of which fall under the Ministry of Education. His most recent employment is
that of Director, Human Resource Management & Development at the Bureau of Standards. He also served
as Executive Director of the Bureau for more than six months.
He holds undergraduate and master's degrees in Human Resource Management and recently completed the
Bachelor of Law degree at the University of Technology, Jamaica.