UTech, Jamaica to Reach Over 600 Citizens at Back-to-School Community Health and Services Fair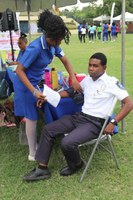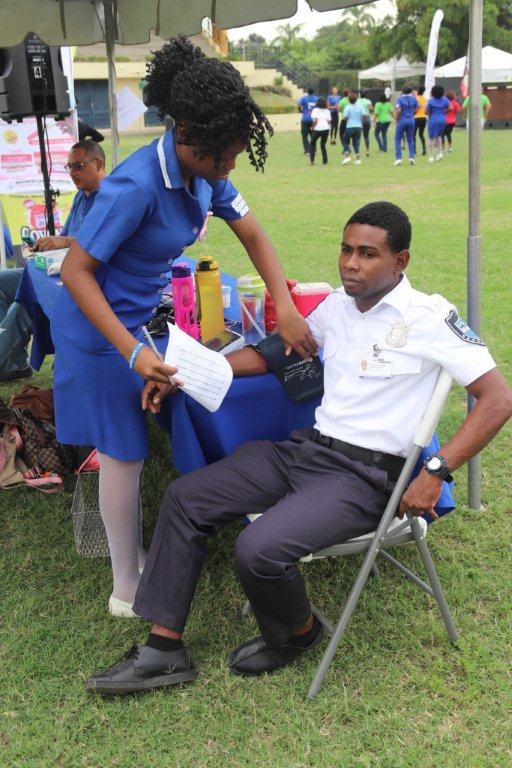 File Photo: UTech, Jamaica student nurse administers a blood pressure check to a participant at a health fair hosted at the university's Papine Campus.
As one of the key outreach events commemorating its 65th anniversary, the University of Technology, Jamaica will host a "Back-to-School Community Health and Services Fair" on Thursday, July 27, 2023, at its Papine and Arthur Wint Drive campuses. Over 600 residents from adjoining communities of these two campus locations, as well as employees and students of the institution, will have free access to essential health and wellness services provided on site.
The Community Health and Services Fair is being organized by the University's Human Resources Division, the Community Service Department and the Joint Colleges of Medicine, Oral Health, and Veterinary Sciences.
The Fair aims to bring well-needed services to members of the University community and residents within the vicinity of the campuses, who may have challenges accessing them otherwise. Attendees will be offered these services free of cost throughout the day's event to be held from 10:00 am – 4:00 pm. The Fair will be especially beneficial to parents who are preparing their children for the upcoming school year as it will lessen some of the medical and other expenses associated with such preparations.
The community health fair will kick off with an opening ceremony at 10 a.m. It will bring together medical health practitioners from the University's College of Oral Health Sciences, The Heart Foundation of Jamaica, and other organizations to provide free school medicals for students aged 10 to 12 years and to conduct free oral health checks to include dental cleaning and extractions. General health screenings such as blood pressure, and Body Mass Index (BMI) tests, eye and hearing checks will also be carried out by the health team, along with the administration of vaccinations.
Other key service providers such as the Tax Administration of Jamaica, the Registrar General's Department, the National Insurance Scheme and PATH branches of the Ministry of Labour and Social Security, along with several financial institutions will be on site to provide convenient business transactions for attendees.
To effectively benefit from the services being offered at the UTech, Jamaica Back-to-School Community Health and Services Fair, individuals are being asked to take along their national ID, TRN, NIS and other relevant documents needed for medical examinations or to conduct business with the financial and public service companies who will be on site.
The family-oriented event will also feature a children's play area with a bounce-a-bout and giveaways throughout the day. Live outside broadcast and musical entertainment will be provided by the "strong songs" radio crew from Mello FM.
 End.
Contact:
Michelle A. Beckford
Corporate Communications Manager

University of Technology, Jamaica

Telephone: (876) 970-5299/818-5893

Email: mbeckford@utech.edu.jm