UTech, Jamaica Receives Donation of Martin Henry's Book Collection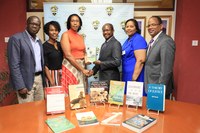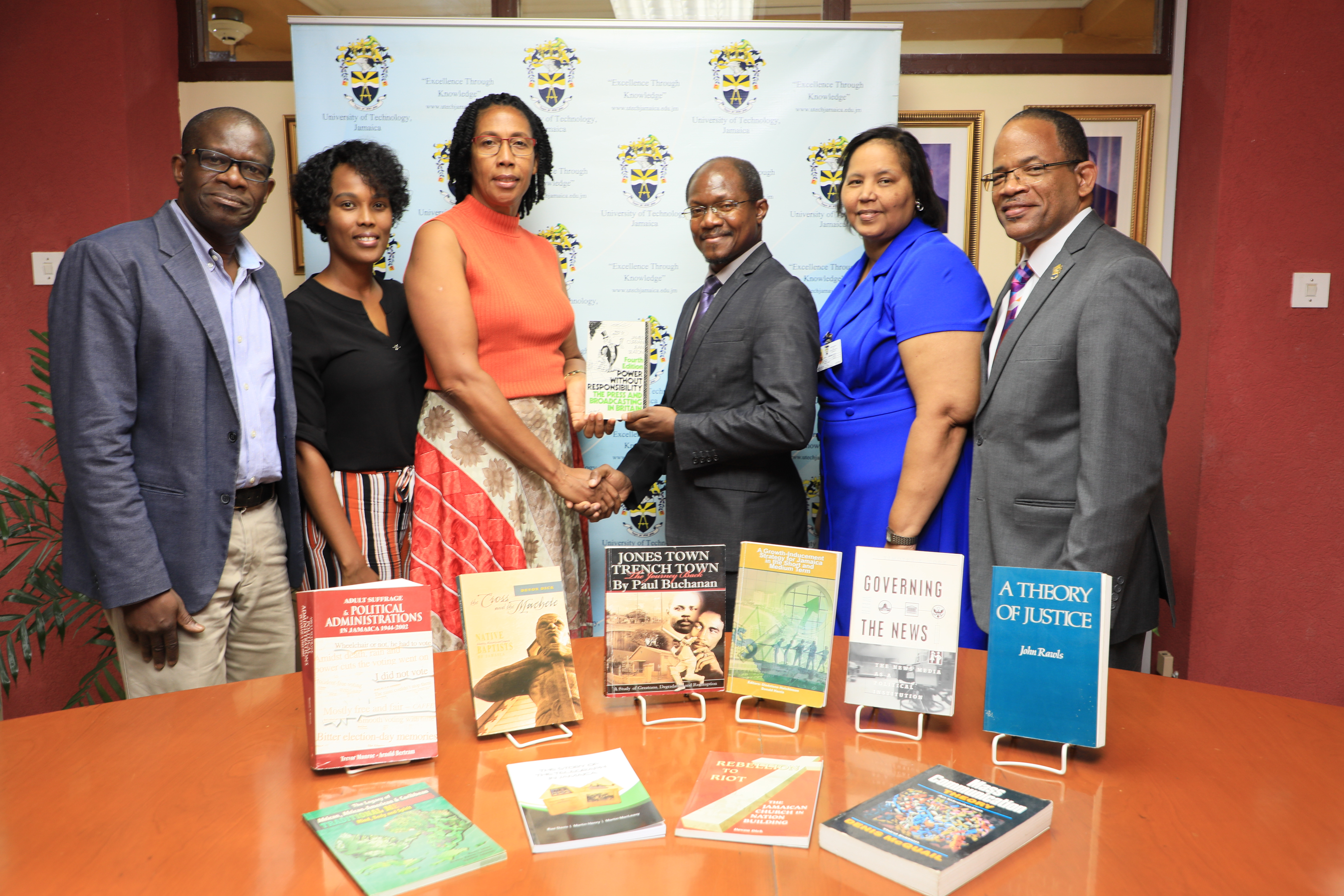 Mrs. Jacqueline Garvey-Henry, (2nd left), widow of the late Martin Henry, presents Professor Colin Gyles, CD (2nd right), Acting President, University of Technology, Jamaica with one of the books from the Martin Henry Collection donated by his family to the University at a special handing over ceremony held at the Papine Campus, Monday, May 22, 2023.  Sharing in the happy occasion (from left) are Dr. Paul Ivey, Associate Vice President, School of Graduate Studies, Research and Entrepreneurship, Miss Lawrie Henry, daughter of Martin Henry, Mrs. Richelle Harvey, Head, Collection Development, Calvin McKain Library and Dr. Haldane Johnson, Acting Deputy President, UTech, Jamaica.
The reference book collection at the University of Technology, Jamaica's Calvin McKain Library has been significantly boosted with the acquisition of hundreds of titles donated by the family of the late Martin Henry, distinguished academic and administrator, public affairs commentator and prolific writer, who was Manager of Projects and Operations at the University's School of Graduate Studies, Research and Entrepreneurship at the time of his passing on May 28, 2019.   He also served as Project Manager of the University's Press and as Editor-in-Chief of the University's flagship, peer-reviewed journal, The Journal of Arts, Science and Technology. In these positions, he played a key role in all initiatives at the University designed to enhance research and the development of scholarship.
The Martin Henry book collection was formally handed over at a ceremony hosted by the University on Monday, May 22, 2023, in the President's Conference Room, UTech, Jamaica Papine Campus.  The generous donation of book titles covering a wide range of subject matters was spearheaded by Mr. Henry's widow, Mrs. Jacqueline Garvey-Henry who shared that "after his untimely passing it became increasingly clear that books in boxes served no-one and no purpose,"  adding that "Martin has been associated with various institutions, but I felt that this was his academic home, and the library here would afford wider reference access to his collection, to which my family wholeheartedly agreed."
Mrs. Henry thanked Dr. Paul Ivey, Associate Vice President, School of Graduate Studies, Research and Entrepreneurship (SGSRE) with whom Mr. Henry closely worked, for "enthusiastically receiving the suggestion of the donation" and for organizing the fitting event to receive the collection.  She also thanked the Calvin McKain Library for accepting the "valuable addition to the library" and Professor Colin Gyles, CD, Acting President "for your obvious support and acceptance of the donation." 
Prof. Colin Gyles in welcoming the Martin Henry Book Collection remarked that, "this is one of the most fitting ways to commemorate the legacy of Martin Henry, because he has been known for many things, but one thing I know that no one will forget him for is the fact that he was an avid reader, he was a prolific writer, and someone who invested in knowledge," adding that "our students will benefit, our researchers will benefit, and through them, the entire Jamaican community and further afield will benefit."
Also expressing profound gratitude to the Henry family for the donation, Dr. Haldane Johnson, Acting Deputy President fondly recalled that during meetings "when searching for a reasoned perspective, we always turned to Martin," affirming also that he was widely admired for his polite and affable demeanor and his endearing wisdom.  Noting the impressive breadth of the donated books, Dr. Johnson stated that "I think those who are pursuing careers, whether it is journalism, science, politics, general interest, logic, you name it, the collection that you have generously given to memorialize Martin Henry, I think is outstanding and we will treasure them."
Head of Collection Development at the Calvin McKain Library, Mrs. Richelle Harvey informed the gathering that the Martin Henry Book Collection will be incorporated into the general library collection and noted that the many titles on Caribbean literature will especially enhance the library's Caribbean Collections.  "We will formally ensure that the tag on each book states that it is from Martin Henry's collection," Mrs. Harvey noted.
Representatives from several institutions with which Mr. Henry worked and contributed service, turned out to witness the handing over of his vast book collection.  Led by his widow, Mrs. Garvey-Henry and their daughter Lawrie, the family was joined by other members of their immediate and extended families, as well as Conference President of the Seventh Day Adventist in East Jamaica, Dr. Meric Walker, Pastor of the family's church, Rev. Selvin Stewart and church elder, Mr. Derrick Richards.  Also in attendance was Ms. Fae Ellington, representing the National Integrity Action (NIA) on whose board Mr. Henry served as a director.  Ms. Ellington spoke glowingly of Mr. Henry's valuable contribution to meetings, recalling his succinct remarks, his wit, charm and wisdom, and asserted that the collection will serve a very important purpose at UTech, Jamaica and beyond the shores of the island. 
Mr. Milton Walker, Deputy General Manager, Broadcast and Cable News and Sports – RJR Communications Group, in his tribute rued the yet-to-be-filled yawning gap in expert public affairs commentary and analysis left by the passing of Martin Henry and revered the late intellectual for "his knowledge, his insight, his words of wisdom, his reasoning," which he noted were "just amazing and that's why he was in such demand."  Mr. Walker noted that Mr. Henry, who wrote weekly public affairs opinion articles for The Gleaner newspaper since 1987, and who served as a regular guest on public commentary broadcast programmes such as That'sA Wrap and All Angles as well as on newscasts, is greatly missed by an entire nation.  He added that the family's generous donation is an extension of Martin's benevolence and unwavering willingness to share his wisdom and knowledge.
Moving the Vote of Thanks, Dr. Paul Ivey also reflected on Martin Henry's renowned contribution as a thought leader.  "Martin was an enigma – he was at once a simple country man and at the same time he's also a sophisticated intellectual of the highest calibre," remarked Dr. Ivey.  He thanked Mrs. Garvey-Henry and family for approaching the University to receive the collection, reiterating that "it was most fitting, and our University considers it an honour to be chosen to house the Martin Henry Collection so that current and future generations will not only be aware of the wide and varied intellectual diet that made Martin an intellectual giant, but also share in it."
End.
Contact:
Michelle Beckford 
Corporate Communications Manager
University of Technology, Jamaica
Telephone: 876 970-5299 
Email: mbeckford@utech.edu.jm