UTech, Jamaica Nursing Students Earn Their Stripes at Annual Striping Ceremony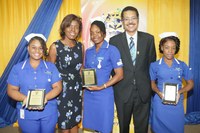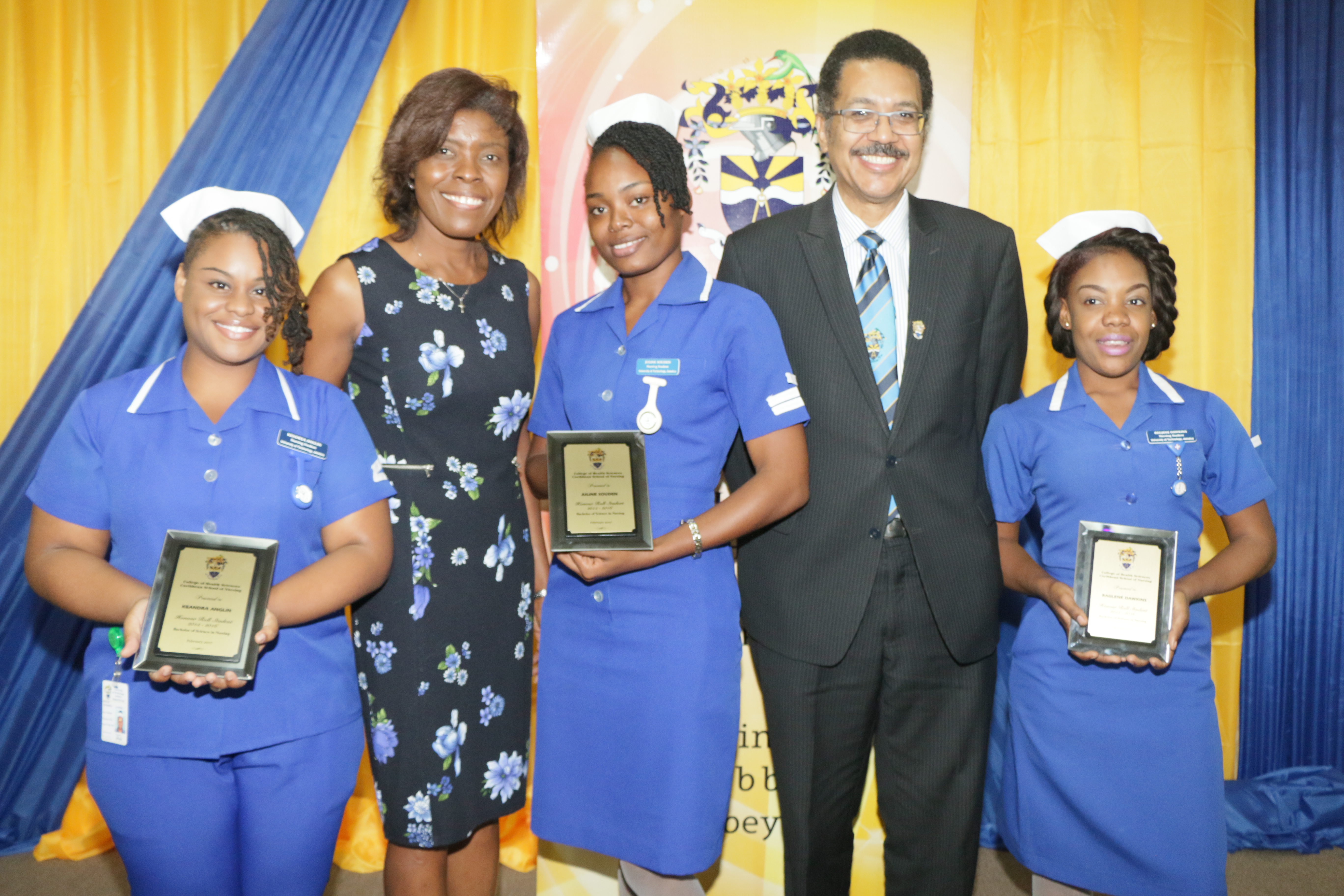 DEAN'S LIST AWARDEES: University of Technology, Jamaica B.Sc. Nursing students who were admitted to the Dean's List for the last Academic Year pose with their special awards received at the 6th annual Striping Ceremony hosted by the College of Health Sciences on Thursday, February 9, 2017.  Students (from left)  Keandra Anglin (awarded for Year 2), Juline Souden, (awarded for Year 3), and Regjene Dawkins (awarded for Year 2) share the happy moment with Dr. Adella Campbell, Head, Caribbean School of Nursing, College of Health Sciences and  Prof. Stephen Vasciannie, CD,  President, UTech, Jamaica.
Two hundred and thirty (230) University of Technology, Jamaica (UTech, Ja.) students enrolled in years one to four of the BSc. in Nursing and the BSc. in Midwifery in the Caribbean School of Nursing (CSON), College of Health Sciences, (COHS) were presented with their symbolic stripes at the 6th annual Striping Ceremony  hosted by the School in their honour under the theme, "Nursing and Midwifery Students Touching Lives and Changing the World" on Thursday, February 9, 2017.  The ceremony was held at the Christian Life Fellowship Centre, adjacent to the UTech, Jamaica Papine campus.  The symbolic striping signifies that the students have satisfied the academic and professional requirements of their respective levels of study and have displayed good behaviour and attitude towards their profession.
Dr. Janet Campbell-Shelly, Acting Dean, College of Health Sciences, UTech, Ja. in congratulating the students,  reminded them that their striping is synonymous with excellence and the achievement of high standards in all areas of their personal and professional lives. 
Dr. Adella Campbell, Head, CSON, in her address gave an historical overview of the establishment of the nursing and midwifery programmes at UTech, Jamaica.  She noted that the University has been training nurses since 2007 and midwives since 2014 following the divestment of the training programmes from the Government of Jamaica.  UTech, Jamaica's Caribbean School of Nursing offers the B.Sc. Nursing (generic and completion), B.Sc. in Midwifery (Direct Entry and Midwifery for Registered Nurses),  the Completion Midwifery course of study to commence in August 2017 and the B.Sc. in Critical Care Nursing.  The graduate programmes are the M.Sc. in Nurse Anaesthesia and M.Sc. in Trauma Studies.  Completion training programmes are franchised at the Excelsior Community College and in St. Vincent and The Grenadines. 
More than 600 hundred applicants turned away annually
Referencing the current gap in the health sector caused by the migration of Jamaica's specialist nurses, Dr. Campbell underscored that our nurses have earned a reputation of being the best trained in the world.  She lamented therefore, that UTech, Ja. is forced "to turn away more than 600 applicants annually because of our inability to accept them for training even though they are qualified."  The Head of School expressed hope that the University will be able to, in the near future increase its capacity for the training of nurses.
She congratulated the students on earning their stripes noting that the School continues to excel academically.  She noted that the CSON achieved the highest pass rate in the Regional Examination for Nursing students in 2015 and also shared that nursing student, Miss Kaysha Foote, copped the 2015 LASCO/NAJ  Student Nurse of the Year award.
Train Nurses for International Communities
Prof. Stephen Vasciannie, CD, President, UTech, Ja.  in his remarks, lauded the students and their lecturers on their achievement. In addressing the chronic shortage of nurses caused by their migration to "greener pastures," Prof Vasciannie said, "Jamaica can and should be training a much larger pool of nurses not just for our local sector, but also for access to international communities."  He shared that a recent World Bank study on nursing labour in CARICOM countries showed that if current policies remain the same,  the gap in the nursing shortage will grow from the present figure of 3, 400 to 10,700 by 2015.   He also shared that current data reveals that the USA has projected that the country will need 1.2 million trained nurses by the year 2022.  
Prof. Vasciannie opined that with proper arrangements with foreign governments, Jamaica could gain significant foreign exchange earnings from training nurses for the export market.  He suggested that, "through structured training agreements with overseas government we [could] provide the required training of their own people for re-entry into their respective economies once they have been trained here."  He also noted that, conversely a structured arrangement with foreign governments could require their investment in strengthening our healthcare infrastructure so that more nurse can be trained for both countries.
Noting that UTech, Jamaica is doing its part in helping to fill the large gap for trained nurses,"   the President reported that since 2007 the University has graduated some 678 nurses, with the yearly intake of midwifery and nursing students at both the Papine and Montego Bay campuses steadily increasing,  with an intake of 192 students for the 2016/2017 academic year.
Guest speaker at the Striping Ceremony was  Mrs. Patricia Eves-McKenzie, former Senior Counsellor, UTech, Ja. She charged the nursing and midwifery students to always strive for excellence and to embrace the UTech, Jamaica Core Values as they develop and hone their personal and professional skills.  In sharing the UTech, Jamaica Core Values of Respect, Accountability, Integrity, Service, Excellence,  Innovation and  Team spirit, Mrs. Eves said, "it matters that these values are interwoven into your daily lives…and should form the basis of your professional practice."
President,  Nurses Association of Jamaica, Mrs. Janet Coore-Farr who brought greetings to the nursing students, stressed the importance of exercising empathy in their profession, noting that a patient may never remember a nurse's name but will always remember how they are treated. 
In attendance at the  Striping Ceremony were members of faculty and staff, members of the nursing fraternity as well as family, friends and well-wishers of students.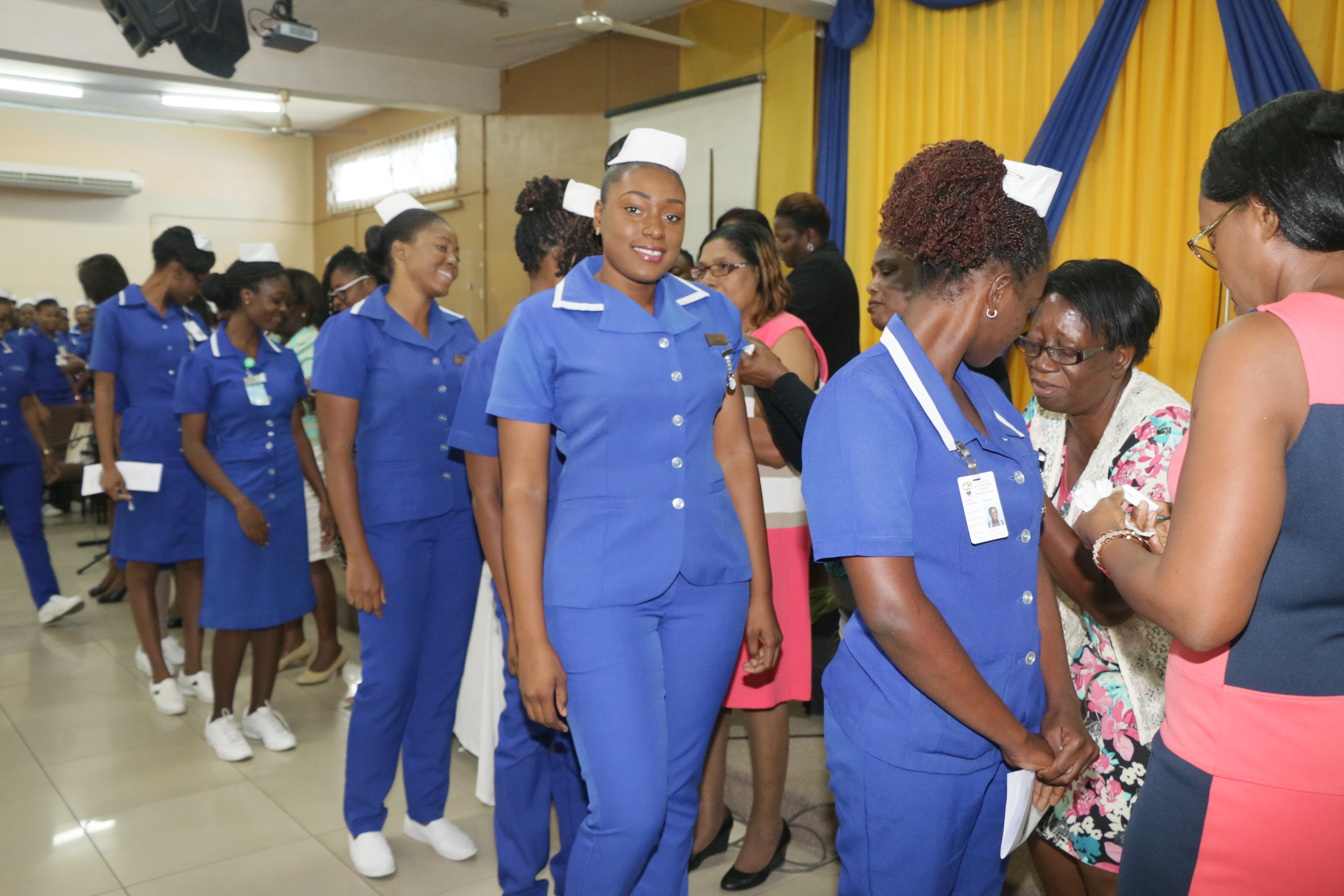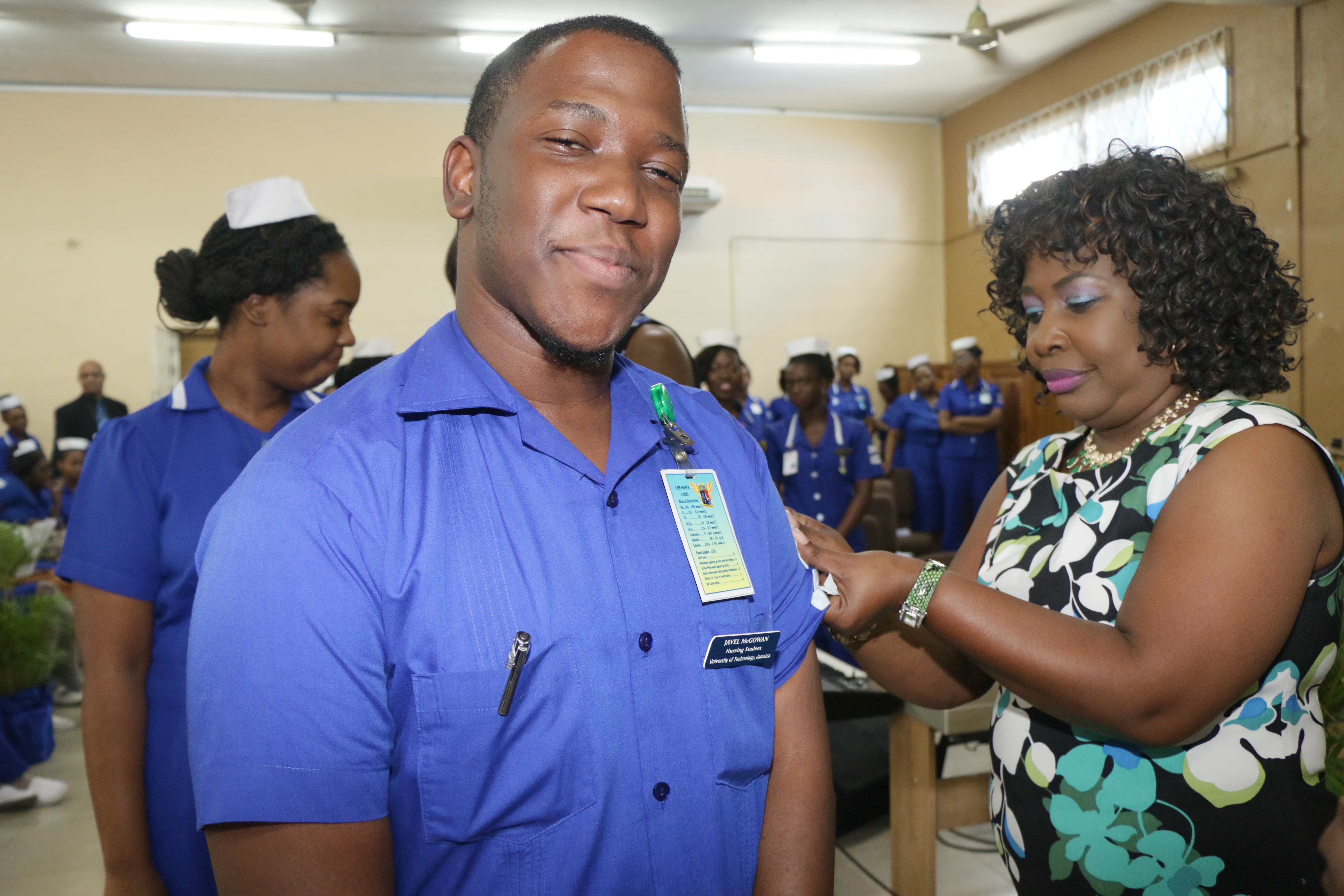 (At top), Lecturers and preceptors pin nursing and midwifery students with their symbolic stripes.  Below, a smiling Mr. Javel McGowan, B.Sc. Nursing student accepts his stripe from Mrs. Anthonette Patterson-Bartley, Lecturer, CSON.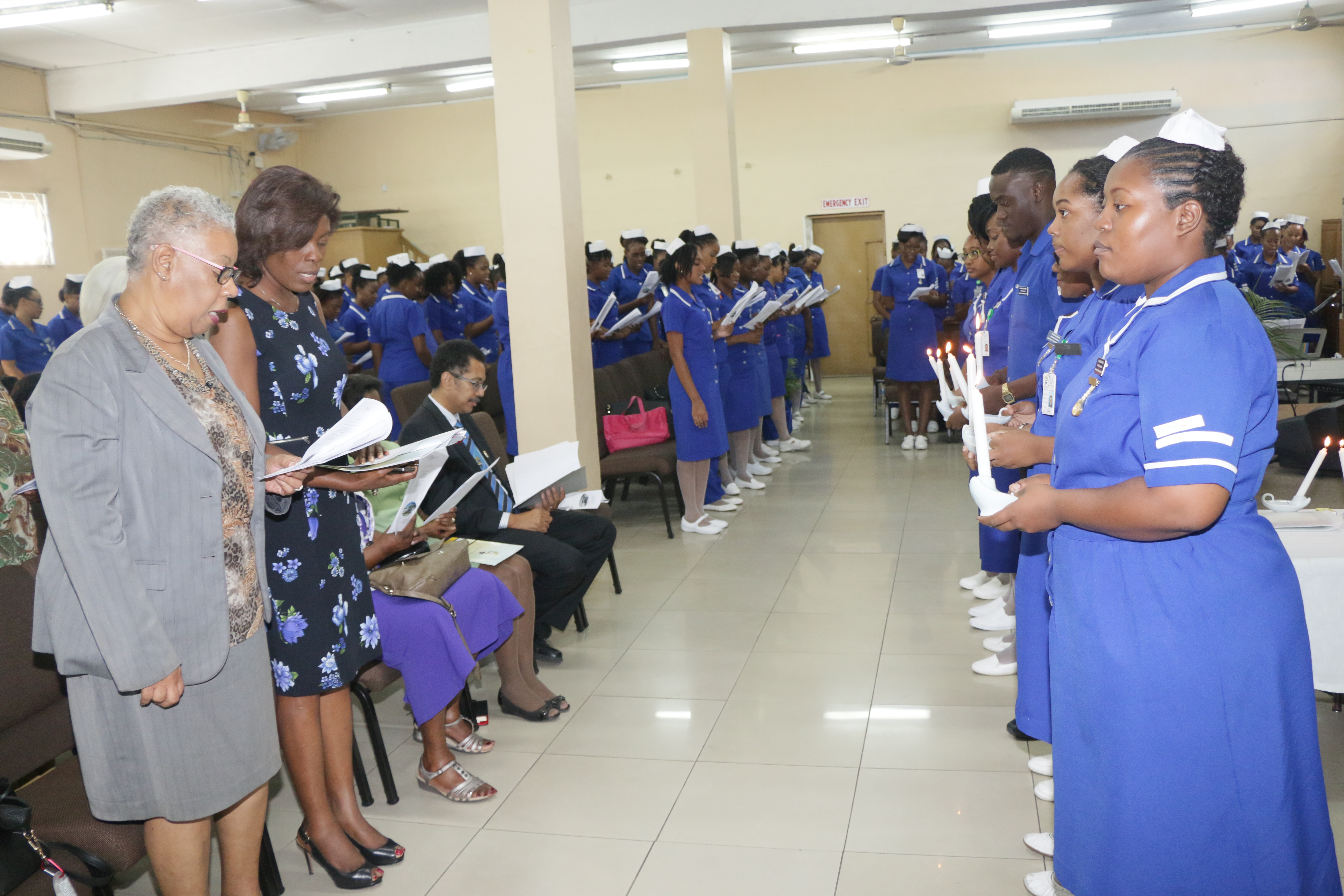 Nursing and midwifery students participated in a symbolic candle lighting ceremony ahead of reciting the Nursing Student Pledge.  Standing at left are Mrs. Janet Coore-Farr, President, NAJ and Dr. Adella Campbell, Head, CSON. 
Final year B.Sc. Nursing student Miss Sasha-Gayle Tomlinson (right) makes a special presentation to  her classmate Titsania Supersad in recognition of her "extraordinary and dedicated service"  to the CSON Support Group – Class of 2017.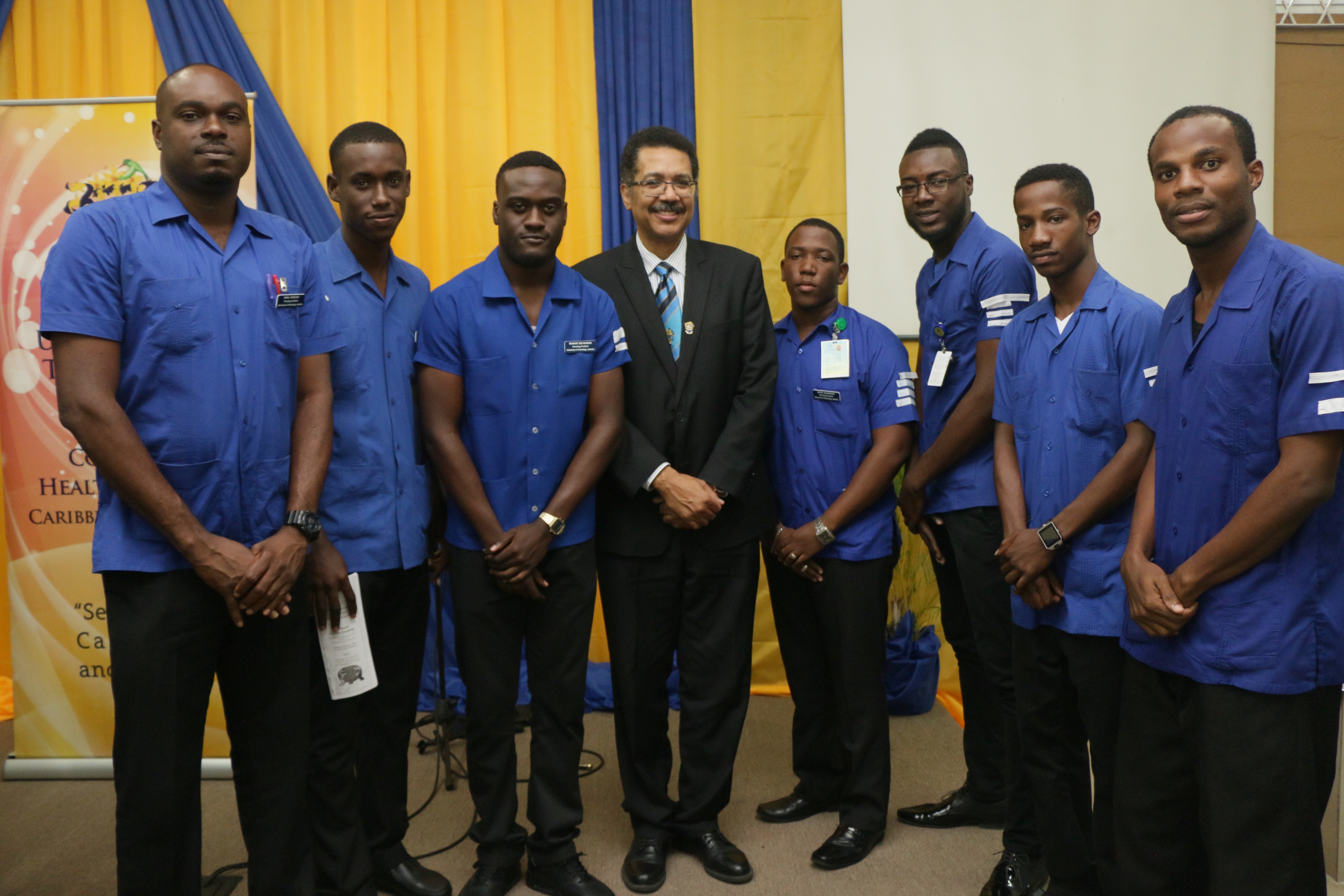 UTech, Ja. President, Prof. Stephen Vasciannie, CD (centre) pose with proud male nursing and midwifery students from left, Noel Wright, Gillon Lindo, Romoy Richards, Javel McGowan, Odean Forbes, Jason Grandison and Eric Armstrong.
End.
Contact:
Michelle Beckford (Mrs.)
Corporate Communications Manager
University of Technology, Jamaica
Telephone: 970-5299
Email: mbeckford@utech.edu.jm