UTech, Ja./Joan Duncan Memorial Lecture Examines Monetizing Brand Jamaica's Music Success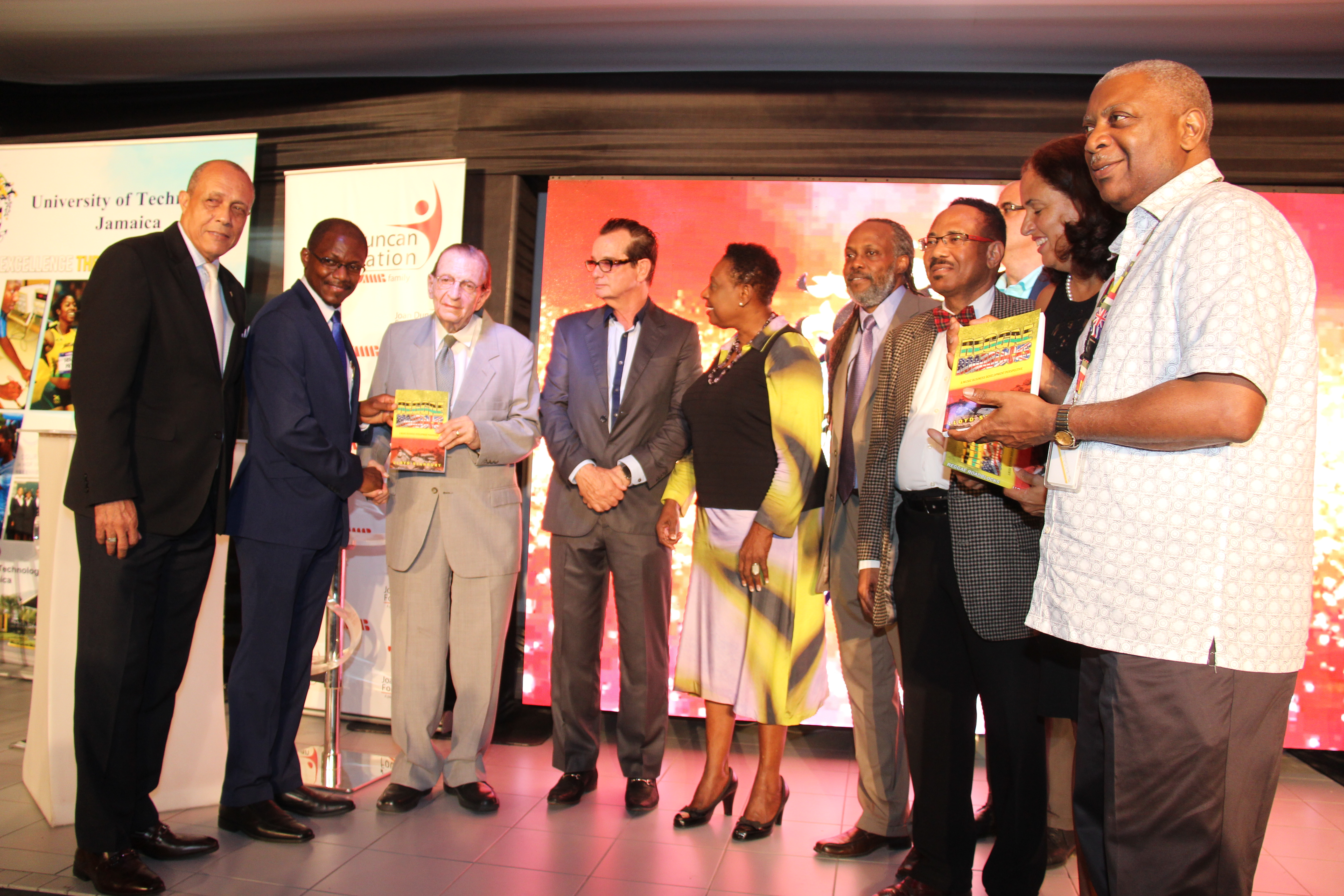 Lloyd Stanbury (6th left), entertainment attorney & music business consultant presented copies of his book, Reggae Roadblocks – A Music Business Development Perspective to UTech, Jamaica and to the Joan Duncan Foundation following his address at the 3rd annual UTech, Jamaica/Joan Duncan Memorial Lecture held  June 1, 2016 at UTech, Jamaica's Papine campus.   Posing with the book are Prof. Colin Gyles (2nd left), Acting President and Most Hon. Edward Seaga, ON, PC (3rd left), Chancellor, Donna Duncan-Scott (2nd right), Group Executive Director, Culture and Human Development, JMMB and Dr. Paul Golding (right), Dean, College of Business and Management, UTech, Ja.  Sharing in the occasion from left are Aldrick McNab, UTech, Ja. Council member, Josef Bogdanovich, CEO of Downsound Records, Hon. Olivia Grange, Minister of Culture, Gender, Entertainment and Sport, Keith Duncan, (partially hidden), Group, CEO, JMMB and Michael Steele, Head, School of Entrepreneurship, Ethics and Leadership (JSDEEL), UTech, Ja.
A large gathering of music business experts, influencers, music aficionados, academics and students, gathered for the 3rd Annual Joan Duncan Memorial Lecture hosted by the Joan Duncan School of Entrepreneurship, Ethics and Leadership, (JDSEEL) University of Technology, Jamaica (UTech, Ja.) and the Joan Duncan Foundation on Wednesday, June 1, 2016.  The third in the lecture series held at the site of the JDSEEL, UTech, Ja. Papine campus, examined perspectives on the theme, "Mining Gold!  How do we Monetize Jamaica's Music Success?"   
In his welcome, Prof. Colin Gyles, Acting President, UTech, Jamaica said that the University was pleased to be "playing our part in facilitating national awareness and discussion on matters of national, regional and international importance.  He noted that the Joan Duncan Memorial Lecture in this regard, represents part of an "ongoing set of strategies being pursued by UTech, Jamaica to provide leadership in advancing public knowledge and understanding of relevant aspects of national life in the interest of economic opportunity and prosperity for our country."
Mrs. Donna Duncan-Scott, Group Executive Director, Culture & Human Development, JMMB Group who brought partnership remarks on behalf of the Joan Duncan Foundation, said that the Joan Duncan Memorial Lecture which honours the memory of her mother and co-founder, JMMB, is "designed to unearth topical and relevant issues, and start conversations that identify solutions in our society that can cause positive and tangible impact."  She noted that as part of the Foundation's mission to develop, support and steward transformational initiatives in education and entrepreneurship, a partnership was forged with UTech, Jamaica in 2011 through an endowment for the establishment of the JDSEEL, valued at over US$1 million.
Commenting on the energy in the environment created at the lecture, in her own effervescent style, Mrs. Duncan-Scott noted  that her mother would have been "totally at home with the topic" of the lecture focusing on  monetizing Jamaican music. 
Chairman of the lecture series and Head of the JDSEEL, Mr. Michael Steele, who served as compere for the evening's proceedings, in his remarks, emphasized that the music business is intrinsically no different from any other business. "One has to identify a need, develop a product, package it, price it, determine your channel of distribution and promote all of those features to a target market," he noted, adding that many artists and musicians believe that all they need to do is "buss a chune."
These dimensions and the many layers involved in establishing and monetizing Jamaica's brand in music were analysed in turn by the two main speakers, Jamaican entertainment attorney and music business consultant, Lloyd Stanbury and Josef Bogdanovich, CEO of  Downsound Records who were followed by panellists  Paul Barclay, Chairman, Jamaica Association of Composers and Publishers, (JACAP) K. Michael 'Ibo' Cooper, musician and senior lecturer, Edna Manley College of the Visual and Performing Arts and Mr. Robert Scott, Vice President, Export and Marketing, JAMPRO. The panel discussion was moderated by Dr. Dennis Howard, musicologist.    
Perspectives on the topic were also shared by Hon. Olivia 'Babsy' Grange, CD, MP Minister of Culture, Gender, Entertainment and Sport and Most Hon. Edward Seaga, ON, PC, Former Prime Minister and UTech, Jamaica Chancellor who is himself an accomplished researcher, author and producer of Jamaican music covering the period from the mid 1950s to the early 1970s.  His anthology, Reggae Golden Jubilee Origins of Jamaican Music was released in 2012 in celebration of the 50th anniversary of Jamaica's independence.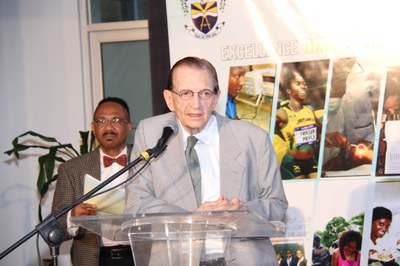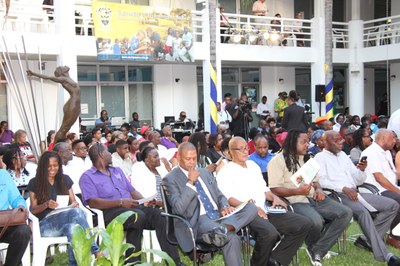 The audience listens intently to Most Hon. Edward Seaga, ON, PC, Chancellor, UTech, Jamaica during his address at the lecture.                                      
Mr. Seaga in a frank and well-received address preceding the lecture, quipped that "I am young enough to know when the music industry started and how it started," and went on to give a veritable history lesson of the evolution of Jamaican music from its roots in ska which he said is credited for helping to break the ice between uptown and downtown with such acts as Paloma, and Millie Small with My Boy Lollipop and later with such talents as Jimmy Cliff, Desmond Dekker and Bob Marley.  Mr. Seaga told the gathering that he longed to hear such composed Jamaican music talent of yesteryear that he can whistle and dance to, compared "to the present thing (dancehall) that is called music,"  which he described as the sound of "blowing your nose and hitting something."   Declaring that this is among the reasons why the music is now fading, the music historian suggested a return to listening and learning from "ska heroes" of the past – advice which was met with nodding approvals and applause from the audience.
Jamaica's Most Powerful Export
Hon. Olivia Grange in her address affirmed that "Jamaican music is still Jamaica's most powerful export and is still a globally recognized entertainment brand of quality and distinctiveness." Noting that the Jamaican music industry has brought wealth to a host of persons over the years and today provides indirect or direct employment for up to 15,000 persons in areas such as content creation and development, performance, distribution, royalty payments, etc., the Minister lamented that there is still "a general agreement that Jamaica is not making as much as it should from this global music prowess and success…with proportional revenues to the sector." 
Supporting the points raised by Mr. Seaga, the Minister proffered some of the factors which she cited have contributed to this deficit.  Among them she stated are high levels of piracy seen globally at a value of 40% of gains; informality of the sector and lack of cohesiveness despite the various umbrella music industry associations; lack of institutional support for the development of the sector and continued reluctance by practitioners to use intellectual property mechanisms to protect and to benefit financially from their work. 
Minister Grange assured the gathering that steps are being taken by her Ministry "to create an environment for the enhanced capitalization of brand Jamaica's music success.  These she disclosed will include special collaborative projects with various agencies and organizations; application of standards for the music product offered in the tourism industry; investment opportunities; and the elevation of music from an extra-curricular activity to the main curriculum in schools.
Overcoming Reggae Roadblocks
With an established consensus that Jamaican music already has the gold which needs to be mined for economic prosperity, each speaker provided key perspectives and prescriptives for the realization of the shared objective.
Lloyd Stanbury who is hailed as a Caribbean pioneer in Entertainment Law in his address, shared perspectives from his recently published book, Reggae Roadblocks, A Music Business Development Perspective which he explained are based on his experiences working in various capacities in the music industry, locally, regionally and internationally. He posited a number of "roadblocks" which he said have caused the business of Jamaican music to continue to struggle for a commensurate place in the mainstream international music business space, despite the accomplishments of Bob Marley, Jimmy Cliff and others. 
Stanbury argued that overcoming the roadblocks to monetizing Jamaica's brand in music would require a combination of careful examination of cultural origins, as well as geo-political and business related issues.  Acknowledging the inroads made by various research, publications and some updating of national policies on cultural and creative industry development, Stanbury argued that these activities have not yet borne fruit at the desired level because of a "lack of consensus and commitment to develop and implement a working partnership between  practitioners in the music industry, members of the academic community and the state working in tandem with all those who have the means to invest in business ventures."  He called for greater efficiency and sustainability of industry umbrella trade and rights management organisations such as JACAP, JIREA, JAMS, and for more formal and informal business management training; expanding structures such as the Jamaica Cultural Development Commission (JCDC) and initiatives such as Reggae Month to make them more commercially relevant, and a greater understanding of global industry trends and the application of new technologies in the music industry.
"Save Your Own Music"
Music veteran, Mr. Josef Bogdanovich originally from California USA and now resident in Jamaica, expressed a deep personal appreciation and love for Jamaican music that he said is perhaps not as appreciated locally as it should be.  "What I know is reggae is powerful and international and influential," he said, arguing that the industry is "in a crisis".  He lamented that Jamaica's culture in reggae music is slipping away and is more vibrant in cities around the world such as Germany, Holland, Spain and France.  "Fifty years ago, we had 10 or so annual live concerts. Today we have, perhaps two or three," he lamented.  He said it was out of this concern that he recently invested in the acquisition of the Reggae Sumfest brand.  He implored the gathering to "save your own music" by first recognizing that what we have is special and of great value, desired by people around the world.  Emphasizing that Jamaica's citizens hold the key to monetizing the music industry, Bogdanovich ended with a call for support of Jamaica's music festivals, concerts, artists, writers, selectors, etc.
Template for Success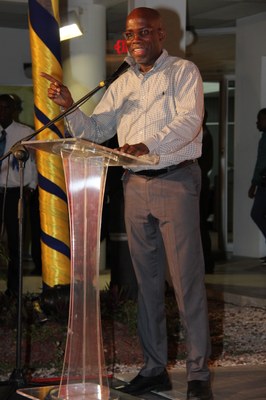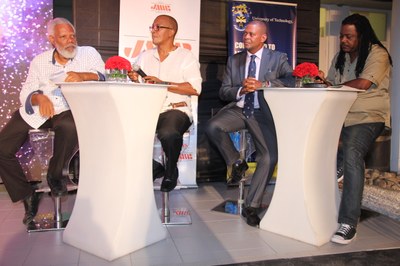 Dr. Dennis Howard (at podium), Musicologist, fields questions from the audience for lecture speakers and panellists as he moderates the panel discussion following the lecture.  From left are guest lecturers, Mr. Lloyd Stanbury and Mr. Josef Bogdanovich and panellists Mr. "Ibo" Cooper, Mr. Michael Bennett, Mr. Robert Scott and Mr. Paul Barclay.
 "Ibo" Cooper who is also Chairman of the Jamaica Reggae Industry Association (JaRIA) in his presentation lamented what he described as a general undervaluing of music education and training by those creating the music.  "Understanding harmony, being able to communicate the composer's or artiste's intentions and being able to understand this communication quickly, are all facilitated by the said education," he argued, adding that though inspiration is the "raw material", education will not necessarily lead to inspiration but will certainly enhance the product created by the already inspired.  "This enhancement will sustain the indefinable appeal that Jamaican music has created," he affirmed.
The affirmation was reiterated by Michael "Mikey" Bennett who drawing on the parallel of Jamaica's success in track and field, noted that success leaves clues and the clue to the success of the fastest man and woman in the world – Jamaica's Usain Bolt and Shelly-Ann Fraser-Pryce is their training and the guidance of their "coach."  He argued that the approach can be replicated across disciplines to enhance success in the music industry.  He noted that challenges affecting earnings include, waning promoter confidence, inability to win new fans, shortage of new headliners and stars, substandard material, inability to travel and work in the USA market and lack of coaching being experienced by young artists whose performances lack creativity and entertainment value.
Bennett who is currently engaged in developing The FiWi Jamaica Master in Residence programme through the FiWi Jamaica Project at UTech, Jamaica disclosed that the programme set to come on stream soon, will provide coaching for new and established artistes, combining lectures and workshops to introduce artists to professionals and mentors, on the art of performance.
Paul Barclay in his contribution lamented that despite Jamaica developing six recognizable forms of world renowned music over the last 50 years in the form of mento, ska, rocksteady, reggae, dub and dancehall, millions of dollars have gone to foreign publishers who have licensed or covered our music, adding that over 60 per cent of royalties collected locally go to rights holders overseas.  The JACAP Chairman said that this has resulted primarily from allowing marketing and distribution of our music being placed exclusively in the hands of foreigners.  He noted further that while many countries that have not impacted the world as much in music are using IP as financial collateral, Jamaica's financial sector and enabling government structures have not followed suit.  He also called for greater enforcement of local laws where media stations and other entities pay for the music that they use.
Looking at the value of the global music market which is estimated to be in the region of US$15 billion with an annual growth rate of 3.2% with such features as physical and digital formats, streaming services and performing rights, Mr. Robert Scott recommend six key critical areas in achieving monetization of Jamaica's music.  He shared that these should include focus on digital business models; properly constructed distribution contracts, engagement of professional management; proper merchandising and licensing, intellectual property protection and the holistic growth of the artiste.
A robust question and answer session with issues raised by the audience, followed the panel discussion.
Among those in attendance at the lecture were Carole Guntley, former Director General of Tourism. Audrey Richards, Consultant, Venture Capital, Development Bank of Jamaica (DBJ), double Grammy winning producer Wayne Jobson, Robert Bryan, owner, Grizzlys Entertainment Limited, Lenford Salmon, owner, Jambiz International Business, Brian Schmidt, Marketing Manager, IRIE FM, Copeland Forbes, Herbie Miller, Director/Curator, Jamaica Music Museum Ricardo Chin, producer, Teddy Laidley, entertainment consultant, members of the Rastafarian community,  other members of the music fraternity, local and international press, members of the JMMB team and UTech, Jamaica faculty staff, students and academics from other tertiary institutions.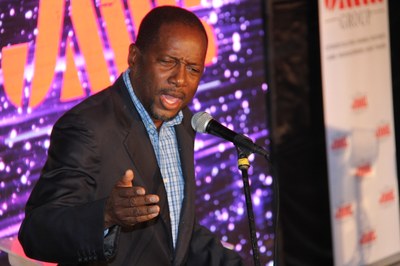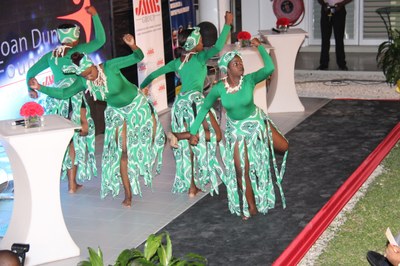 IN TRIBUTE TO JOAN DUNCAN:  At left DiMario McDowell, tenor baritone delivers an emotionally stirring rendition of "Creation" by the late Peter Tosh, while at right, UTech, Jamaica Centre for the Arts dancers give a riveting performance to the sounds of "Heart of a Lion" by Kymani Marley in tribute to the late Joan Duncan.
 Background on Joan Duncan
Joan Duncan pioneered the money market business in Jamaica, co-founding the Jamaica Money Market Brokers Limited in 1992 with Dr. Noel Lyon. The company has become one of leading financial groups in the Caribbean boasting over 220,000 clients and J$1.73 billion in net profit.   In 1994 JMMB was appointed as one of the first seven primary dealers for the Bank of Jamaica.   One of Duncan's most notable achievements was being honoured posthumously in 2011 through the official renaming of the University's School of Entrepreneurship - The Joan Duncan School of Entrepreneurship, Ethics and Leadership, (JDSEEL).
The inability to convince the established financial houses to enter the money market, led Joan Duncan to brave all difficulties and enter the market through a joint venture with National Development Bank, Mutual Security Bank, Jamaica Producers Limited, Jamaica Venture Fund and Antrim Ltd.  
This tenacity and drive has been a legacy left by Joan Duncan who transitioned at the age of 58, to start a company where any Jamaican could walk in off the street, take a few hundred dollars out of his or her pocket and invest it. Her dream also encompassed the creation of a different kind of work place from the traditional organisations she had encountered in the Jamaican business world. Instead she built a company on the vision of love where employees would work in a fun-loving atmosphere with a commitment to innovation and creativity, integrity and responsibility and each member of the team has the opportunity to learn and grow.
The Joan Duncan School of Entrepreneurship, Ethics and Leadership (JDSEEL)
The JDSEEL, UTech, Jamaica is the first School of its kind in the English Speaking Caribbean to offer a specialized B.Sc. Degree in Entrepreneurship. The school officially started in February 2010 and graduated its first cohort in November 2014. It is also the first school of its kind in the English Speaking Caribbean to have an active business entrepreneurship incubator centre for start up businesses. Currently, the Technology Innovation Centre has over 30 clients under its umbrella and converts a 92% occupancy rate.
Contact:

Michelle A. Beckford (Mrs.)
Corporate Communications Manager
University of Technology, Jamaica
237 Old Hope Road,, Kingston 6
Tel: (876) 970-5299; 927-1680-8 Ext. 2299,  Fax: 970-2225
Email: mbeckford@utech.edu.jm