UTech, Ja. 65th Anniversary Scholarship Awarded to Top 65 High Achievers

Professor Colin Gyles (centre), Acting President, University of Technology, Jamaica, Dr. Haldane Johnson (right of Prof. Gyles), Acting Deputy President flanked by Deans/Acting Deans pose for a group photograph with outstanding students who received the UTech, Jamaica 65th Anniversary Scholarship award on Friday, May 19, 2023, at a special scholarship presentation ceremony held at Lecture Theatre 50, Shared Facilities Building, University of Technology, Jamaica Papine Campus.
University of Technology, Jamaica presented the 65th Anniversary Scholarship to its top 65 students from across its three colleges and five faculties who earned the highest Grade Point Average (GPA) in the last academic year, at a special award ceremony held Friday, May 19, 2023, at the Papine Campus. 
The scholarship, established in 2018 as part of activities to commemorate the university's then 60th Anniversary, forms part of the university's thrust to recognize and encourage student academic excellence and has been presented annually to the top 60 students who have earned the highest Grade Point Average (GPA) in the preceding Academic Year. 
This year, as the University of Technology, Jamaica marks its 65th anniversary, the annual scholarship has been renamed to reflect this milestone and the number of students receiving the award has been increased to 65.  Each student awardee received a cheque for $100,000.00.
In heartily congratulating the top performing students, Professor Colin Gyles, CD, Acting President, UTech, Jamaica, noted that, "we are pleased to continue this tradition of honouring the achievement of academic excellence among our students," adding "students, you represent the cream of the crop – the crème de la crème of our university."  Further praising the academic high achievers for surmounting the myriad challenges of the last two-plus years, including the challenges resulting from the COVID-19 pandemic, Professor Gyles affirmed - "occasions such as this celebration of excellence, give us reason to feel hopeful and confident about the bright future of our country, the Caribbean region and beyond. The near perfect GPA of the 65 bright students who will be honoured today, tells us that both you and those who support your success – your lecturers, administrators, your parents, family and other supporters, are doing something right." The Acting President encouraged the scholarship awardees to continue to make excellence their "life's habit."
Dr. Haldane Johnson, Acting Deputy President, who chaired the ceremony, also offered congratulations to the scholarship recipients.  He noted that last year's average GPA for awardees was 4.087, while this year the average GPA is 4.0047 – a slight decline of .082 GPA or 2.01%, but noted that despite a marginal decline, "this is still excellent because it is still higher than the years previous to last year's and it still passes the 4.0 Grade Point Average."  In the current grading system, a grade of A+ (90% and above)  carries a weighting of 4.3.
The awardees were presented by Deans or by their representatives from the respective colleges and faculties.
In an inspiring response on behalf of fellow awardees, College of Business and Management high achiever, Kawaine Anderson who achieved the highest  GPA of 4.24, shared that "this scholarship is much more than just a financial award; it is a symbol of hope and inspiration that will further fuel our passion for education and success."  He added that the award from the university "is also a reminder that there are people who believe in us and our dreams.  Essentially, this reward will go a long way in motivating us to work even harder," he affirmed.  On behalf of his fellow awardees, he thanked members of faculty, staff, families, and other members of their support system for "playing an indispensable role in our success," and implored his peers to "use your blessings to positively impact those around you…do not just be bright, be the bright light," he asserted.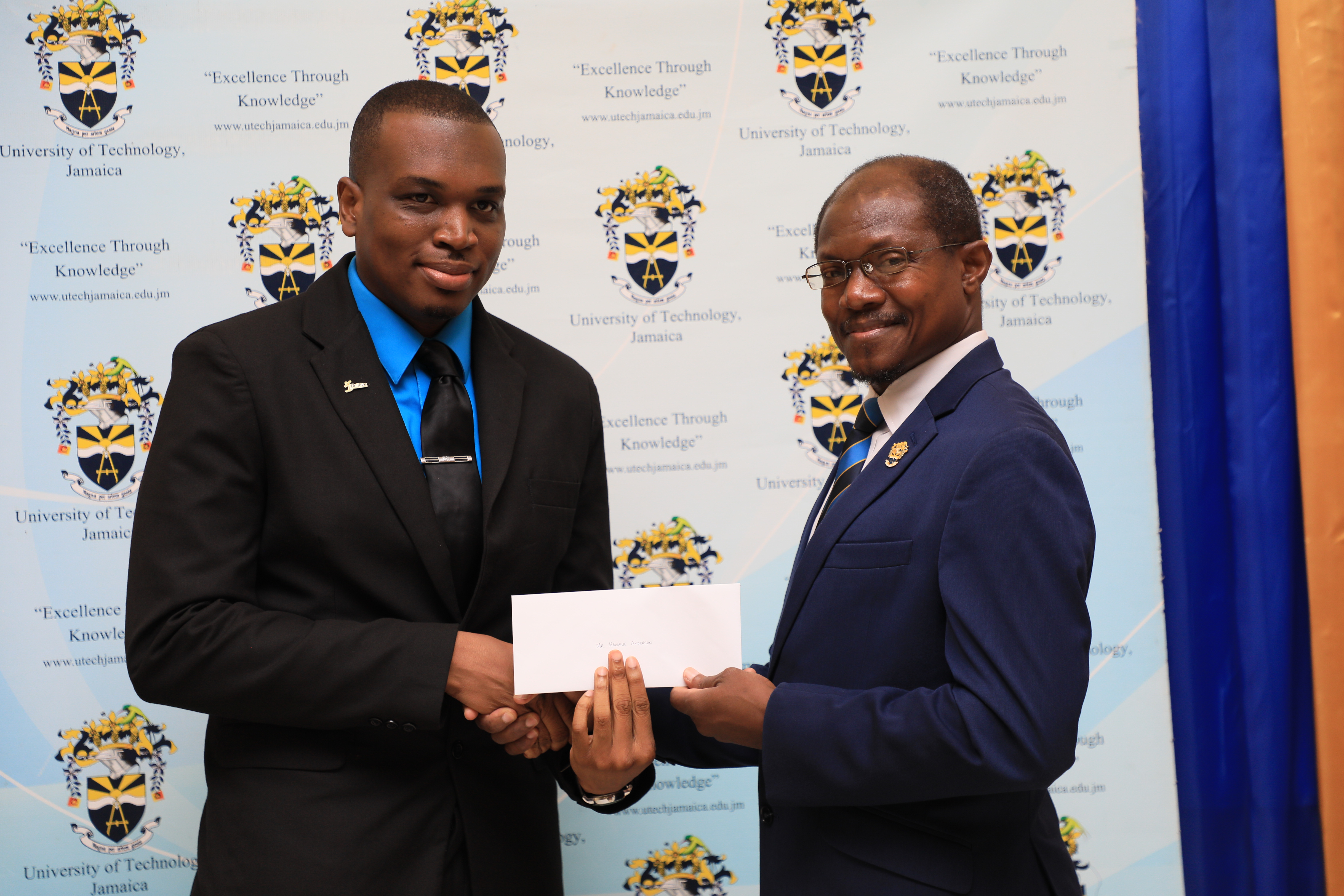 High Achiever: Professor Colin GylesCD (right) Acting President, University of Technology, Jamaica presents the University's 65th Anniversary Scholarship cheque of $100,000 to student of the College of Business and Management  Kawaine Anderson who achieved a Grade Point Average (GPA) of 4.24 in the last Academic Year, 2022/2023.  The scholarship award was presented at a special ceremony on Friday, May 19, 2023, at the University's Papine Campus.
End.
Contact:
Michelle Beckford 
Corporate Communications Manager
University of Technology, Jamaica
Telephone: 876 970-5299 
Email: mbeckford@utech.edu.jm