Advisory to Resident Students re Collection of Items on Halls of Residence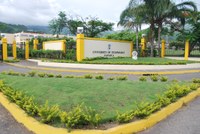 The University of Technology, Jamaica is advising its resident students to collect all remaining personal belongings left on the Halls of Residence, in accordance with the schedule below: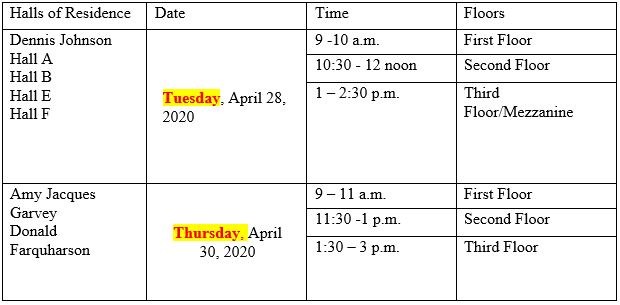 For a smooth process, full compliance is anticipated.
 ALL Resident Students are required to comply with the following:
Upon entering the Campus, it will be mandatory to wear a mask. You will be required to present your student ID, and provide your name and assigned Hall to the security personnel at the Main Entrance Gate on your specified time slots.
Security Personnel will do the required checks, and direct you accordingly.
Drivers will be directed to a designated parking area. Vehicles will NOT be allowed in the courtyard of the LOME Halls and or at Garvey Hall.  The designated parking areas for each Hall are assigned as follows:
LOME Halls – Student and staff parking adjacent to the Cynthia Shako Early Childhood Education and Day Care Centre  
Garvey Hall – Parking area at the Auditorium and along the swimming pool
Farquharson Hall – Student and staff parking across from Juici Patties
Dennis Johnson Hall – Parking at the Faculty of Law
No parent/guardian will be permitted to enter the Hall with students to retrieve items.
On reaching the Hall, students will be required to provide the assigned security personnel with his/her name and present a Student's ID. Students will not be allowed to enter the Hall without a mask which must be worn throughout the collection time.
Students will be permitted in groups of 10 to retrieve items, and will be allowed to do so within a 15-20 minute window. No more than one person will be permitted to enter a room.
Persons awaiting their turn to retrieve items from the Hall, will remain in their transportation until further directed.
Your hands will be sanitized upon entering the Hall by the respective Resident Manager(s).
You will be required to remove all your belongings directly to the awaiting vehicle within the designated parking area.
Upon leaving the Hall, you will be required to hand in your room key(s), and sign beside your name the listing which will be provided.  Your keys must be given directly to the security personnel and or Resident Manager on site.   Keys will not be accepted from third parties.
You will not be permitted to wait for "pick-up" within the vicinity of the Halls of Residence.  You are required to do so at the appropriate waiting area provided by the University at the round-a-about.
Kindly be advised that the University will not be held liable for any loss and or damage of personal items as is stipulated in the Halls of Residence Students' Handbook 2019-2020, page 43. Students who fail to collect their items do so at their own risk as these items will be placed in storage.   Students are therefore being implored to retrieve their items within the stipulated periods. 
Resident Students from the Parish of St Catherine who are currently under quarantine orders will be facilitated at a later date.
End.
Contact:
Michelle Beckford (Mrs.)
Corporate Communications Manager
University of Technology, Jamaica
Telephone: 876 970-5299 or 876 818-5893
Email: mbeckford@utech.edu.jm