Capacity Audience Witnesses Installation of Prof Stephen Vasciannie as Fourth President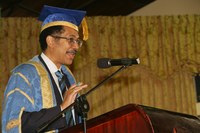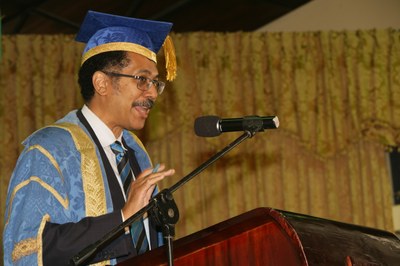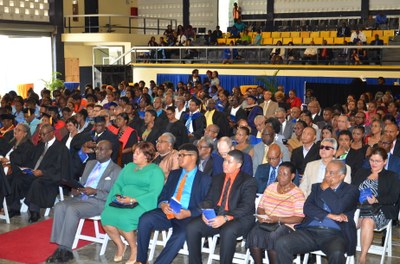 INAUGURAL ADDRESS:  Prof. Stephen Vasciannie, CD, delivers his inaugural address following his installation as fourth President, University of Technology, Jamaica on Tuesday, March 14, 2017 at the Alfred Sangster auditorium, Papine campus.  At right is a section of the capacity audience that was in attendance.  Seated in the front row from left are Senator the Hon. Ruel Reid, CD, JP, Minister of Education, Youth and Information, members of Prof. Vasciannie's family, his wife, Dr. Lisa Vasciannie, sons, Mr Sean Vasciannie and Mr Dominic Vasciannie, aunt, Ms. Joan Vacianna and brother, Mr. Dennis Duncan.
A capacity audience drawn from government, academia, the legal fraternity, private and public sectors came out to witness the installation of Prof. Stephen Vasciannie, CD as fourth President of the University of Technology, Jamaica at his Installation Ceremony held Tuesday, March 14, 2017 at the Alfred Sangster auditorium, Papine campus.
The celebratory occasion, coming ten weeks after Prof. Vasciannie's appointment as President on January 3, was marked by pageantry, fanfare and an outpouring of warm welcome and good wishes  from all present.  The ceremony scheduled for 4:00 pm commenced exactly on time and flowed with precision, starting with a musical prelude from 3:00 pm – 3:45 pm, led by the Jamaica Military Band  and  the UTech, Jamaica Instrumental Band, as over 500 guests took their seats inside the auditorium. 
The Opening of the Proceedings by Chancellor and former Prime Minister, the Most Hon. Edward Seaga, ON, PC followed the dramatic entry of Professor Stephen Vasciannie who entered from the back of the auditorium to Jamaica Military Band fanfare.  Standing tall in his own academic regalia which would later be replaced with his new UTech, Jamaica President's robe, the new President  preceded down the red carpet aisle and was met by University Registrar, Dr. Elaine Wallace who escorted him to the platform.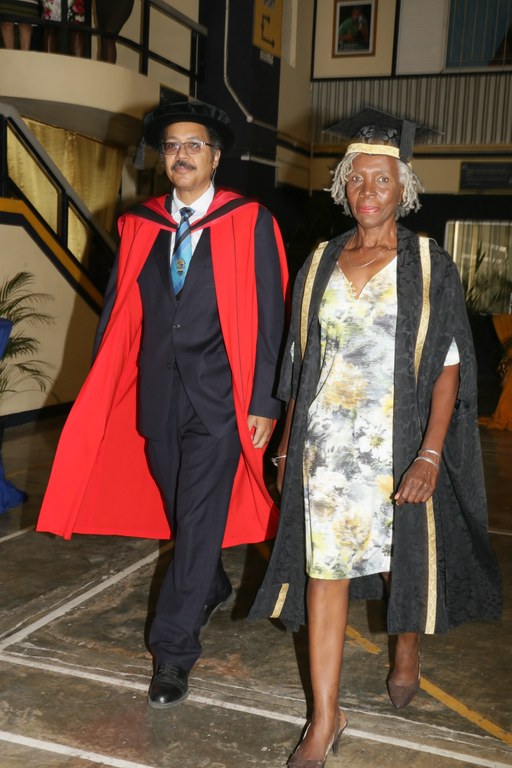 Prof. Vasciannie is escorted by Dr. Elaine Wallace, University Registrar to the platform.
The installation of Prof. Vasciannie followed the reading of his citation by University Orator, Mrs. Pamela Kelly who gave an account of the imminent Rhodes Scholar, lawyer, educator, published author and recipient of numerous awards who was being welcomed as 4th President.  The Orator also shared amusing anecdotal insights gleaned from members of Prof. Vasciannie's  family, his former class mates and friends, much to the delight of the audience.  The Orator noted that his academic performance was legendary from his days as a student at Kingston College where he made his mark as an outstanding Head Boy, editor of the School's magazine and captain of one of the first KC teams to have won the Schools Challenge Quiz competition, and still continues to actively serve his high school alma mater in various leadership capacities.  His citation further revealed that his friends and colleagues describe him as "a man of quiet dignity, humility and integrity, scrupulously honest; committed to progress with equality, easily approachable, personable and human."
The installation procedures involved the removal of the President's robe and cap by Pro-Chancellor, Mr. Richard Powell, University Registrar, Dr Elaine Wallace and Dean's representative -   Dr. Janet Campbell-Shelly,  Acting Dean,  College of Health Sciences.  In taking the Oath of Office, Prof. Vasciannie said " I Stephen Charles Vasciannie agree to uphold the tenets of this University, to abide by its Statutes, Ordinances and Regulations and to carry out the duties of President of this University nobly and with dignity. So help me God."  The Chancellor in handing Prof. Vasciannie his instrument of Office (the University Act) installed the fourth President, stating "May the University flourish and prosper under your management."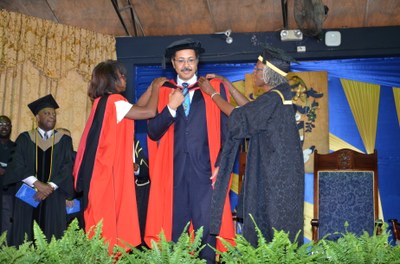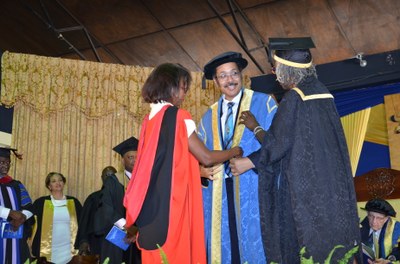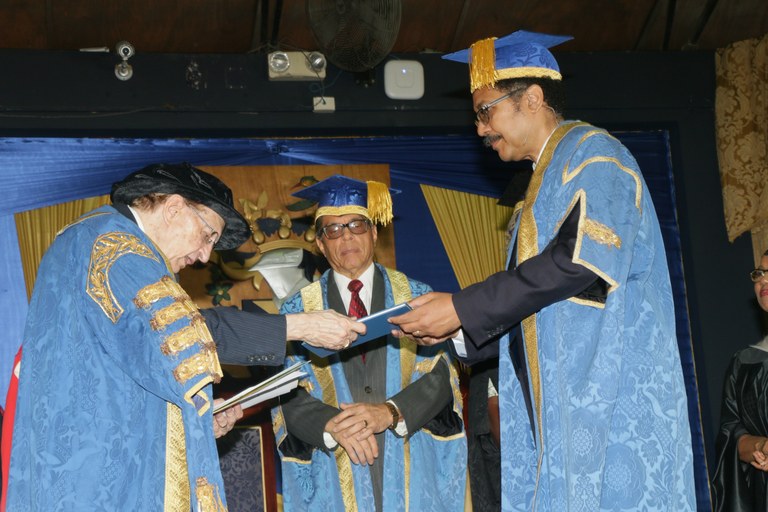 Dr. Janet Campbell-Shelly, (left) Acting Dean, College of Health Sciences and Dr. Elaine Wallace, University Registrar assist Prof. Vasciannie with the removal of his own academic robe ahead of him being newly robed with his UTech, Jamaica President's gown. Below Prof. Vasciannie receives the instrument of office (The UTech, Jamaica Act) from Chancellor, the Most Honourable Edward Seaga, ON, PC.  Looking on is Pro-Chancellor, Mr Richard Powell.
With the ceremonial installation concluded, greetings and remarks were received from the Students' Union President, Mr. Dimitri McGregor, Mr. Ronald Sutherland, President, UTech, Jamaica Alumni Association, Mrs. Dennise Haldane, President, University of Technology, Jamaica Administrative Staff Association (UTASA) on behalf of all three staff Unions, Pro-Chancellor Mr Richard Powell and Minister of Education, Youth and Information, Senator the Hon. Ruel Reid, CD, JP.
"Right Person for the Job"- Senator Reid
The Minister of Education expressed confidence that "we have now found the right President for the University of Technology, Jamaica for such a time as now."  Lamenting that there is less than 5% of tertiary students pursuing science, engineering and information technology," Minister Reid said that "UTech, Jamaica must be therefore situated as the premier hub of science and technology in Jamaica, the Caribbean, South, North and Latin America. " The Minister went on to state that part of the University's mandate must be to gain full institutional accreditation. "I look forward to the University of Technology, Jamaica being the next University to have full institutional accreditation," he said to rousing applause from the audience.
Pro-Chancellor, Mr. Richard Powell in his remarks informed that the Council unanimously approved the recommendation from the Joint Committee of Council and Academic Board for the appointment of Prof. Vasciannie as President of the University for a period of three years.  Adding to the expressions of congratulations and good wishes, Mr. Powell stated that "the entire Council and the members of the UTech, Jamaica community are very pleased to have such a distinguished son of Jamaica as our President.  The Pro-Chancellor expressed confidence in Prof. Vasciannie's capabilities for the proper administration and operation of the University given his outstanding leadership as Principal of the Norman Manley Law School and as Jamaica's former Ambassador to the United States. 
The Students' Union President in congratulating Prof. Vasciannie noted that the student body has been grateful for the time that he has taken to meet with students and to listen to their concerns at various intervals since taking up office.  He  noted that "the students have expressed a sense of hope and optimism in the future of our University and are happy that Prof. Vasciannie has already been demonstrating that he is a student-friendly President."
Mr Sutherland told the gathering that his extensive survey of the UTech, Jamaica alumni community revealed that Prof. Vasciannie's appointment as President has been "met with unanimous approval."  Mr. Sutherland noted further that "we are very excited and extremely optimistic about you taking on the stewardship of our beloved institution."  He urged the new President to build on the reputation of the CAS/UTech graduate known for being 'work ready to hit the grounding running on day one of their employment," which he argued represents the Institution's competitive advantage.  He also called for strengthened efforts to improve on student experience to increase the University's prospects of supportive alumni.
In welcoming Prof. Vasciannie on behalf of the Joint Unions (University of Technology, Jamaica Administrative Staff Association - UTASA, University of Technology, Jamaica Academic Staff Union - UTASU, University and Allied Workers Union - UAWU), Mrs. Dennise Haldane, President, UTASA asserted that his appointment has "inspired an instant elevation in spirits, the possibility of hope and an anticipation of change," and pledged that the Unions stand ready to work to  strengthen the image of the  University "so that it represents the finest traditions in research, teaching and public service."  Emphasising that "the unions are not your adversaries…" Mrs Haldane called for the past challenges to be used as learning experiences to ensure that missteps are not repeated and thanked Prof. Vasciannie for his "interactive" and "humanitarian style" of leadership that he has demonstrated since assuming office.
Inaugural Address
The new President began his inaugural address by thanking his immediate family, wife, Dr. Lisa Vasciannie and sons, Sean and Dominic for "lending me to the University of Technology, Jamaica." He also thanked his extended family, former colleagues, advisors and friends for their support.  Appreciation was also extended to the Chancellor , Minister of Education, Pro-Chancellor and Council members "for their decisions which have resulted in today's installation."   Prof. Vasciannie extended further gratitude to members of academic, administrative and ancillary staff who he said have welcomed him with kindness and grace and to students who have greeted him with warmth and courtesy.  The President also credited the contribution of his predecessors Dr the Hon. Alfred Sangster, OJ, Dr. the Hon. Rae Davis, OJ, Prof. the Hon. Errol Morrison, OJ and Acting Presidents Ambassador the Hon. Burchell Whiteman, OJ and Prof. Colin Gyles, noting that his modus operandi will be "to take the positive features of your respective tenures to build a future together."
Highlighting the three pillars of teaching, research and service, Prof. Vasciannie pointed to numerous achievements in each area, but also pointed to areas of weaknesses to be strengthened in partnership with the University community.   
Among the areas he identified to be bolstered is an emphasis on a student friendly environment and high standards of customer service.  " Our students must know that we are working to ensure that they fulfil their intellectual potential in keeping with international standards of treatment, teaching and learning" he said.  As part of the drive to promote student interests and learning, the President called for the introduction of a scholarship examination on a college/faculty basis as the University's highest merit award.
Turning his attention to the area of research, Prof. Vasciannie  called on lecturers to consistently place themselves in a position to undertake independent research and to keep up with the latest developments in their respective fields.  He called for the establishment of a peer-reviewed journal featuring the work of UTech, Ja. Lecturers as part of the drive to promote a renewed research thrust.
Referencing the opinion held by some persons that "UTech, Ja. must focus exclusively on technology and scientific matters and leave other, non-scientific subjects to other places," Prof. Vasciannie acknowledged that the University should concentrate on technology, as its name suggests, but asserted that given the importance of business and commercial activity within Caribbean societies, and the interrelated body of learning provided by the humanities,  "UTech should continue to offer its offerings in areas not regarded as technology driven including the humanities and the law."
Noting that he has come to UTech, Jamaica because " I believe I can make a difference," Prof. Vasciannie summarised his aspirations for a shared vision in advancing the good name and reputation of the University," by asking the audience whether together we can, to which the response was a resounding, "yes we can."
In Attendance
Among those in attendance at the Installation ceremony was Hon. Fayval Williams, Minister of State, Ministry of Finance and the Public Service, Hon. Steadman Fuller, CD, Custos of Kingston, members of the Diplomatic Corps, Mr. Philip Riley, Charge D'Affaires, High Commission of the Republic of South Africa, Her Excellency Luisa Gutierrez, Charge D'Affaires a.i., Embassy of the Bolivarian Republic of Venezuela, Mr. Michael Dumke, Charge D'Affaires, German Embassy, members of Council, Hon. Shirley Tyndale, OJ, Honorary Treasurer, Mr. Garfield Higgins, Mr. Aldrick McNab, Sharon Hay-Webster, Mrs. Scarlett Gillings, Mrs. Corrine Richards, Mrs. Joan Lawla, President, UTASU, Mrs. Stancy Mighty-Dixon, Chief Delegate, UAWU and Mrs. Eleanor Jones, Heads of tertiary institutions, Prof. Archibald McDonald, Pro Vice-Chancellor and Principal of UWI, Mona, Dr. Winston Adams, President, University College of the Caribbean, Dr. Wayne Wesley, Executive Director, HEART Trust/NTA, Dr. Lincoln Edwards, President, Northern University; Ms. Minna Israel, Special Advisor to the Vice-Chancellor on Resource Development, UWI, Mona, Dr. Wesley Hughes, CEO, PetroCaribe Development Fund, Dr. Wayne Henry, President, Planning Institute of Jamaica, Mr. Anthony Hylton, MP, Rev. Gary Harriott, General Secretary, Jamaica Council of Churches, Dr. the Hon. Dr. Alfred Sangster, OJ, President Emeritus, UTech, Jamaica, Mr. Vivian Crawford, OD, former Pro-Chancellor, UTech, Ja.,  Mr. George Willie, Managing Partner, Bert Smith and Co., Washington, DC, USA, Mr. H. G. Helps, Editor, Jamaica Observer,  Mr. Lloyd B. Smith, CEO, Western Mirror, other members of the press, members of faculty, staff, students, Kingston College students and a host of other well-wishers.
Pictorial Highlights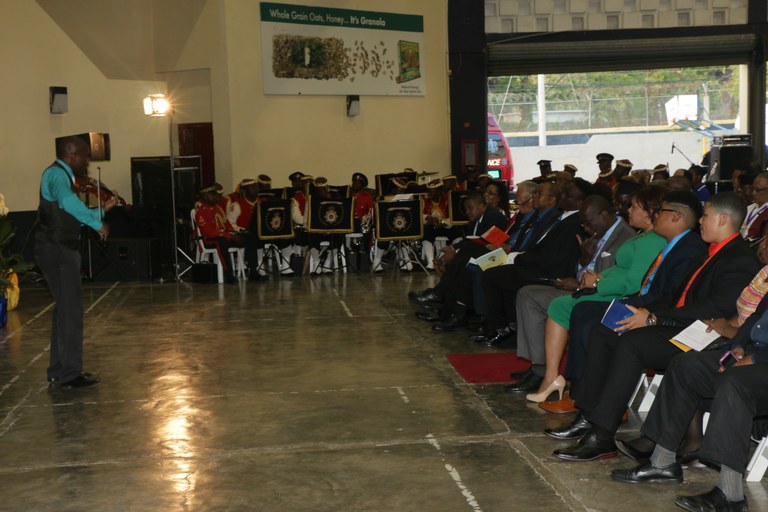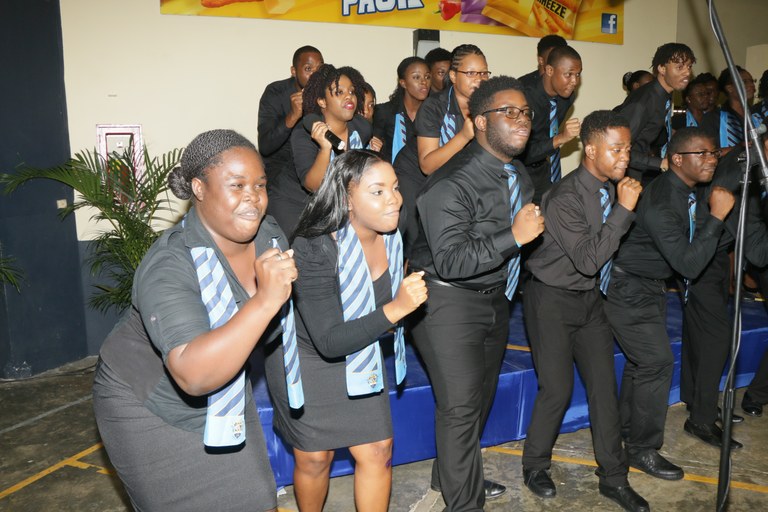 The ceremony featured well-received pieces performed by the UTech, Jamaica Choir.  Above, Violinist Michael Wilson performs the Gloria Estefan arranged song, "Reach".  Above the Choir is in motion as they perform UB40's "Sing our Own Song."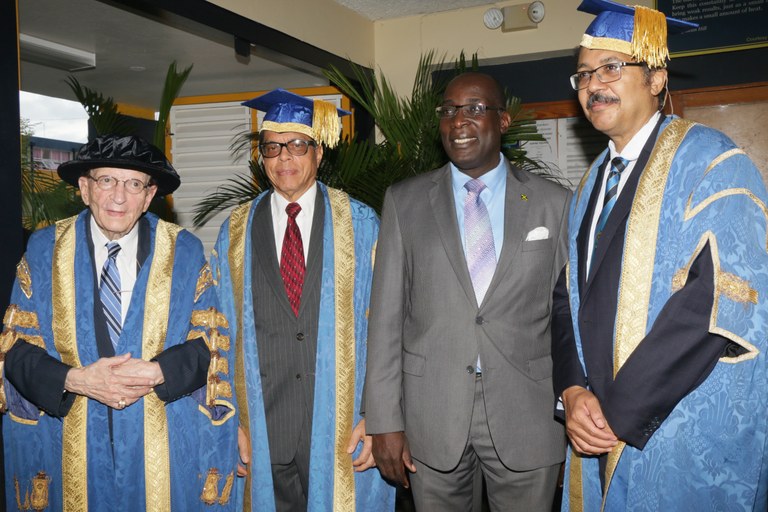 L-R: Chancellor, the Most Hon. Edward Seaga, ON, PC, Pro-Chancellor, Mr Richard Powell, Minister of Education, Youth and Information, Senator the Hon. Ruel Reid, CD and President Prof. Stephen Vasciannie pose for a photo post ceremony.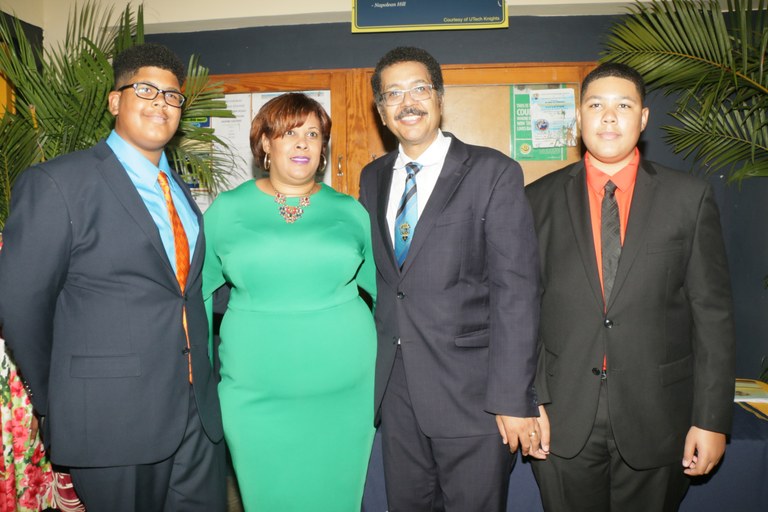 The President's Family (l-R)  Mr Sean Vasciannie, Dr Lisa Vasciannie, Prof. Stephen Vasciannie, CD and Mr Dominic Vasciannie.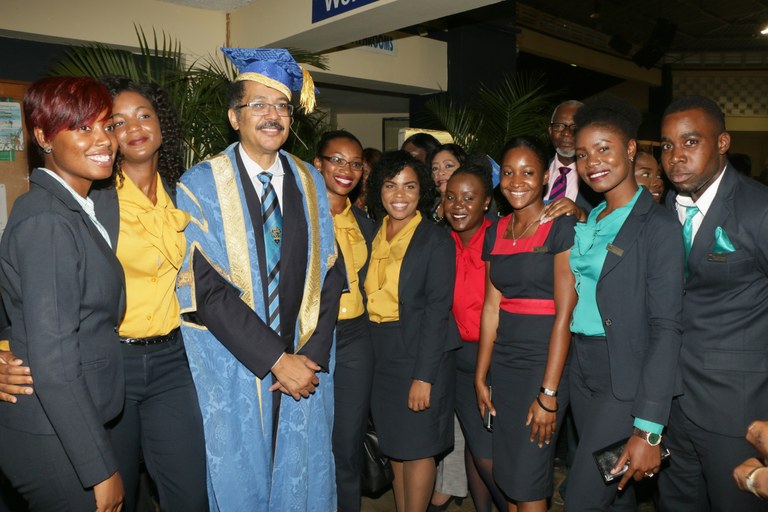 Prof. Vasciannie is surrounded by happy students from the Montego Bay campus who were among the over one hundred uniformed group students who were in attendance.

The President greets his many guests: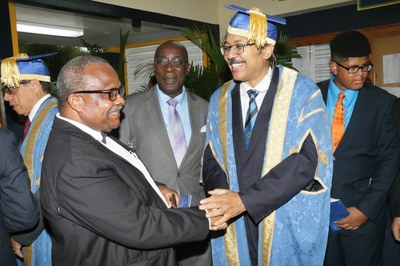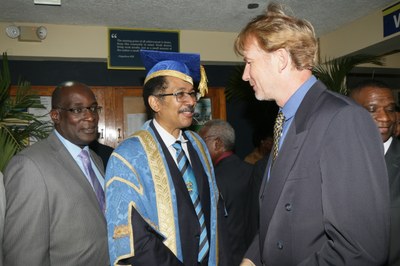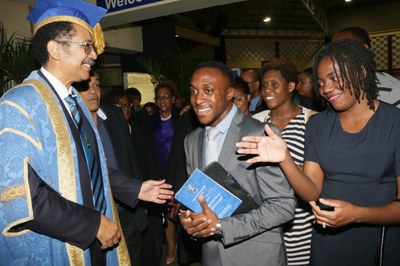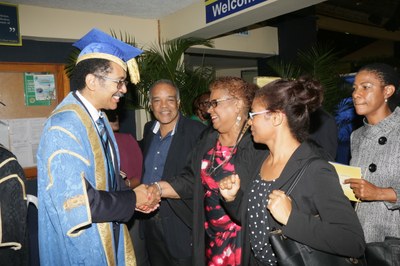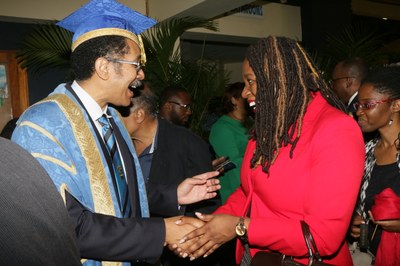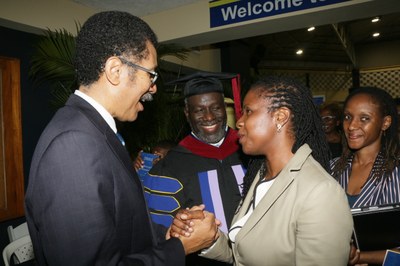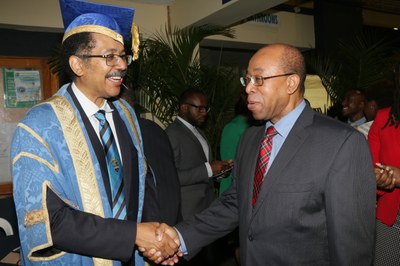 End.

Contact:
Michelle Beckford (Mrs.)
Corporate Communications Manager
University of Technology, Jamaica
Telephone: 970-5299
Email: mbeckford@utech.edu.jm