Restaurants
Lillian's Restaurant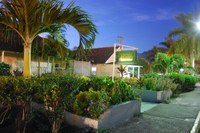 Lillian's Restaurant is the official training restaurant of the School of Hospitality and Tourism Management It is located adjacent to the Caribbean Sculpture Park at the University of Technology, Jamaica. The restaurant provides dining and catering services to the UTech community and the general public.

Seats up to 60 persons comfortably on the dining terrace with standing room for 140 persons. Lillian's Restaurant provides the perfect setting and ambience for all your cocktail receptions, theme parties, luncheons, dinners, birthday parties, brunches, intimate wedding receptions, tea parties and small meetings.

Lillian's is opened for lunch Mondays through Fridays, from 11:30am to 3:00pm and dinner services are provided on Monday evenings from 3:00 pm until 6:00 pm. In addition, guests are taken on exquisite culinary trips around the world through our International Cuisine series, which happens on Friday evenings during selected semesters.
Location: To the right on entering the Caribbean Sculpture Park and opposite to the School of Engineering.
Maise House Restaurant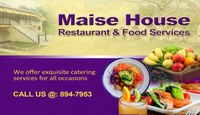 For all your traditional Jamaican dishes: Jerk Pork, Jerk Chicken, Curried Goat, Goat-head Soup, Ackee and Salt-fish, Mackerel Run Dung, Curry Chicken etc
Location: UTech Academic Staff Common Room
Facebook page: www.facebook.com/maisehouse
Email us: maisehouserestaurant@gmail.com
Juci Patties Restaurant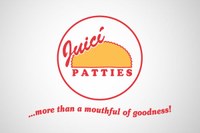 Mission: "We are committed to providing excellent service by serving authentic Jamaican food at affordable prices in clean and comfortable surroundings".
Location: In the proximity of School of Hospitality & Tourism Management and Farquharson Hall.