Dean's Message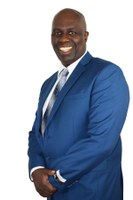 Welcome to the Faculty of Engineering and Computing (FENC) which is the largest faculty that we know of in the English-speaking Caribbean with over 2500 students across our undergraduate and graduate programmes. We pride ourselves as a community of innovative scholars in this industry 4.0 society. Our engineers and computer scientists have been at the forefront of innovation and change in the world.
Today, we face a dynamic, challenging world that calls for urgent solutions to balance both human needs and natural concerns. The demand for problem[1]solving leaders with engineering and computational proficiencies has never been greater.
 The faculty educates today's engineers and computational professionals to be tomorrow's problem-solving leaders through innovative curricula and research activities. Our distinguished faculty engage students in a unique, interactive learning environment that facilitates academic excellence and prepares our students for their future careers while they earn a BSc., MSc., MPhil, or Ph.D. degree.
In the rich environment of the FENC, students can also discover and develop their passions for entrepreneurship, global outreach, team leadership, societal impact, and more. Students lead a wide range of clubs focused on everything from the Institute of Electrical Electronics Engineers (IEEE) robotics to the Association of Computing Machinery (ACM) software development.Students can pursue study abroad, Entrepreneurship training, Civil, Chemical, Mechanical, Industrial, Game development, Artificial Intelligence, Data Analytics, Cybersecurity, and more through co-curricular opportunities across the university gaining experiences and skills that prepare them to become leaders in the industry, and academia among many other professional pursuits.
 We encourage "hands-on" training components in the workshops and labs that simulate the 'real work environment and we work closely with the relevant industries to make sure that we are producing quality graduates to meet their human resources needs and their capacity for the future.
No matter what inspires you, you'll find that FENC is a community vested in your success and prides itself on producing work-ready graduates. We value the different perspectives and backgrounds the students bring to our community and strive to empower each individual on their journey of self-discovery, education, and the application of engineering and computing knowledge and practice to positively impact the world.
 I welcome you all for this new academic year 2022/23 and sincerely wish you all the best in the upcoming year as we continually observe the COVID19 protocols and operate within a hybrid environment.
Professor Sean Thorpe,
Dean-Faculty of Engineering and Computing