Message from the President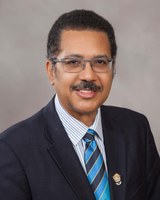 Congratulations to the University of Technology, Jamaica Graduating Class of 2019. It is a special joy that you have earned and completed your certification.  I am delighted to celebrate with you as you prepare to proudly walk across the stage at your Graduation Ceremony. 
You have invested years of time, effort and hard work and have overcome challenges along the course.   Now the returns on your investment are yours to reap. Special thanks to those who have supported you along your journey and contributed to your development and success – your lecturers, administrators, sponsors, parents, spouses, mentors, family and friends.
Wherever the next chapter of life takes you, we are counting on you, our graduates to be good UTech, Jamaica ambassadors of integrity, honesty and humility. Your UTech, Jamaica certification has prepared you well to serve as leaders with impeccable values and attitudes. I encourage you to continue to pursue opportunities for lifelong learning and for the upgrading of your skills and knowledge in your chosen career.
I invite you to take a continuing interest in your University and I look forward to welcoming your return as graduate students and as vibrant, alumni, ready to help in the growth and development of your alma mater. 
Congratulations on your graduation! Walk good!
Stephen Vasciannie, CD
President