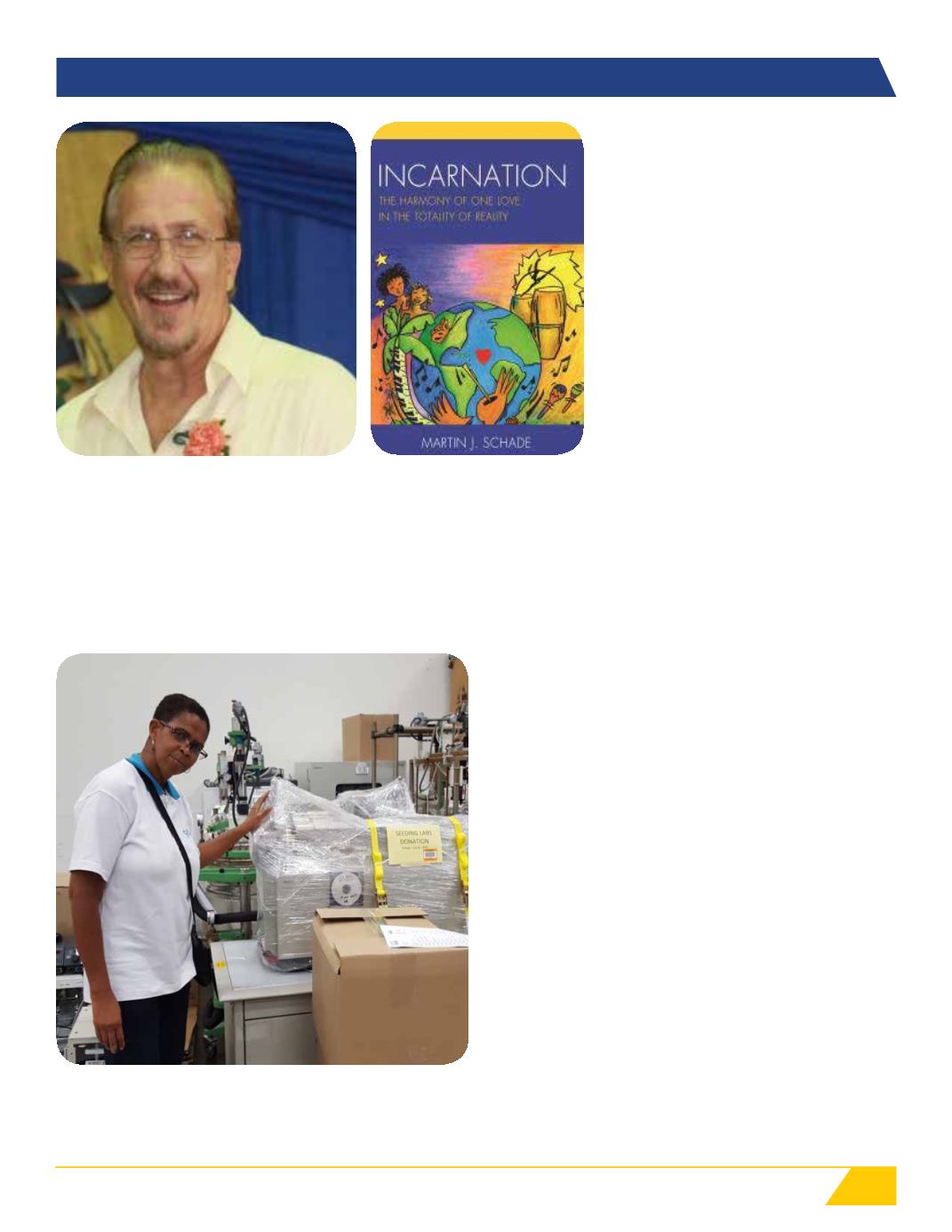 9
August - September 2017
| VOICES Bi-Monthly Magazine of the University of Technology, Jamaica
D
r. Martin Schade is Associate Professor, Faculty
of Education and Liberal Studies. He has been a
member of faculty since the year 2000. Since
2015 he has also served as Faculty Graduate Studies
Coordinator and has served as University Coordinator
of the Community Service Programme (CSP) from
2008 – 2013, among other service roles in the Faculty,
the University and the wider society.
His teaching experience and areas of specialization
are in Philosophy, Metaphysics, Ethics, Philosophy,
Psychology,CaribbeanCulturalExpression,Comparative
Religions, Human Sexuality, Ethics in Architecture and
Sociology. Dr. Schade previously taught at the St.
Michael's Theological College, University of the West
Indies, Instituto de Estudios Religiosos (Maria Reina)
in Cuba and the Harvard University Divinity School,
Cambridge Massachusetts, USA.
Dr. Schade holds a Doctor of Philosophy from the
University of the West Indies; the MA in Philosophy
from Boston College, USA; a BA in Psychology/Philosophy and certificate in Education, both from Marquette University, Milwaukee, USA. Dr. Schade has
given numerous public lectures in his areas of research and expertise. He is the author of the book, Incarnation: The Harmony of One Love in the Totality
of Reality published by the University Press of America, May 2016. "Incarnation offers an understanding of the Self with ethical and cultural applications
which are presented in the material-supernatural existential of music and dance found in the Riddim of Creation."
Dr. Schade received the University of Technology, Jamaica President's Award for Community Service in 2012 and 2015.
Dr. Martin Schade
D
r. Marcia Williams is the Programme Director for the
B.Sc
.
Pharmaceutical Technology course of study and a Senior Lecturer
in the College of Health Sciences. Her research interests include
dosage form design and her focus is in the formulation of naturally derived
pharmaceuticals, to get them into the market in an acceptable form. Her
research interest is focused on improving the bioavailability of lipid-soluble
drugs, mainly through the process of Hot-Melt extrusion and physicochemical
characterization of raw materials and finished products. Her publication
includes articles in peer reviewed journals. She has done oral and poster
presentations at various local and international conferences.
She played the lead role in the development of the
B.Sc
. Pharmaceutical
Technology course of study and was recently successful in a grant
application for needed equipment for the College. The value of equipment
and consumables under the grant from Seeding Labs, an organization which
supports research institutions in developing countries, is approximately
US$175, 350.
Dr. Williams is a member of the American Association of Pharmaceutical
Scientists, the UK and Ireland Release Society and other professional
organizations. A pharmacist by profession, she serves on the executive body
of the Pharmaceutical Society of Jamaica, where she is the Chair of the
Research Committee. She holds a Bachelor of Pharmacy degree (1st Class),
an M.S. degree in Pharmaceutical Sciences from University of Toledo, Ohio,
USA, a PhD degree from Queen's University, Belfast and a Post Graduate
Diploma in Education from UTech, Jamaica.
Dr. Marcia Williams poses with equipment and supplies received
from Seeding Labs, USA.
Profile on UTech, Jamaica Researchers... cont'd from page 8