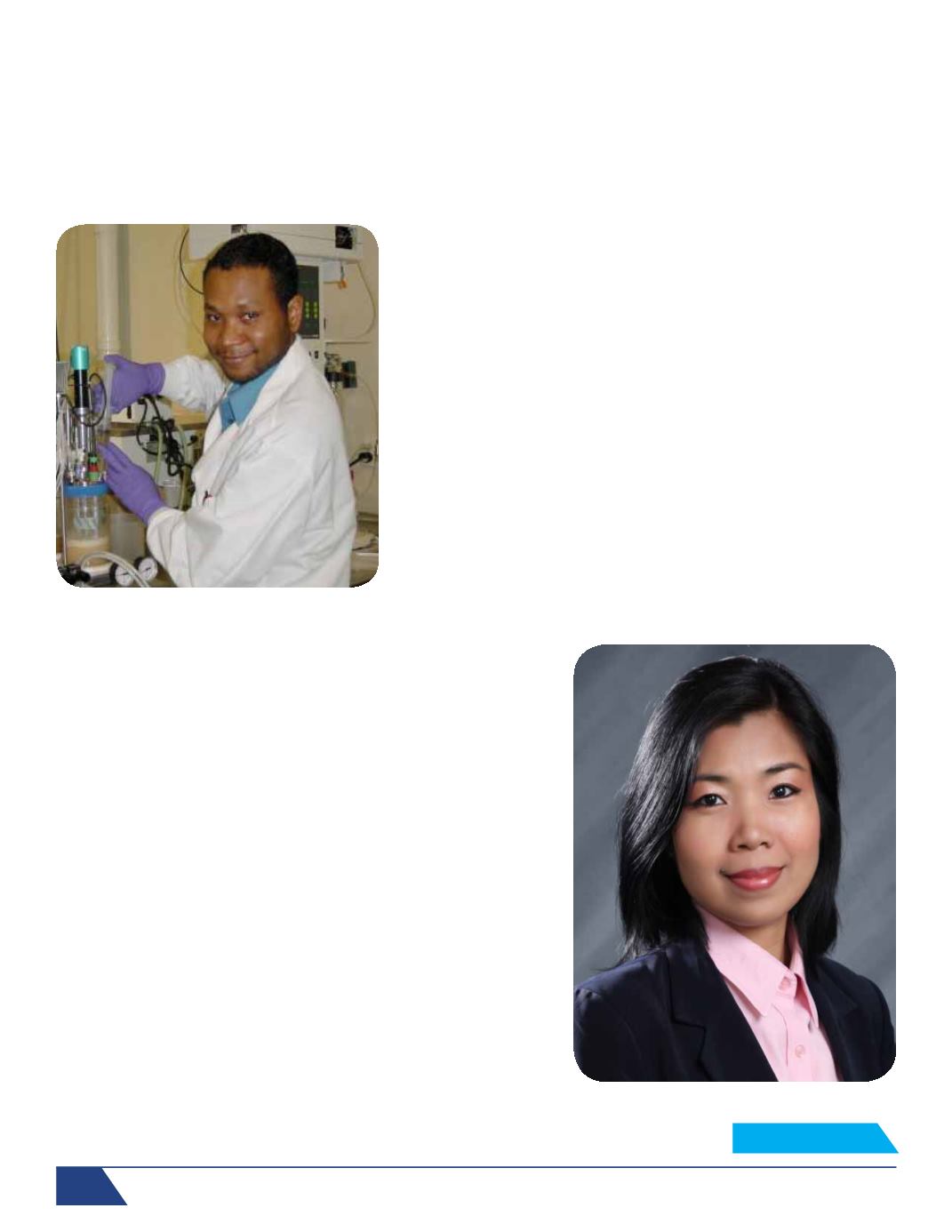 VOICES Bi-Monthly Magazine of the University of Technology, Jamaica |
August - September 2017
8
D
r. Andrew S. Lamm is the Director of the Centre for Science-based Research,
Entrepreneurship and Continuing Studies (CSRECS) and an Associate Professor in
the Faculty of Science and Sport. He is also the creator and Principal Investigator
of the Natural Products Research Laboratory (NPRL) at UTech, Jamaica. His research
interests include: Natural Products Isolation; Bioassay Guided Fractionation; Drug Discovery;
Biocatalysis & Biotransformation; Genetic & Metabolic Engineering; and Bacterial Taxonomy.
His publications include peer-reviewed articles, book chapters, reports, as well as both
commercial and academic presentations which are complimented by grant funding from
local and international organisations.
Prior to joining UTech, Dr. Lamm held the position of VA Professor in Chemistry at the University
of Iowa. While there he was also a Research Scholar at the Center for Biocatalysis and
Bioprocessing; and the Division of Medicinal and Natural Products Chemistry. Additionally,
Dr. Lamm has worked as a Postdoctoral Investigator in the Biomedical Research Division at
Harbor Branch Oceanographic Institute in Florida.
Dr. Lamm is a member of the American Society of Pharmacognosy, among other professional
organisations. He holds a Bachelor of Science degree in Chemistry and Biochemistry (Hons.)
and Doctor of Philosophy (PhD.) in Chemistry from the University of the West Indies.
Dr. Andrew S. Lamm
D
r.SuYin Htun isAssociate Professor and Head of the Department of Oral andMaxillofacial
Surgery, Doctor of Medical Dentistry (DMD) Programme DMD at the University of
Technology, Jamaica. She also currently holds a Fellowship in Craniomaxillofacial
Surgery and Cleft Lip and Palate Surgery with the International Association of Oral and
Maxillofacial Surgeons (FL,IAOMS) and is Consultant Oral and Maxillofacial Surgeon,
Faciomaxillary Surgery Department, Kingston Public Hospital (KPH) and Bustamante Children
Hospital, Jamaica.
Dr. Htun is the award winner of the 2012 IAOMS Cleft Lip and Palate and Craniofacial
Surgery Training Fellowship and has completed her training Fellowship (2012-2013) at the
Arnold Palmer Children's Hospital in Orlando, Florida, USA, University of Pretoria in South
Africa and Dr. Hasan Sadikin Hospital in Bandung, Indonesia. She is an invited speaker to
International Association of Oral and Maxillofacial Surgeon (IAOMS) Conferences.
Dr. Htun earned her BDS and MDSc degrees from the University of Dental Medicine, Yangon,
Myanmar and was a member of faculty at the Teaching Hospital of Oral and Maxillofacial
Surgery, University of Dental Medicine, Yangon where she was trained for maxillofacial
surgery until 2008 when she came as a recruited doctor to Jamaica.
Dr. Htun is also an invited speaker to The African regional Association of Oral and Maxillofacial
Surgeons (AFAOMS). Her primary clinical interests include craniofacial surgery of birth
defects, reconstruction and surgical management of craniofacial trauma. She has published
several peer-reviewed items on facial cleft deformity treatment.
Profile on UTech, Jamaica Researchers
Dr. Su Yin Htun
Members of academic staff at UTech, Jamaica continue to make strides in research projects and initiatives that are adding value to
new knowledge in a variety of disciplines, while contributing to solving societal issues of national concern. In this issue the recent
work of four researchers is featured.
Cont'd on page 9