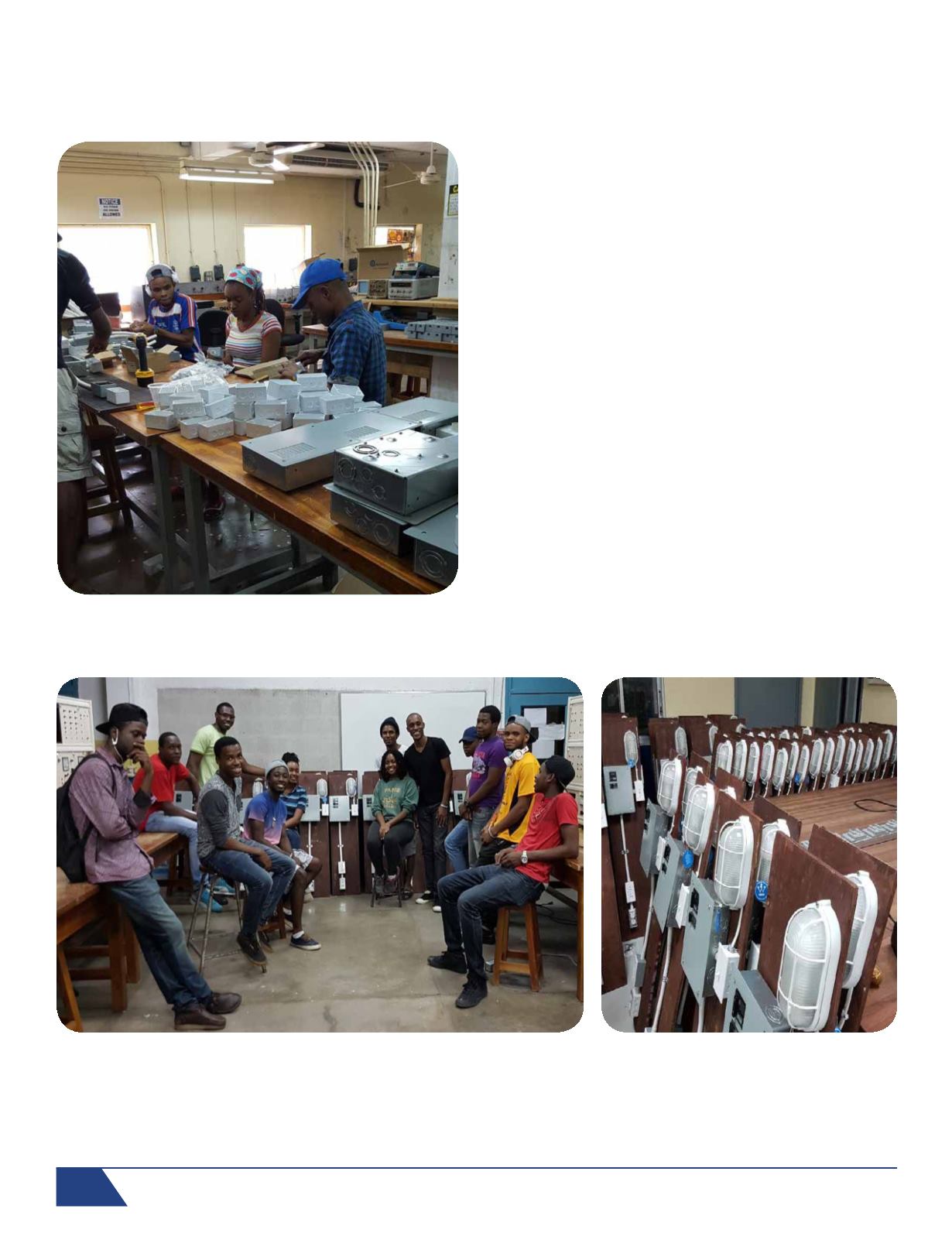 VOICES Bi-Monthly Magazine of the University of Technology, Jamaica |
August - September 2017
4
…with Ready Boards designed by Engineering Students
C
ommunities in Jamaica that are still without electricity and are unable
to accommodate traditional electrical wiring have had their hopes
illuminated thanks to the work of twenty students from the School of
Engineering, Faculty of Engineering and Computing, University of Technology,
Jamaica.
Second to fourth year engineering students under the supervision of faculty
members have designed and built a power supply source dubbed Ready Board
- 326 of which were installed on the Jamaica Public Service Company's (JPS)
power grid in May 2017 to provide legal electrical connections for about 400
residents of the Majesty Gardens community, St. Andrew.
The Ready Boards comprise a breaker, bulb, a switch, and a socket will allow
for legal connections. The materials used to construct the Ready Boards were
supplied by JPS.
JPS/JSIF Agreement
The School of Engineering entered into an agreement in July 2015 with the
JPS and the Jamaica Social Investment Fund (JSIF) for the creation of 400
Ready Boards. The proposal was introduced to a few academic institutions
and in 2015, UTech, Jamaica accepted this proposal, which was presented
through Dr. Noel Brown, Head, School of Engineering.
The student-centred Ready Boards project was spearheaded by Lecturer,
Electrical Programmes, Dr. Andrew Isaacs. Dr. Isaacs recruited the group of
talented students who worked on building the devices between October and
December 2016.
School of Engineering students working diligently with materials to construct 400
electrical power supply Ready Boards. From left are Wardlan Borah, Sheveena
Haye and Jeremy Mcray.
UTech, Ja Brings Light to Majesty Gardens Community
Students from the School of Engineering who worked on building the Ready Boards take a break from
work for a photograph.
Completed Ready Boards, ready for delivery.