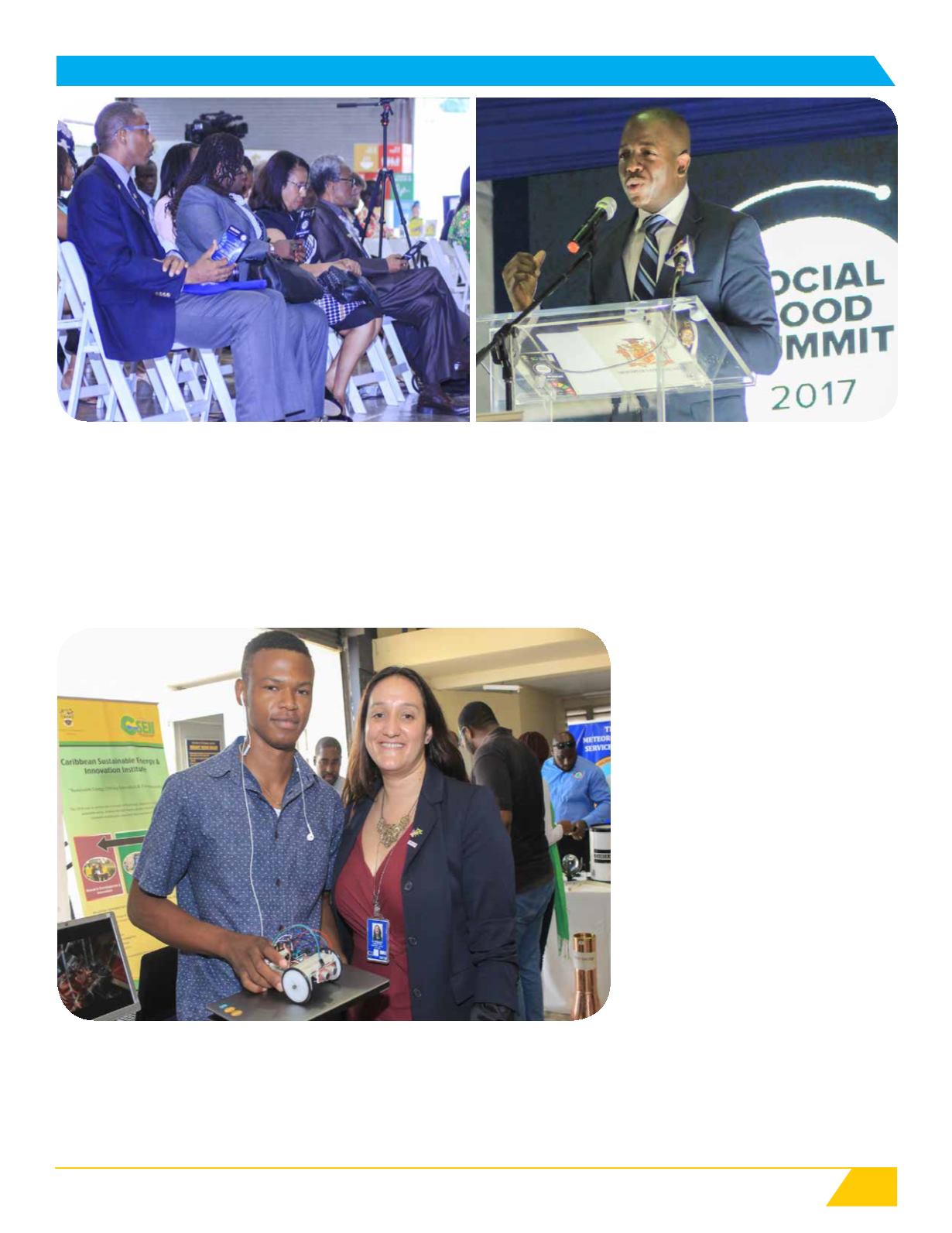 3
August - September 2017
| VOICES Bi-Monthly Magazine of the University of Technology, Jamaica
A panel discussion on the theme
#2030 Now: Global Goals and the Technology that will Help Achieve Them"
followed the opening ceremony.
Panellists were Mrs Lisa Face-Shaw, Senior Lecturer, School of Computing and Information Technology, UTech, Ja., Mr Craig Perue, Research Fellow,
University of the West Indies, Mona/PitchIT Training Manager, Mr Patrick Lafayette, Member, Board of Directors, Combined Disabilities Association, Miss
Dainalyn Swaby, Miss Jamaica Festival Queen 2017, Mr Raymond Price, student – MSc., Sustainable Energy and Climate Change, Faculty of the Built
Environment, UTech, Jamaica and Mr David Allen, President, Fletcher's Land Management Benevolent Society.
Cont'd from page 1
UTech Ja Hosts UNDP's Social Good Summit 2017
Senator the Hon. Pearnel Charles, Jr, State Minister, Ministry of National Security delivering his keynote address at the Social Good 2017 Summit. Minister Charles noted
that technology presents both tremendous challenges and opportunities for development. He urged UTech, Jamaica to continue to emphasize technology literacy and
usage as a means of advancing the attainment of sustainable goals.
Mr. Romaine Gordon, Faculty of Engineering and
Computing (FENC) student and one of the lead robotic
system developers in the Institute of Electrical and
Electronics Engineering (IEEE) UTech Jamaica Student
Branch showcases his Obstacle Avoidance Robot
to Ms. Kristina Otiz, Acting Public Affairs Officer, US
Embassy. The robot is able to navigate its way in a
room and avoid collisions with objects. It's a flexible
platform which can then be modified for several
applications. Lecturer, FENC, Dr Dave Muir, a roboticist,
IEEE senior member and lifelong advisor to the branch
looks on. The robotics display formed part of the
booth set up at the Social Good Summit by UTech,
Jamaica showcasing technology and innovation.