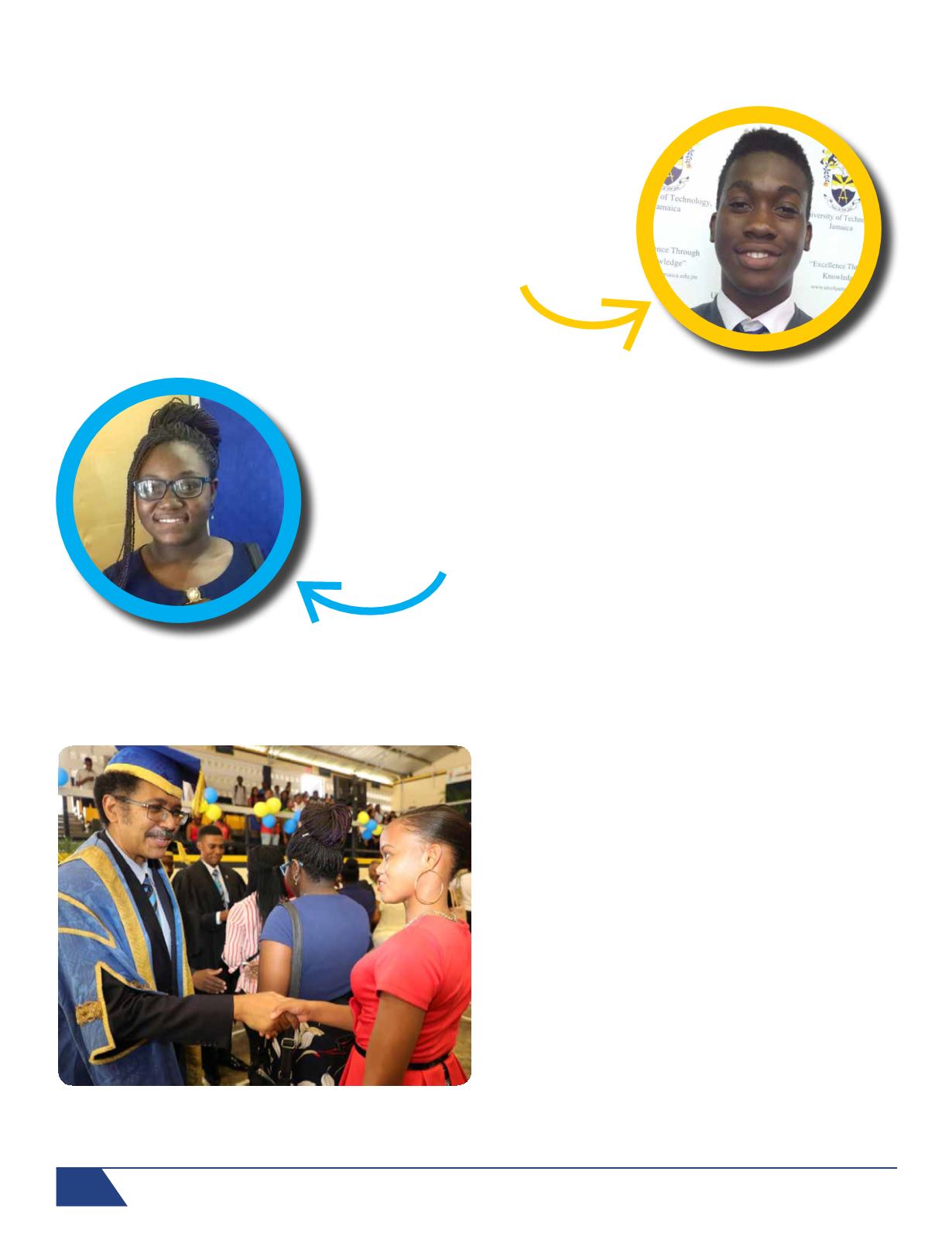 VOICES Bi-Monthly Magazine of the University of Technology, Jamaica |
August - September 2017
18
"I kind of figured that this is the institution for me. From I was small I always heard about UTech and
UWI, and UTech is always in my head, so I have decided to become a student here at UTech.
I am not going to say all my dreams. I want them to be realized here, but I want this school to bring
out the inner Kadri. The Kadri on the inside - the one that will make a difference."
Name:
Kadri Smith
High School Attended:
William Knibb Memorial High School
Course of Study:
Bachelor of Science in Actuarial Science
College/Faculty:
Faculty of Science and Sport
STUDENT VOICES CONT'D
"I chose UTech, Jamaica because I heard many good things about the school and I really wanted to
attend.
My expectations are to have a lot of fun and to grow personally and academically."
Name:
Ashleigh Burton
High School Attended:
Morant Bay High and Seaforth High
Course of Study:
Bachelor of Science in Land Surveying
College/Faculty:
Faculty of The Built Environment
T
he University formally welcomed new and transfer undergraduate
students enrolled for the 2017/2018 academic year during the
University's annual Week of Welcome Orientation programme
organized by the Division of Student Services to introduce students to
the wide array of academic, intellectual, leadership, cultural, and social
experiences available at UTech, Jamaica. The week-long programme
included in-faculty and campus tours, a Community Service Conference
and Expo, sports and social activities, Halls of Residence orientation and
an academic induction ceremony at the Papine and Western campuses.
Orientation activities at the Papine campus were held from Sunday, August
20, 2017 to Saturday, August 26, 2017 and from Wednesday, August 23,
2017 to Friday, August 25, 2017 at the Montego Bay campus.
Professor Stephen Vasciannie, President in his charge to the students at
the Academic Induction ceremonies, gave the assurance that they have
entered a world-class centre of learning where "students are the raison
d'être of the institution." He invited them to diligently strive to meet all their
obligations, remain steadfast to their goals; avoid all shortcuts to dishonesty,
treat others with respect and fairness and to be good ambassadors of the
UTech, Jamaica Brand. The President also underscored the importance of
practising the UTech, Jamaica Core Values of
Respect, Accountability,
Service, Excellence, Innovation and Team Spirit.
Professor Stephen Vasciannie, CD, President, greets first year students at the
Academic Induction Ceremony held on Friday, August 25, 2017 at the Alfred
Sangster auditorium, Papine campus.
UTech, Ja. Welcomes New and Transfer Students