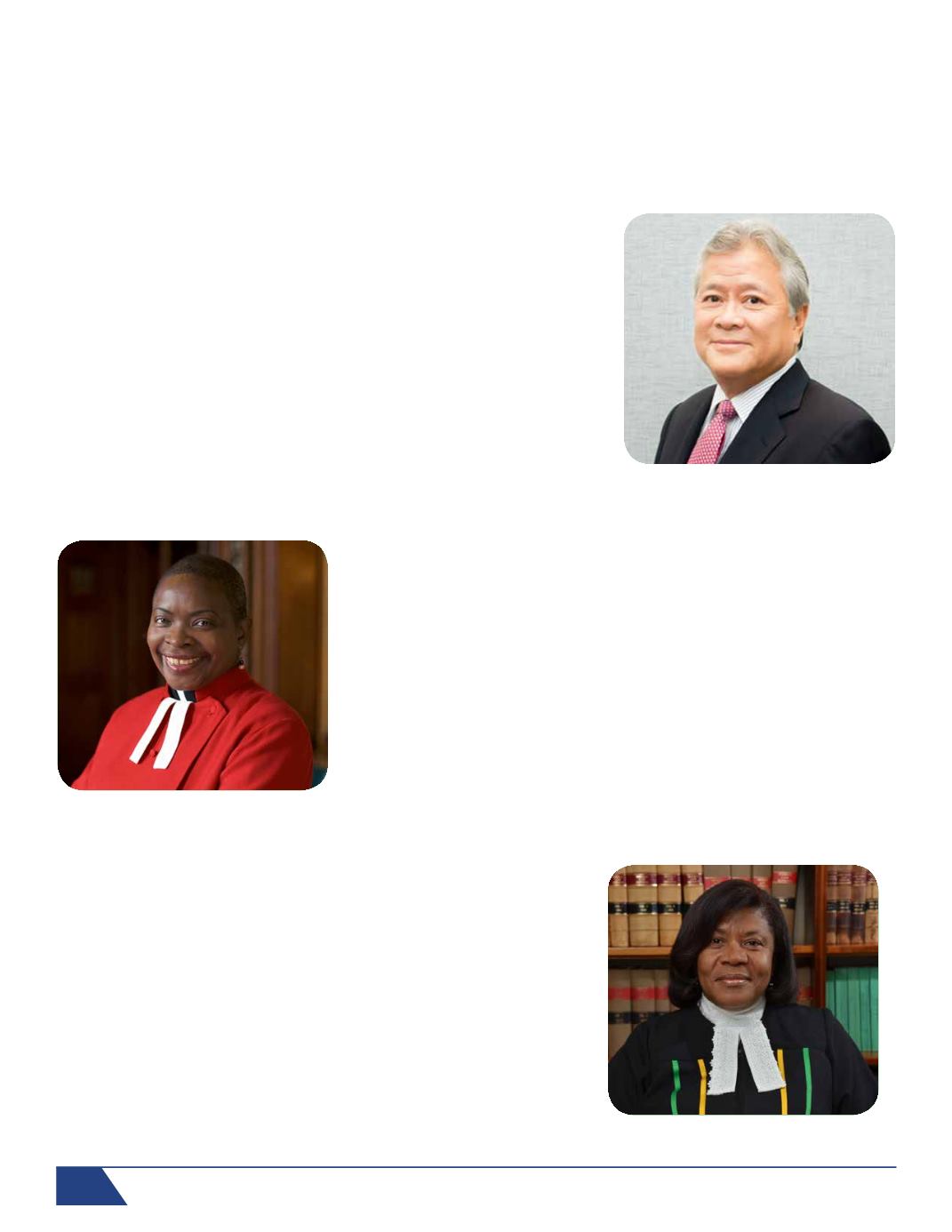 VOICES Bi-Monthly Magazine of the University of Technology, Jamaica |
August - September 2017
14
UTech, Jamaica to Confer Honorary Degrees On Gary
'Butch' Hendrickson, Rev. Rose Hudson-Wilkin and
Hon. Justice Zaila McCalla, OJ
T
he University of Technology, Jamaica will confer honorary Doctor of Laws (Hon. LLD) degrees
on Mr. Gary 'Butch' Hendrickson, Chairman and Chief Executive Officer of Continental Baking
Company Ltd., The Reverend Prebendary Rose Hudson-Wilkin, Chaplain to the Speaker of
the House of Commons and Chaplain to Her Majesty the Queen and The Hon. Mrs. Justice Zaila
McCalla, OJ. The outstanding Jamaicans will be presented with the Doctor of Laws honoris causa
(Hon. LLD) at the University's Graduation Ceremony to be held on Saturday, November 4 , 2017, at
the National Arena, in Kingston.
Business
Mr. Hendrickson is being recognized by UTech, Jamaica for his philanthropic activities which
have transformed the lives of many Jamaicans, including several students of the University. The
Continental Baking Company, most popularly known for its brands, National, HTB and HO Made,
provides employment for over 800 persons in Jamaica.
Gary Hendrickson
Religion
Outstanding Jamaican, the Reverend Prebendary Rose Hudson-Wilkin will receive the honorary
doctorate from UTech, Jamaica in recognition of her signal achievement as a woman of colour. In
2007 she was appointed as a Chaplain to Her Majesty the Queen and in 2010, she became the
first female appointed to the position of Chaplain to the Speaker of the House of Commons. In this
role she leads the prayers in the House of Commons daily when the House is sitting and carries the
responsibility for the pastoral care of both members and staff of the Palace of Westminster.
The Rev Prebendary Rose Hudson-Wilkin
The Hon. Mrs. Justice Zaila McCalla, OJ
The Law
The Honourable Mrs. Justice Zaila McCalla, OJ, is being recognized for her outstanding service
to the justice system of Jamaica and in particular her achievement as being the first woman to
rise to the position as Chief Justice of Jamaica where key attributes which had distinguished
her in the selection process. Since her admission to the Bar in 1976 she has served as Clerk
of Courts, Crown Counsel, Assistant Director of Public Prosecutions, Resident Magistrate and
Senior Resident Magistrate. She has also served as President of the Association of Resident
Magistrates and Master-in-Chambers of the Supreme Court. On July 7, 1997, she was
appointed Puisne Judge of the Supreme Court, and was in April 2006 appointed Judge of the
Court of Appeal.