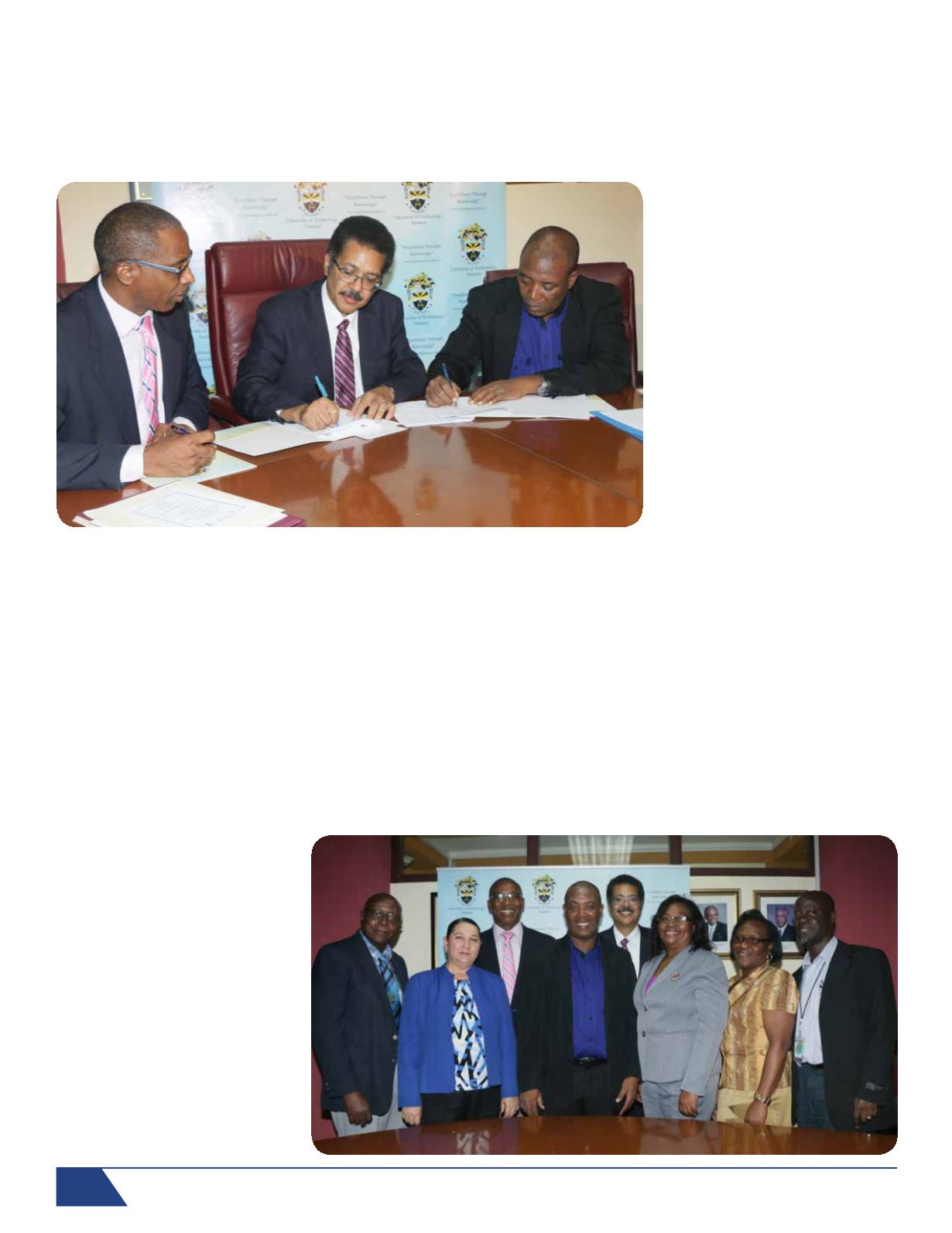 VOICES Bi-Monthly Magazine of the University of Technology, Jamaica |
August - September 2017
12
U
Tech, Jamaica through its Faculty of The Built Environment has forged
a partnership with the Rural Agricultural Development Authority
(RADA) for the development of a Master of Science (MSc) degree in
Integrated Rural Development slated to come on stream in 2018. The two
entities on Tuesday, July 11, 2017 signed a Memorandum of Understanding
(MoU) at the Papine campus, formally paving the way for the development
of the programme.
Welcoming the partnership, President, Prof. Stephen Vasciannie said that
"as Jamaica's National University, UTech, Jamaica shares unequivocally in
the Government of Jamaica's thrust to focus on strategies to significantly
develop the country's rural communities." Prof. Vasciannie in pointing to
a number of longstanding issues that have faced rural communities in
Jamaica remarked that "we need to move to a situation in which we accept
that rural communities constitute economic drivers for development in the
country."
RADA's Chief Executive Officer (CEO) Mr. Peter Thompson said that the
graduate study programme will foster practical solutions to challenges
impacting rural communities. He pointed to a number of global examples of
partnerships between industry and academia that have resulted in solutions
to problems faced by communities. He noted that UTech, Jamaica's
"practical and hands-on approach" to the course of study augurs well for
advancing RADA's strategic objectives.
Dr. Amani Ishemo, Associate Professor, FOBE who has been leading the
development of the MSc in Integrated Rural Development, with RADA since
June 2016, provided an overview of the graduate programme.
Prof. Stephen Vasciannie, CD, President,
University of Technology, Jamaica (centre)
and Mr. Peter Thompson, CEO, RADA sign
a Memorandum of Understanding for the
development of a Master of Science degree in
Integrated Rural Development, during a special
ceremony held on Tuesday, July 1, 2017 at
the University's Papine campus. Looking on is
Dr. Garfield Young, Dean, Faculty of The Built
Environment.
UTech,Ja/RADA partners from left, front row:
Dr. Amani Ishemo, Associate Professor, Faculty
of the Built Environment (FOBE), Ms. Marina
Young, Principal Director (Acting), Technical
Services, RADA, Mr. Peter Thompson, CEO,
RADA, Mrs. Winsome Phillips, Principal Director,
Corporate Services, RADA, Mrs. Anthea
Ramsay-Waisome, Acting Senior Director, HRM
& Administration, RADA, Mr Winston Simpson,
Principal Director, Field Services RADA.
Second row from left are Dr. Garfield Young,
Dean, FOBE and Professor Stephen Vasciannie,
CD, President, UTech, Jamaica.
UTech, Jamaica Signs MoU with RADA for
Development of MSc in Rural Development