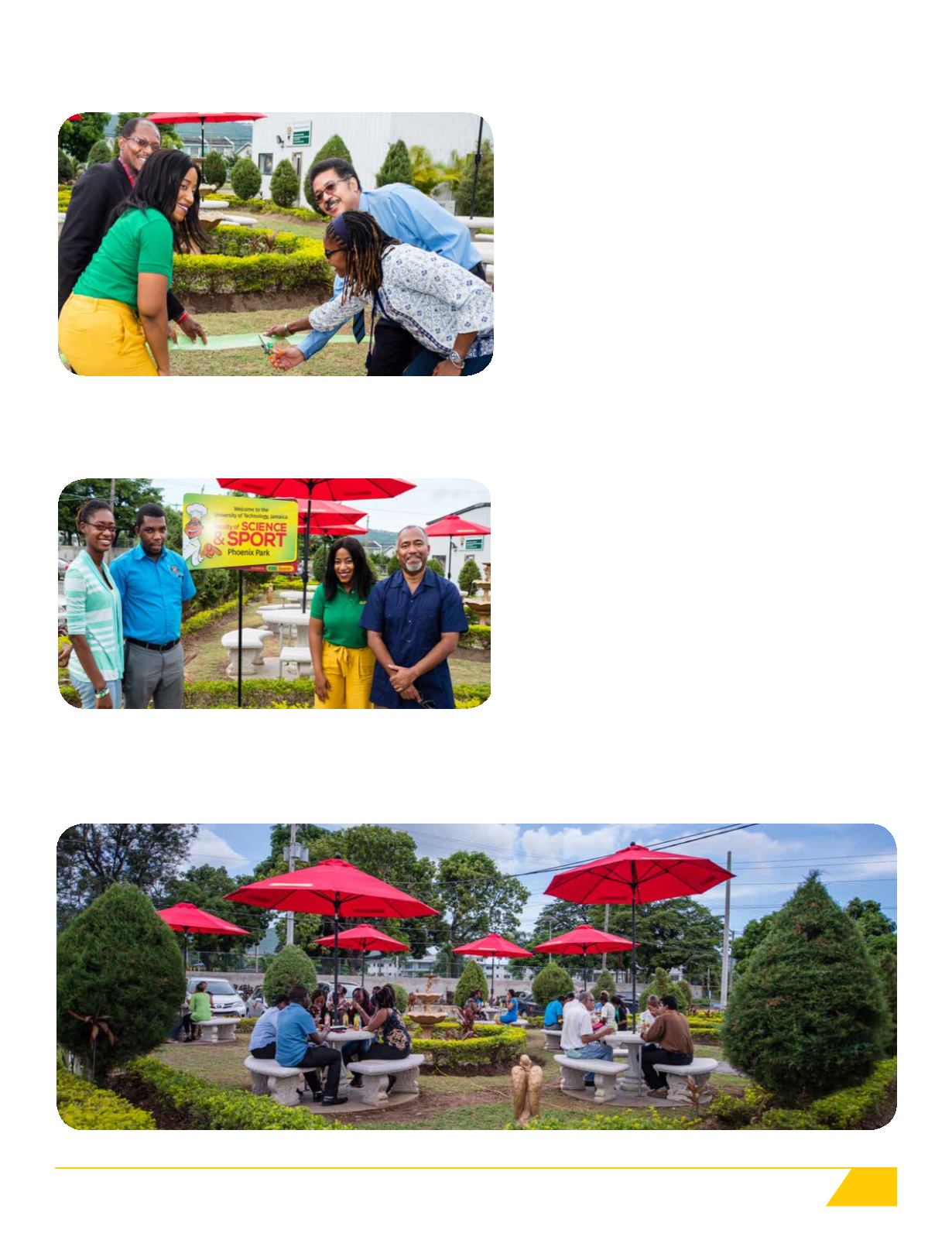 11
August - September 2017
| VOICES Bi-Monthly Magazine of the University of Technology, Jamaica
S
tudents of the Faculty of Science and Sport (FOSS) now have a
resplendent space on the grounds of the 235 Old Hope Road
location to call their own. The beautiful, purposefully designed
"Phoenix Park" was officially opened by FOSS at a special ceremony
held on Friday, July 14, 2017.
Dean, Dr. Kamilah Hylton expressed thanks to the team in the Faculty
led by Vice-Dean, Mr Patrick Williams, for spearheading the project
to realise comfortable outdoor seating area for its students who were
often seen sitting and studying in the hallways. The Dean lauded
sponsors of the Park, Jamaica Broilers through its Reggae Jammin
brand and Nunez Concrete and Construction Company Ltd.
No ordinary Gazebo
Visitors to the new students' park will notice immediately that the
lovely space is no ordinary gazebo. Phoenix Park boasts concrete
benches, tables, large, red umbrella's subtly branded by sponsors
Reggae Jammin, golden angelic figures interspersed throughout and
a water fountain.
In declaring the park officially opened, President, Prof. Stephen
Vasciannie congratulated FOSS on "the development of the lovely
seating area," adding that the park represents an important attempt
to take into account the interests of our students, as we all strive to
create a student-friendly environment." He thanked Dean Hylton, Vice-
Dean Williams and other members of staff for their commitment to the
realization of the project.
The President noted further that the FOSS Phoenix Park for students
also represents valuable collaboration between academia and the
private sector. "I join the Faculty of Science and Sport in expressing
gratitude to Jamaica Broilers, through their Reggae Jammin brand for
contributing the concrete benches, tables, umbrellas, angelic figures
and signage to the Park. I also offer gratitude to Nunez Concrete and
Construction Company for the water fountain and to our own Facilities
Management Division (FMD) for providing the concrete base for each
of the seating areas."
FOSS Opens "Phoenix Park" for Students
Prof. Stephen Vasciannie, CD, President, cuts the ribbon officially marking the opening of
Phoenix Park, opened by the Faculty of Science and Sport for its students on Friday, July
14, 2017. Participating in the happy occasion are Dr. Kamilah Hylton (right), Dean, Faculty
of Science and Sport, Prof. Colin Gyles, (left) Deputy President and Miss Racquel Watson,
Brand Manager, Reggae Jammin and Hamilton's Smokehouse Ltd.
FOSS Students, Kimberlee Robinson , Acting FOSS Student Representative and
Rhoshmaine Chambers, Advisor to Students' Union President pose with Miss Racquel
Watson, Brand Manager, Reggae Jammin and Hamilton's Smokehouse Ltd and Mr. Patrick
Williams, Vice-Dean, FOSS following their participation in the unveiling of the sign marking
the opening of the Phoenix Park for students located on the lawns of the Faculty.
Guests enjoy refreshments at the lovely Phoenix Park, following the opening ceremony.