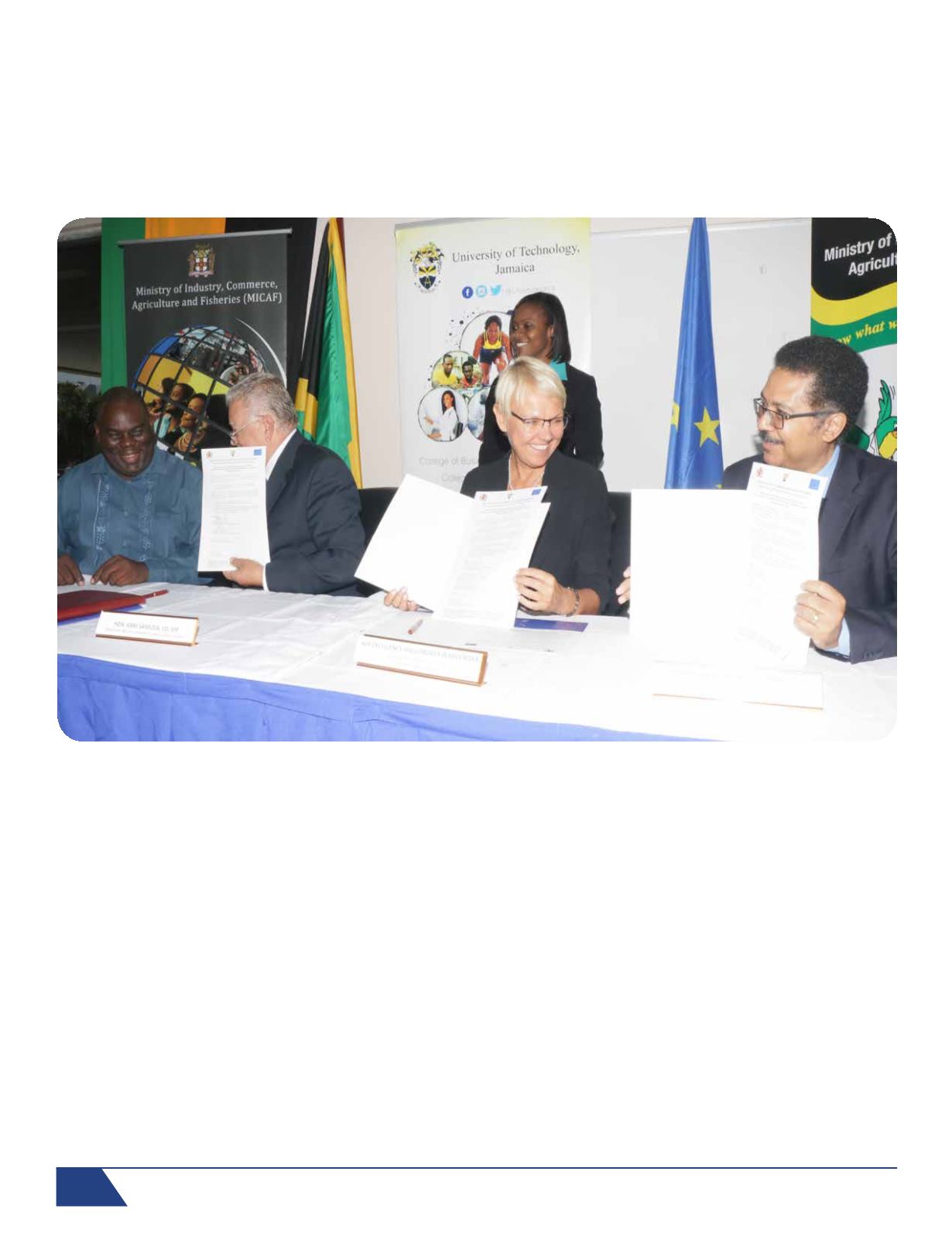 VOICES Bi-Monthly Magazine of the University of Technology, Jamaica |
August - September 2017
10
T
he University of Technology, Jamaica and the Ministry of Industry,
Commerce, Agriculture and Fisheries (MICAF) on Wednesday, June
28, 2017 formally signed a contract agreement under which the
University through its Joan Duncan School of Entrepreneurship Ethics and
Leadership (JDSEEL) is participating in a partnership project to facilitate
residents of Sugar Dependent Areas of Jamaica to establish at least 80
feasible business ventures. The ceremony for the official signing of the
contract was held at the Ministry's New Kingston Offices.
The project is part of the final set of activities (year 2) of the Accompanying
Measures for Sugar Protocol 2013 Financing Agreement signed between
the European Commission and the Government of Jamaica and is being
implemented through the Sugar Transformation Unit (STU) of the Ministry.
€15,000 has been allocated by the European Commission for the successful
implementation of these activities.
The 7-month contract with UTech, Jamaica is valued at $11M and
commenced on April 10, 2017. The project will end on October 10, 2017.
Sharing a light moment following the signing of a contract agreement between the University of Technology, Jamaica and the Ministry of Industry, Commerce, Agriculture and
Fisheries (MICAF), from left, are Mr Donovan Stanberry, Permanent Secretary in the Ministry, the Honourable Karl Samuda, CD,MP, Minister, MICAF, Her Excellency Malgorzata
Wasilewska, Ambassador and Head of Delegation to the European Union in Jamaica and Prof. Stephen Vasciannie, CD, President, UTech, Jamaica. Witnessing the signing is
Mrs. Keleen Young-Grandison (standing), Project Manager, Sugar Transformation Unit, MICAF. The contract between the two entities was signed at a special ceremony held at
the Ministry's offices in New Kingston on Wednesday, June 28, 2017.
UTech, Jamaica and Ministry of Industry, Commerce,
Agriculture & Fisheries sign $11M Contract to Assist
Residents in Sugar Belts to Establish Businesses