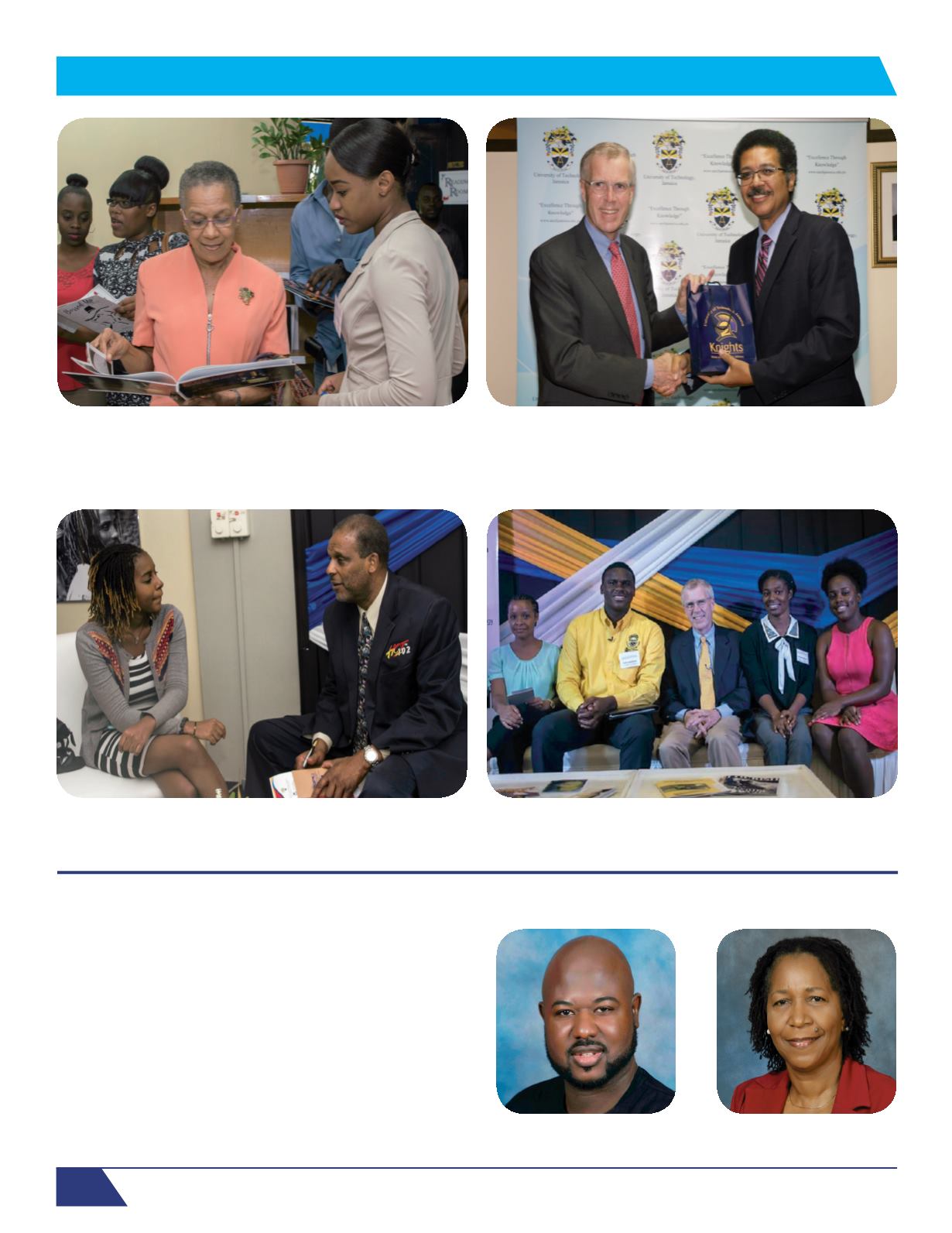 VOICES Bi-Monthly Magazine of the University of Technology, Jamaica |
June 2017
8
Student Exhibition on Media Education for Social Change ... cont'd from page 7
FELS Bachelor of Education Degree Attains UCJ Accreditation
T
he Faculty of Education and Liberal Studies has attained accreditation
for the Bachelor of Education degree course of study. The grant of
accreditation would have a positive impact on the graduates of the
programme, and should redound to the credit of the Faculty as a whole.
The process towards accreditation was led by Dean, Dr. Rohan Lewis; Dr
Sylvia Hall, Lecturer, FELS prepared the self-study. Dr Winsome Russell,
AVP, Academic Management and the team in the Office of Curriculum
Development and Evaluation(OCDE) worked tirelessly on this application
along with members of the Faculty's team who spent long hours in the
effort to satisfy the requirements of the University Council of Jamaica (UCJ).
Verteran broadcaster Fae Ellington (left) looks keenly at Syrannie Vassell's the photo essay
titled, "Keep on Running."
Dr. Rohan Lewis,Dean, FELS
Dr. Winsome Russell, Associate Vice
President, Academic Management
Courtesy Call on the President: Prof. Stephen Vasciannie, CD, President, UTech, Jamaica
presents a gift to Mr. Griffiths. Mr. Griffiths paid a courtesy call on the President on
Wednesday, May 3, 2017. He was accompanied by representatives from the US
Embassy in Kingston, Ms. Kristina Otiz and Ms. Cleo Walker, Dr. Rohan Lewis, Dr. Nova
Gordon-Bell and Mr. Hector Wheeler, AVP, Advancement, UTech, Jamaica.
Gabrielle Victory chats with Mr. Ken Williams, Manager, HOT 102 FM during his visit to the
exhibition. Gabrielle's final project was a video documentary examining "Work and Travel:
Cultural Exchange or Modern Day Slavery?"
Rapping with Griffiths:
Four final year Journalism major students were chosen to have
a discussion with Mr. Richard Griffiths (centre) on current media practices. Students from
left are Cait-Amoi Goulbourne, Travis Bartley, Shauna Spence and Adrianna Miller.