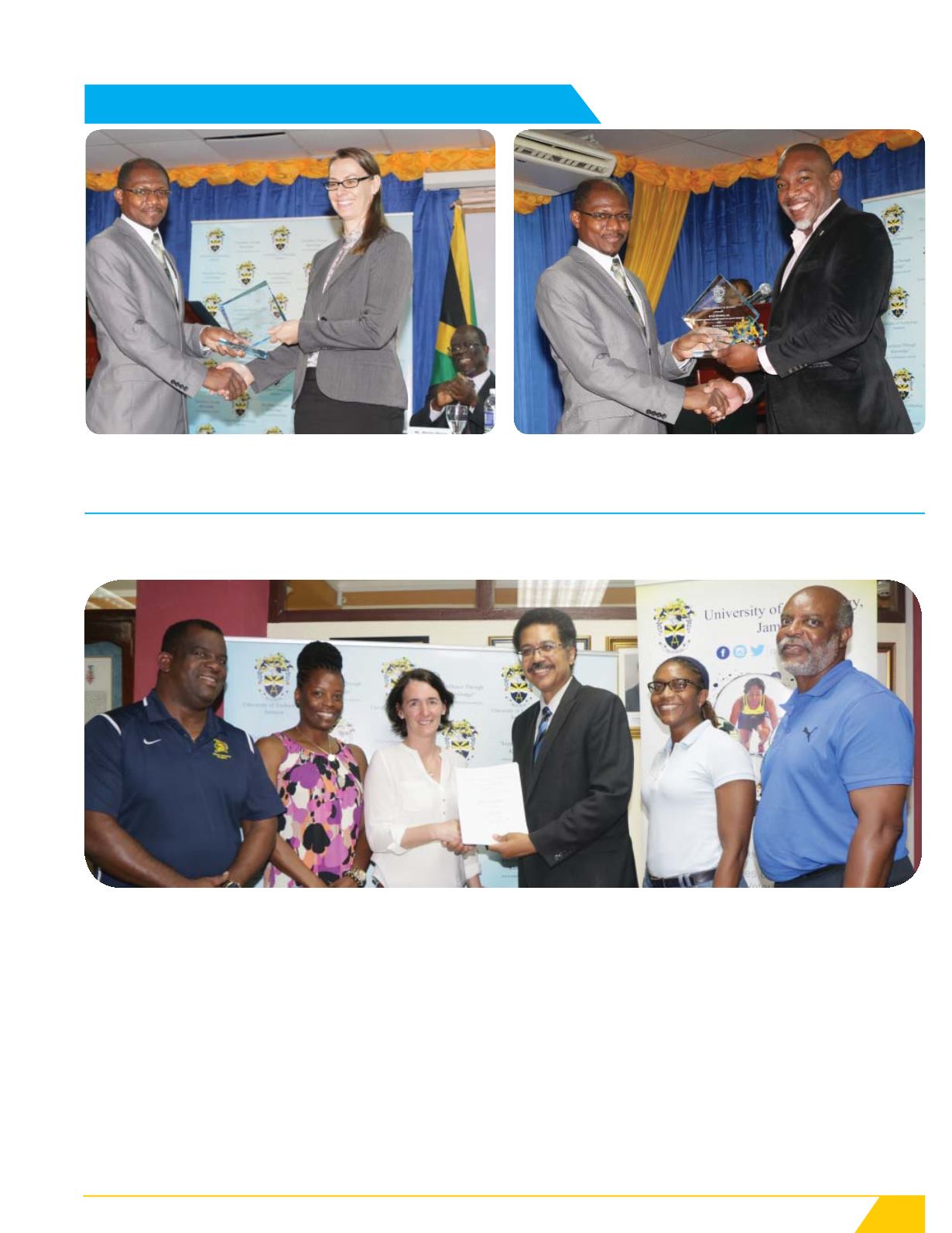 9
April 2017
| VOICES Bi-Monthly Magazine of the University of Technology, Jamaica
Presentation to Partners:
Prof. Colin Gyles (left) Deputy President makes presentations in appreciation to partners, German Society for International Cooperation
(GIZ) represented by Ms. Anja Schwerin, Advisor on Renewable Energies and Capacity Building and to the CARICOM Energy Desk represented by Dr. Devon Gardener,
Programme Manager for Energy, CARICOM Secretariat.
Master's in Sustainable Energy and Climate Change... cont'd from page 8
UTech, Jamaica Signs Contract with Puma
T
he University of Technology, Jamaica on March 30, 2017 signed a
formal contract with Puma - one of the World's leading sports brands,
for exclusive sponsorship of the University's Track and Field student
athletes only. The contract will run for four years from 2017- 2020 and
will cover gear, footwear, travel bags and warm gear for international
competitions. In year one of the contract, Puma is also providing a grant to
support branding on the UTech, Jamaica Papine campus.
Mr. Anthony Davis, Director of Sport, UTech, Jamaica explained that in an
effort to increase the number of students wearing UTech, Jamaica branded
shirts, Puma will also provide an allotment of shirts and caps available for
resale. He noted further that "UTech, Jamaica student athletes, coaches
and management staff must wear Puma apparel at all times when attending
competitions or travelling to competitions." The UTech, Jamaica Knights
logo will be the official logo placed on all items donated by Puma.
The contract with Puma replaces the previous contractual arrangements
with Nike which has ended. Nike will continue to provide gear to UTech,
Jamaica student athletes until June 2017.
Prof. Stephen Vasciannie, (4th left) President, UTech, Jamaica and Ms Myriam May, Puma Area Administrator display a copy of the
contract between both institutions signed on Thursday, March 30, 2017 at UTech, Jamaica's Papine campus. Sharing in the happy
occasion from left are Mr. Paul Francis, Track and Field Coach, UTech, Jamaica, Jamaican Olympian Juliet Campbell who is also a local
representative for Puma, Dr. Kamilah Hylton, Dean, Faculty of Science and Sport and Mr. Anthony Davis, Director of Sport, UTech, Jamaica.