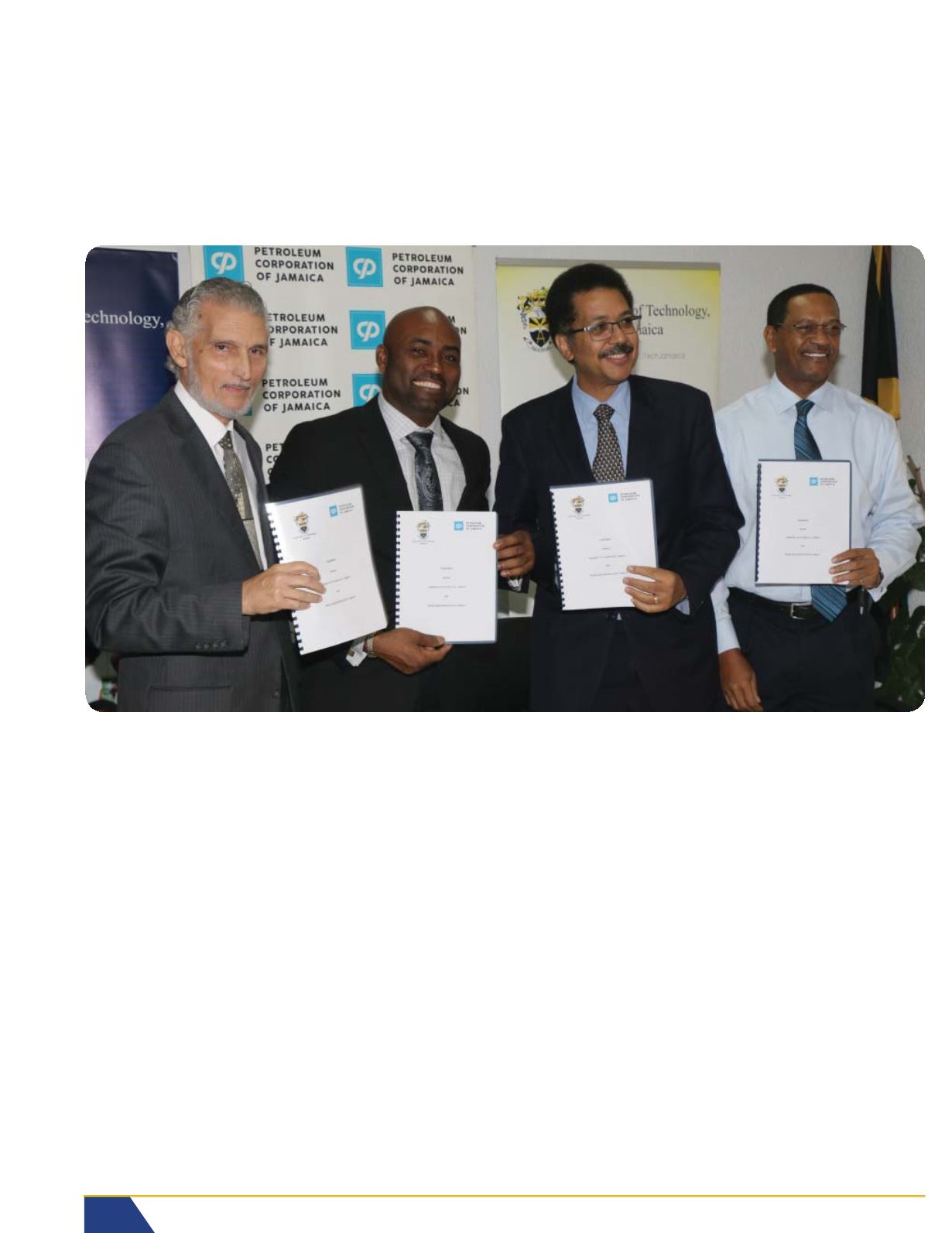 VOICES Bi-Monthly Magazine of the University of Technology, Jamaica |
April 2017
6
UTech, Jamaica and PCJ Forge $5M Partnership
for Capacity Building in Engineering and
Renewable Energy Research
T
he University of Technology, Jamaica (UTech, Ja.) and the Petroleum
Corporation of Jamaica (PCJ) on Wednesday, March 15, 2017 signed
a partnership agreement to facilitate capacity building in engineering
and renewable energy through student led research in the University's
School of Engineering (SOE). The Partnership Agreement was signed by
President, UTech, Jamaica, Prof. Stephen Vasciannie, CD and PCJ Group
General Manager, Mr. Winston Watson, witnessed by Chairman, Mr Russell
Hadeed and Minister of Science, Energy and Technology, Dr. the Hon.Andrew
Wheatley, MP at a ceremony held at the PCJ Building, New Kingston.
Under the agreement the PCJ will provide $1M in grant funding for the
execution of research projects by UTech, Jamaica students under the
guidance of Faculty from the School of Engineering. The PCJ also
announced the Renewable Energy Scholarship valued at approximately
$4M to be awarded to a UTech, Jamaica student pursuing a Master of
Science degree in the School of Engineering.
Under the research initiative, at least four projects will be formulated and
carried out each year by selected students in areas that have a direct
impact on the PCJ's mandate. These will explore practical applications in
areas such as solar energy, biomass and biofuels. Upon completion of the
projects, the reports, data and other relevant information gathered through
the research process will be submitted to the PCJ for consideration for
implementation.
Dean of the Faculty of Engineering and Computing, Prof. Nilza Aples and
Head, School of Engineering, Dr. Noel Brown were instrumental in forging
the University's link with the PCF, and will guide the implementation of the
project.
In endorsing the UTech, Ja/PCJ partnership, Minister Wheatley lauded the
collaboration as being "commendable and practical," emphasising that
"every country that is serious about development as we are, is now involved
in the nation-building-twin-task of reducing energy cost and Green House
Gas or Co2 emissions.
PCJ Group General Manager, Mr Winston Watson, Chairman, Mr Russell
Hadeed and Prof. Stephen Vasciannie all noted the importance of
partnership efforts in promoting national development and a culture of
advanced technology in Jamaica.
Capacity Building: (From left), Mr Russell Hadeed, Chairman, PCJ, Dr. the Hon. Andrew Wheatley, MP, Minister of Science, Energy and Technology, Prof.
Stephen Vasciannie, CD, President, University of Technology, Jamaica and Mr. Winston Watson, Group General Manager, PCJ pose with copies of the
Partnership Agreement signed between the two organisations at a special ceremony held at the PCJ Building on Wednesday, March 15, 2017.