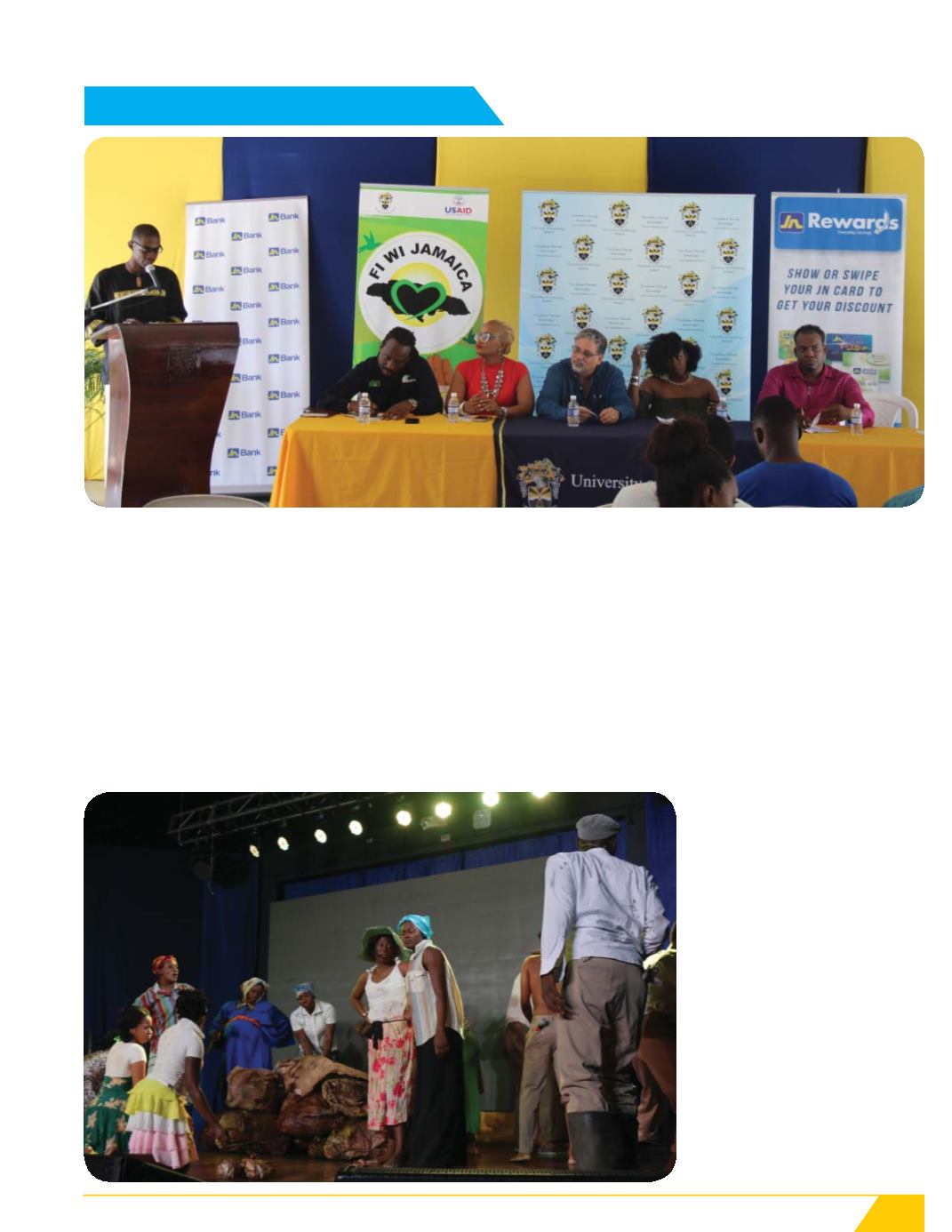 31
April 2017
| VOICES Bi-Monthly Magazine of the University of Technology, Jamaica
Mr. Philip Clarke (at podium), Director, Centre for the Arts, welcomes guests
to the Panel Discussion on "Converting Passion to Cash" hosted as part
of the Festival of the Arts celebration on Thursday, April 6, 2017 at the
Papine campus. The discussion was aimed at providing practical advice
on pursuing careers in the arts as part of building Jamaica's creative
industry economy. Members of the the expert panel (seated from left)
Mr. Christopher Benjamin (moderator), Senior Consulting Officer, Creative
Industries, JAMPRO, Ms. Nadean Rawlins, CEO, Raw Talent Management,
Mr. Robin Baston, Technical Director, Ms. Neisha-Yen Jones, Actress, Writer,
Creative Consultant and Dr. Keino Senior, Dean, School of Arts Management
and Humanities, Edna Manley College of the Visual and Performing Arts.
Mr Amitabh Sharma, Lead Consultant, Osmosis Caribbean was also among
the panellists.
Dr. Keino Senior in his presentation reminded the large audience of high
school and university students present, that "the arts is also academic,"
adding that there is an existing need for the standardization of various
processes if Jamaica is to continue to grow its creative industry. Ms.
Neisha Yen-Jones encouraged young, aspiring artists to keep themselves
relevant by "rebranding as they go", while Mr Amitabh Sharma highlighted
the importance of making a business plan and then operating one's talent
as a business.
Panel Discussion: "Converting Passion to Cash"
Festival of the Arts Celebrates... cont'd from page 28
The UTech, Ja Drama and Theatre
Elective students perform the dramatic
piece, "Manuel Road" written by Tutor,
Ms Gracia Thompson.