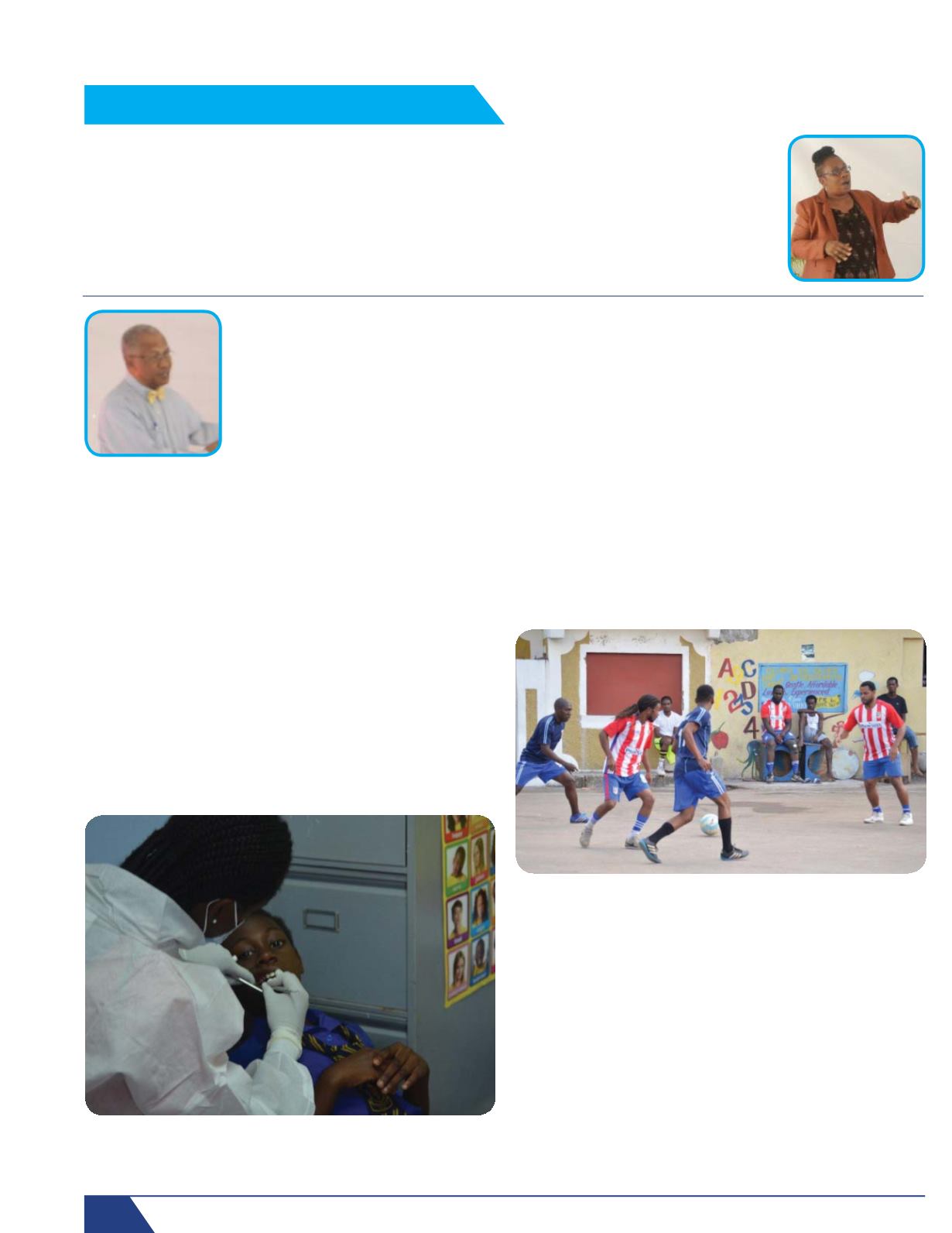 VOICES Bi-Monthly Magazine of the University of Technology, Jamaica |
April 2017
28
U
Tech, Jamaica through its Department of Community Service and
Development organised and executed the successful Papine Wellness
Fest series of activities between February 23 – April 6 2017 in the
neigbouring community of Papine, St. Andrew.
Held in partnership with the National Integrity Action (NIA), Citizen Security &
Justice Programme (CSJP) and Social Development Commission (SDC) the
Department engaged approximately twelve communities in the Papine area
in activities geared towards facilitating sustainable development through
knowledge, information-sharing and service.
The community intervention activities included health and service fairs,
sporting competitions, thematic seminars on Security and Justice, Civic
Responsibility, Healthy Lifestyles, Small Business Opportunities and
Entertainment.
Mr. Paulton Gordon, Director of Community Service and Development
notes that the Wellness Fest resulted in greater awareness of civic issues
and opportunities opened to the communities; a renewed emphasis on
youth inclusion and their role in community safety and security; increased
community participation in local governance; increased emphasis on the
protection of the environment and creation of an umbrella group to focus
on recreational, entertainment and sporting programmes at the community
level.
STEM Impacts Process and Product in a Technical University:
Dr. Hope Mayne, Lecturer, School of Technical and Vocational Education, Faculty of Education and Liberal Studies
shares her presentation titled, "Science, Technology, Engineering & Mathematics (STEM) the New Paradigm: What
is its place in a Technical University?" Dr. Mayne noted that the integration of STEM in the teaching and learning
process facilitates the development of critical, creative, innovative learners that are able to solve world problems.
"Dr. On Call": The Case for an Institutional Model at the University of Technology, Jamaica:
Prof. Winston
Davidson, Head, School of Public Health and Health Technology and conceptualiser of a telemedicine service
accessible using an app titled 'Doctor on Call.' In his presentation, "Doctor on Call: Universal Access to Health
Care: All Students and Staff." Prof. Davidson recommended the implementation of a UTech, Ja. "Dr on Call"
Institutional Model to ensure equal and efficient access to medical care services to students and staff at the
University specifically to individuals located at off-campus sites.
UTech, Jamaica in the Community
UTech, Jamaica Hosts Successful Papine Wellness Fest Series
Football teams from River Football Club and Real Youths participate in the sports
derby in African Gardens, August Town.
A child receives a dental check up by a student of the College of Oral Health
Sciences.
Research Presentation Highlights... cont'd from page 27