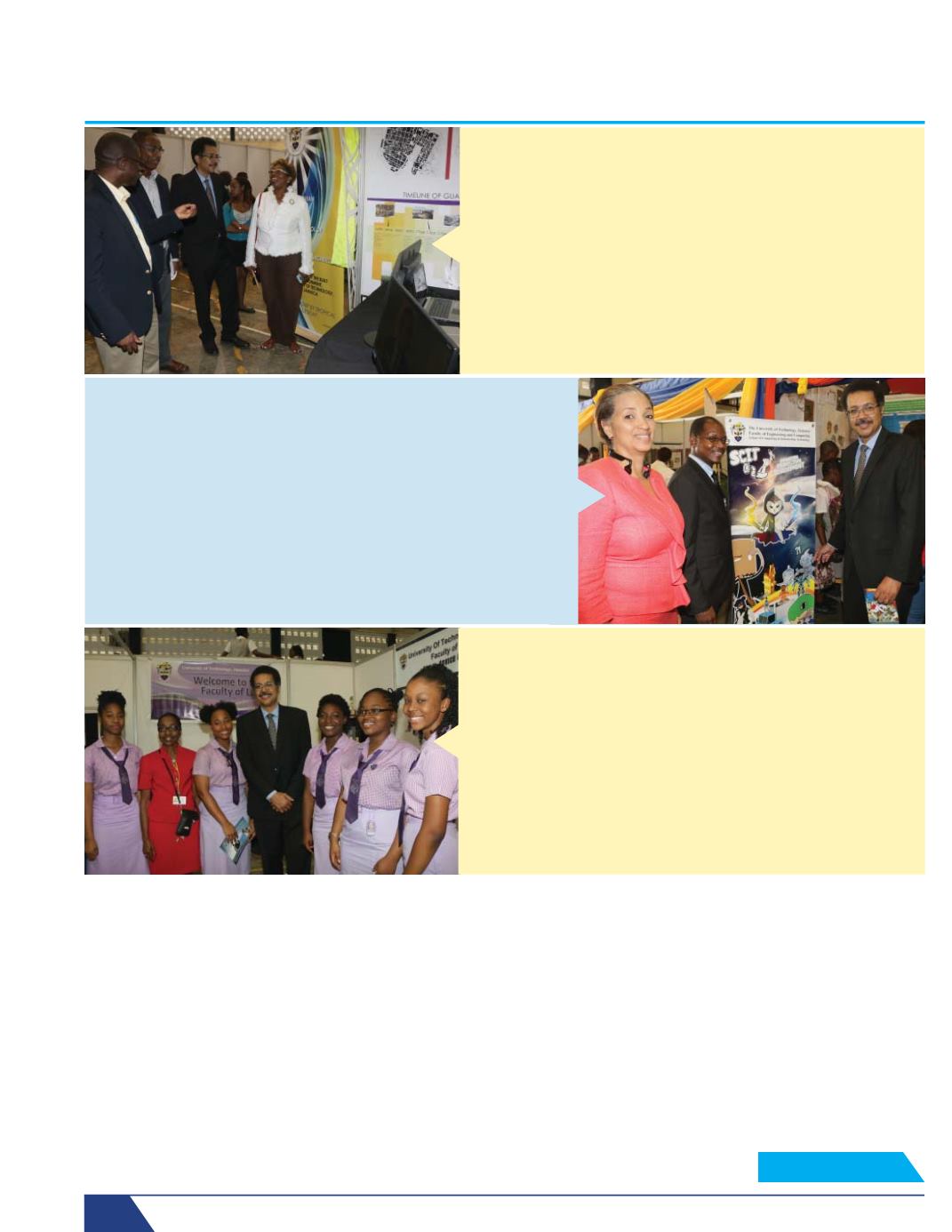 VOICES Bi-Monthly Magazine of the University of Technology, Jamaica |
April 2017
26
Research Topics/Speakers
1. Natural infections of the roundworm, Angiostrongylus contonensis, in wild
rats (Rattus rattus norvegicus) and molluscan host populations in Jamaica
Dr. Cecelia Hall, FOSS
2. Towards Property Tax Compliance: A Case Study of Attitudes Toward
Paying Property Taxes in Jamaica
Mrs. Rochelle Channer-Miller, FOBE
3. Importance of Neighbouring Habitats on Seagrass Fish Communities
Dr. Nikki Bramwell, FOSS
4. Science, Technology, Engineering and Mathematics (STEM) the New
Paradigm: What Is Its Place in a Technical University?
Dr. Hope Mayne, FELS
5. Jamaica's Treasure: Using our Medicinal Plants for Sustainable
Development
Dr. Denise Daley, COHS
6. HIV/AIDS and Nutrition in Jamaica: Looking Beyond Survival
Mrs. Kerisha Williams-Chin Loy, COHS
EXHIBITIONS
BUDDING ATTORNEYS-AT-LAW?:
Prof. Stephen Vasciannie, and Marcia Robinson (2nd left), Lecturer,
Faculty of Law, pose with students from St. Hilda's Diocesan High School
in attendance at the University's annual Research, Technology and
Innovation Day (RTID). Students from left are Marika Nemhard, Safaye
Ghans, Sabrina Atkinson, Sherani Johnson and Gabrielle Treasure.
ANIMATION DISPLAY:
From left Prof. Nilza Aples, Dean, Faculty of Engineering and Computing,
Prof. Colin Gyles, Deputy President and Prof. Stephen Vasciannie, stand
beside the School of Computing and Information Technology animation
display board mounted by students pursuing the Bachelor of Science
degree in Animation Production.
VIRTUAL TOUR:
Dr. Patricia Green (right) Head, Caribbean School of Architecture discusses
some of architectural details of Guadeloupe presented through videos
and drawings and models to from left, Dr. Paul Ivey, Associate Vice
President, Graduate Studies, Research and Entrepreneurship, Associate
Professor Garfield Young, Dean, Faculty of The Built Environment and Prof.
Stephen Vasciannie.
A Speaker's Forum session ran concurrently throughout the day with presentations from members of UTech, Jamaica
faculty. See list of presentations below.
Cont'd on page 27