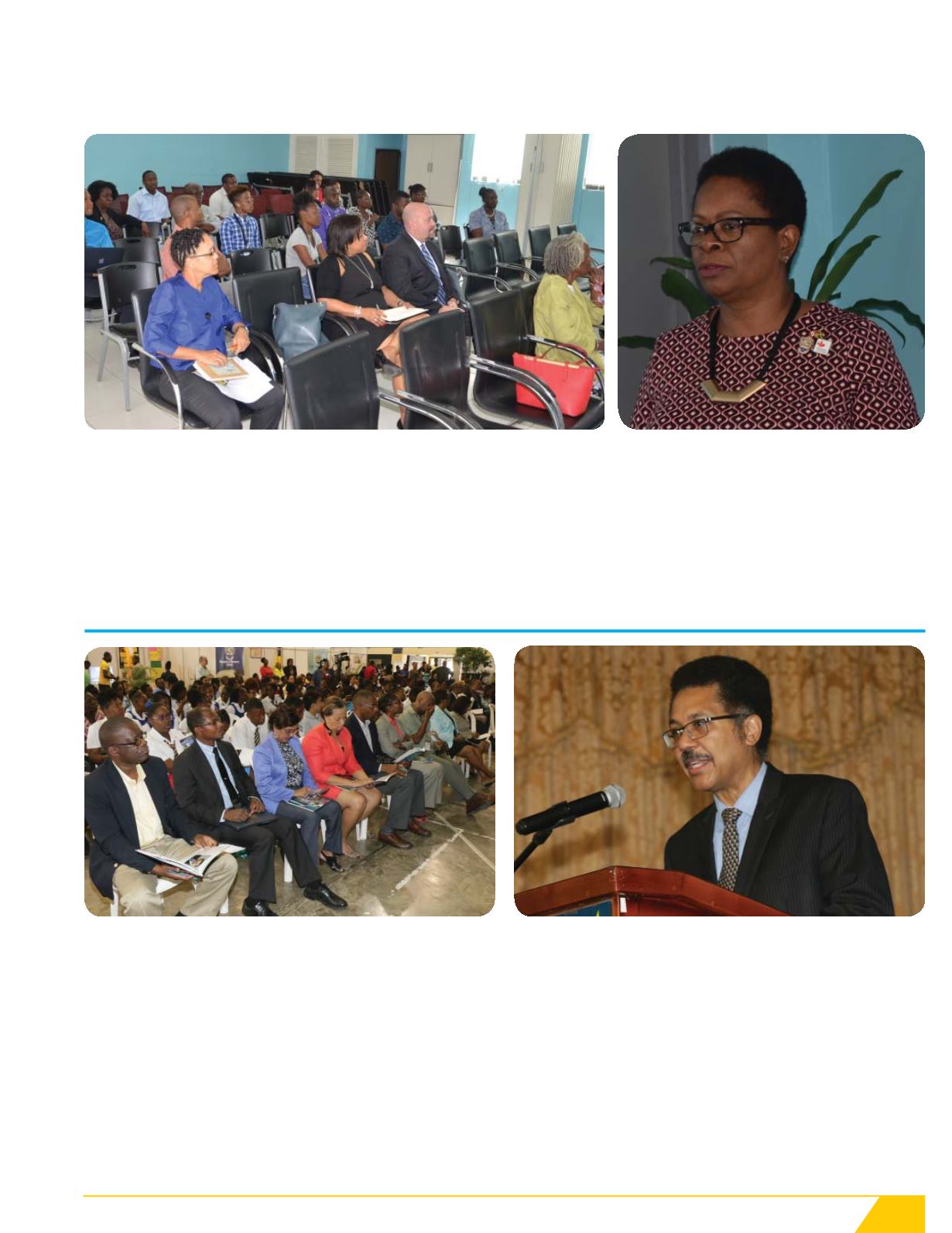 23
April 2017
| VOICES Bi-Monthly Magazine of the University of Technology, Jamaica
T
he University placed a wealth of cutting-edge research and innovation
on display at its annual Research, Technology and Innovation Day
(RTID) held on Thursday, March 30, 2017 at our Papine campus.
Held under the theme, Research in Action for Sustainability and Global
Competitiveness, the one-day showcase attracted a wide cross section
of stakeholders including students, educators, members of government,
members of the diplomatic corps and members of the private sector. They
were provided with the opportunity to view exhibits mounted by each of
the University's three colleges and five faculties and to participate in a
Speakers Forum featuring presentations on current high impact research
and innovation being pursued in the many areas.
University President Professor Stephen Vasciannie, CD delivered the
keynote address which focused on the value of research to the development
of society. "Universities live and die on the basis of the creation and
dissemination of knowledge, "the President noted. Deputy President Prof.
Colin Gyles also offered remarks highlighting the University publication,
titled "Staff Publications: 2007-2016" which was specially produced for
dissemination to patrons of RTID 2017. He noted that the publication is "a
bibliographic listing of hundreds of research papers and presentations done
by UTech, Jamaica's staff during the last decade."
M
embers of the University community recently benefited from a special information seminar facilitated by the Office of International and Institutional
Linkages in collaboration with the High Commission of Canada in Jamaica. The session held on Wednesday, April 5, 2017 at the Technology
Innovation Centre, UTech, Jamaica Papine campus provided information on scholarship opportunities and exchange programmes at Canadian
institutions. Pictured above, Dr. Claire Sutherland, Senior Director, International and Institutional Linkages addresses members of faculty and staff during
the seminar. Presentations were also made by representatives from the Canadian High Commission in Jamaica, Nova Scotia Community College and
Brandon University in Canada.
International Scholarship Opportunities in Canada
Research Technology and Innovation Day
Prof. Stephen Vasciannie, CD, President, University of Technology, Jamaica, delivers the keynote address at the Opening Ceremony for the annual Research, Technology
and Innovation Day held on Thursday, March 30, 2017 at the Alfred Sangster Auditorium, UTech, Ja. Papine campus.