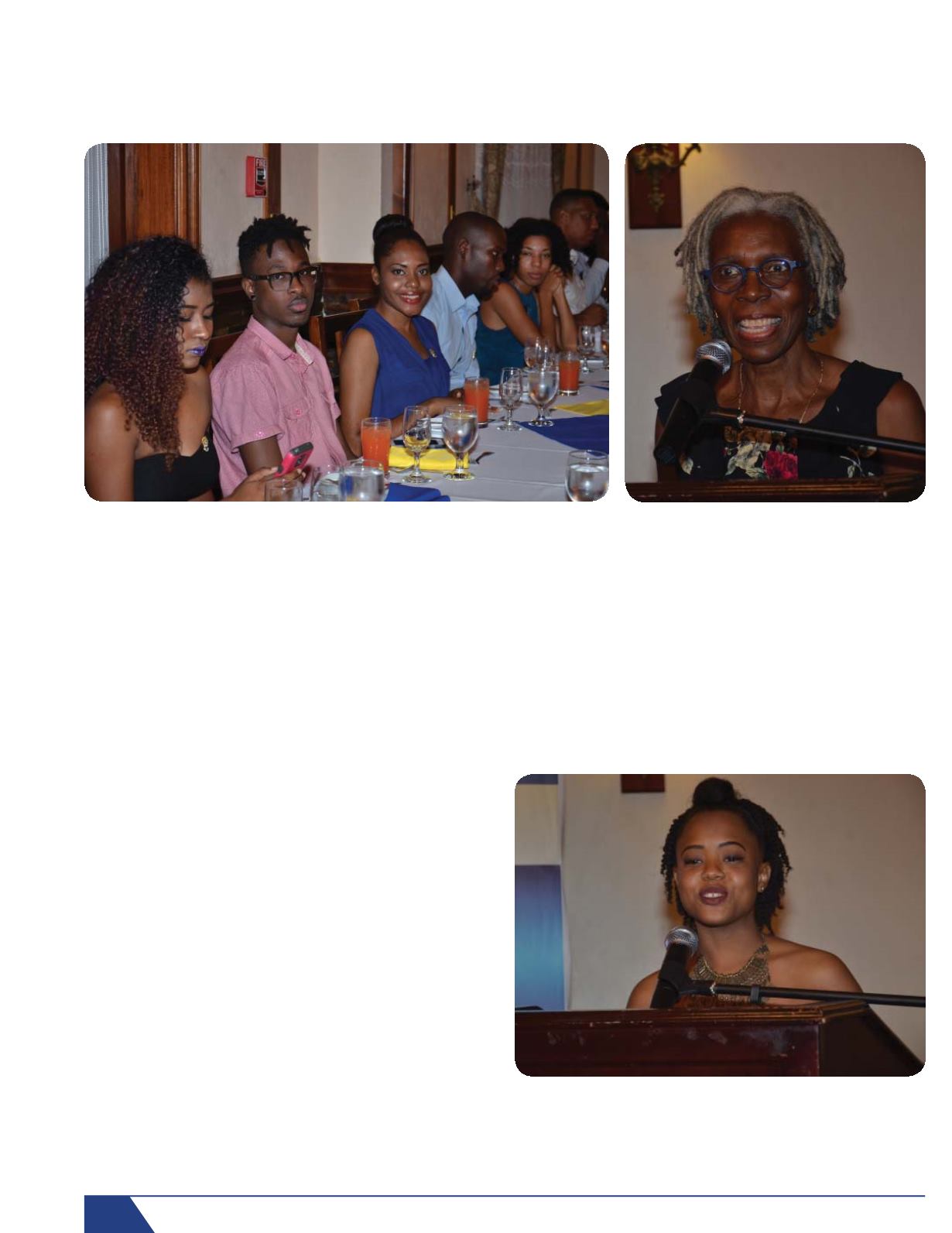 VOICES Bi-Monthly Magazine of the University of Technology, Jamaica |
April 2017
22
Dr Elaine Wallace, University Registrar addressing final year International Students at the 13th annual Registrar's Dinner for International Students held
Wednesday, April 5, 2017 at Hotel Four Seasons, Kingston.
T
he Division of Students Services and Registry led by University Registrar,
Dr. Elaine Wallace, hosted a fitting farewell to final year international
students at the 13th annual Registrar's Dinner for the group held on
Wednesday, April 5, 2017 at Hotel Four Seasons, Kingston. Thirty-eight
(38) international students are currently completing studies for the 2016/17
academic year and are drawn from eleven (11) different countries in the
Caribbean Region. Members of the diplomatic corps represented by some
of these countries participated in the farewell dinner with students.
In her address to the contingent of departing international students, Dr.
Elaine Wallace said that the farewell dinner in honour of the students was
initiated some thirteen years ago and is intended to "show our appreciation to
international students for having chosen UTech, Jamaica and to consolidate
the goodwill gained from our experiences together." The Registrar noted
that the presence of international students adds an important diversity to
the student population and enriches cultural experiences for both students
and the administration. She expressed hope that the students would
continue to serve as alumni ambassadors in encouraging others from their
respective countries to attend UTech, Ja.
Guest Speaker, Deputy President, Prof. Colin Gyles in his address, further
thanked the students for choosing UTech, Jamaica. Noting that "UTech
Jamaica is committed to preparing all of our students to adapt to change as
they prepare to engage with the world and to be equal participants around
the table with their peers anywhere in the globe," Prof. Gyles encouraged
the international students to think of ways in which they can use their newly
acquired knowledge and skills to create new business ventures and ideas
for change that will "generate wealth and well-being not only for yourself,
but for your families, your communities and your country."
Several international students shared aspects of their UTech, Jamaica
experience. Mr Versel Hendrickson, President of the International Students
Association (UTISA) who hails from St. Kitts & Nevis reported that he had "a
full UTech experience" filled with meeting many new friends and attending
several "soca and baccanal parties."
Miss Celess Maison from Trinidad and Tobago shared her inspiring, journey
that was filled with numerous challenges, struggles and setbacks, but which
she has successfully overcome through sheer resilience towards her dream
of studying to become an architect.
Registrar's Dinner for Final Year International Students
Trinidadian final year Caribbean School of Architecture (CSA) student, Miss Celess
Maison shares her UTech, Ja. journey.