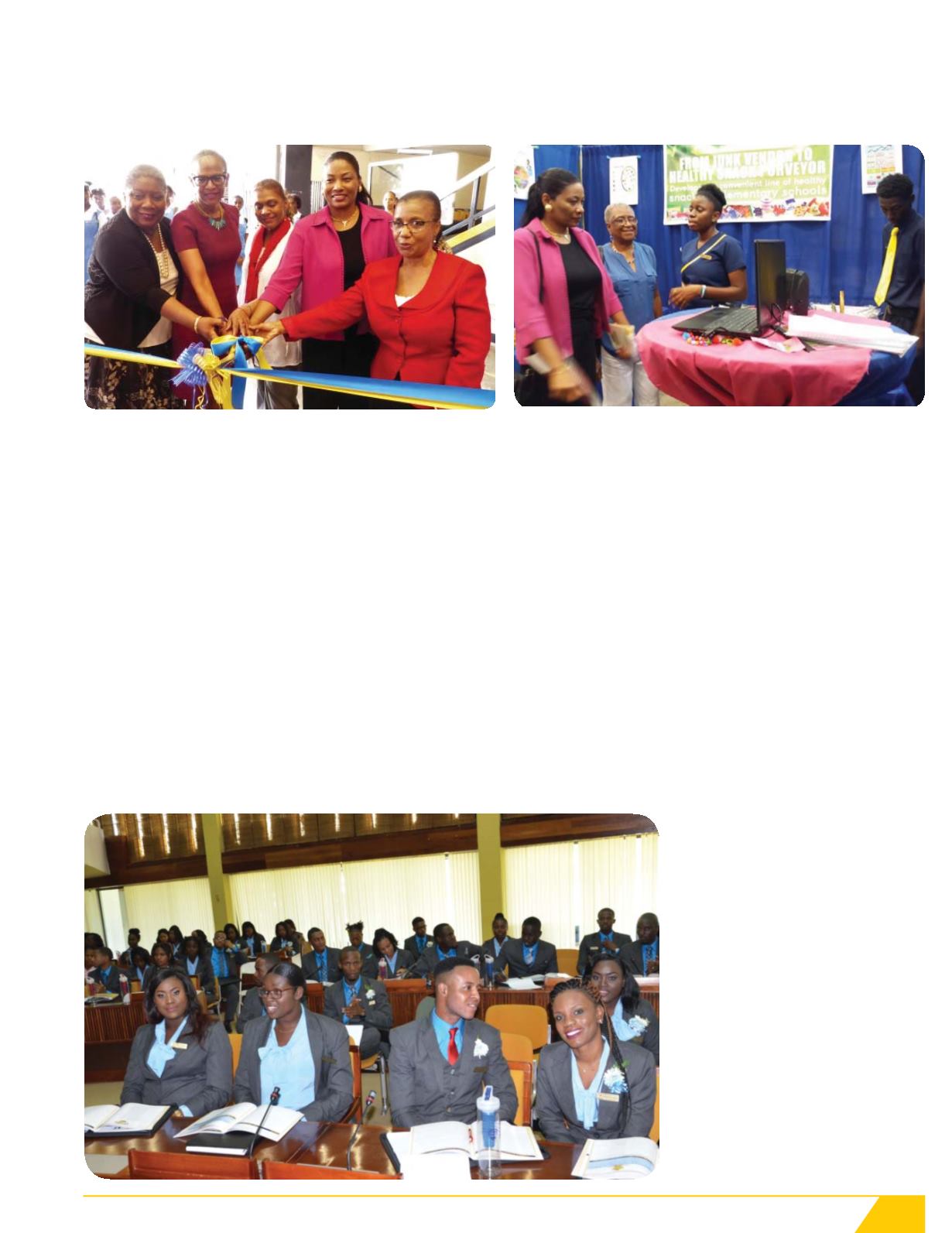 21
April 2017
| VOICES Bi-Monthly Magazine of the University of Technology, Jamaica
T
he School of Hospitality and Tourism Management (SHTM) hosted
its annual SHTM Day on Wednesday, 22 March 2017 at the Alfred
Sangster Auditorium on its Papine Campus under the theme "Social
Inclusion for Growth and Development in Hospitality and Tourism." The
annual exhibition showcases the final research projects of final year
students in the School's two courses of study – the BSc. In Hospitality and
Tourism Management and BSc. in Food Service Management.
The main speakers at the opening ceremony were Dr. Claudette Williams
Myers, Associate Dean, COBAM, Dr. Gaunette Sinclair Maragh, Head, SHTM,
Mrs. Therese Turner Jones, Regional Manager, International Development
Bank (IDB), special guest speaker; and Mr. Damaine Beckford, SHTM
Representative, UTech, Ja. Students' Union Council.
The SHTM Day exhibition featured twenty-nine research projects, including
Culinary Tourism, Creative Tourism in Downtown Kingston, Coffee industry
related tourism, improving the Hotel industry and the development of a
Faith Tourism product. The 2017 SHTM Day was sponsored by Victoria
Mutual Building Society and Grace Foods & Services Company.
SHTM Day 2017
Official Opening:
Cutting the symbolic ribbon marking the official opening of SHTM Day, from left
are Ms. Carole Guntley, Tourism Consultant, Mrs Theresa Turner Jones, Regional
Manager, IDB, Dr. Claudette Williams Myers, Associate Dean, COBAM, Dr. Gaunette
Sinclair Maragh, Head, SHTM and Mrs. Mercedes Deane, Deputy Registrar.
SHTM students explain their research done on the topic, " From Junk Vendor
to Health Snack Purveyor – developing a convenient line of health snacks for
elementary schools" to Head of School, Dr. Gaunette Maragh-Sinclair (left) and a
visitor to the booth.
22
nd
Annual SOBA Student Conference
Final year students completing courses of study
in the seven majors offered by the School of
Business Administration (SOBA) – Accounting,
Administrative and Information Systems
Management, Finance and Banking, General
Management, Human Resource Management,
Production and Operations Management and
Marketing organized plenary and seminar
sessions over the course of the two days of their
22nd Annual SOBA Conference held March 21
-22, 2017 at the Jamaica Conference Centre,
Kingston. Both students and a host of business
industry leaders made presentations on a variety
of current real-world business and management
issues.