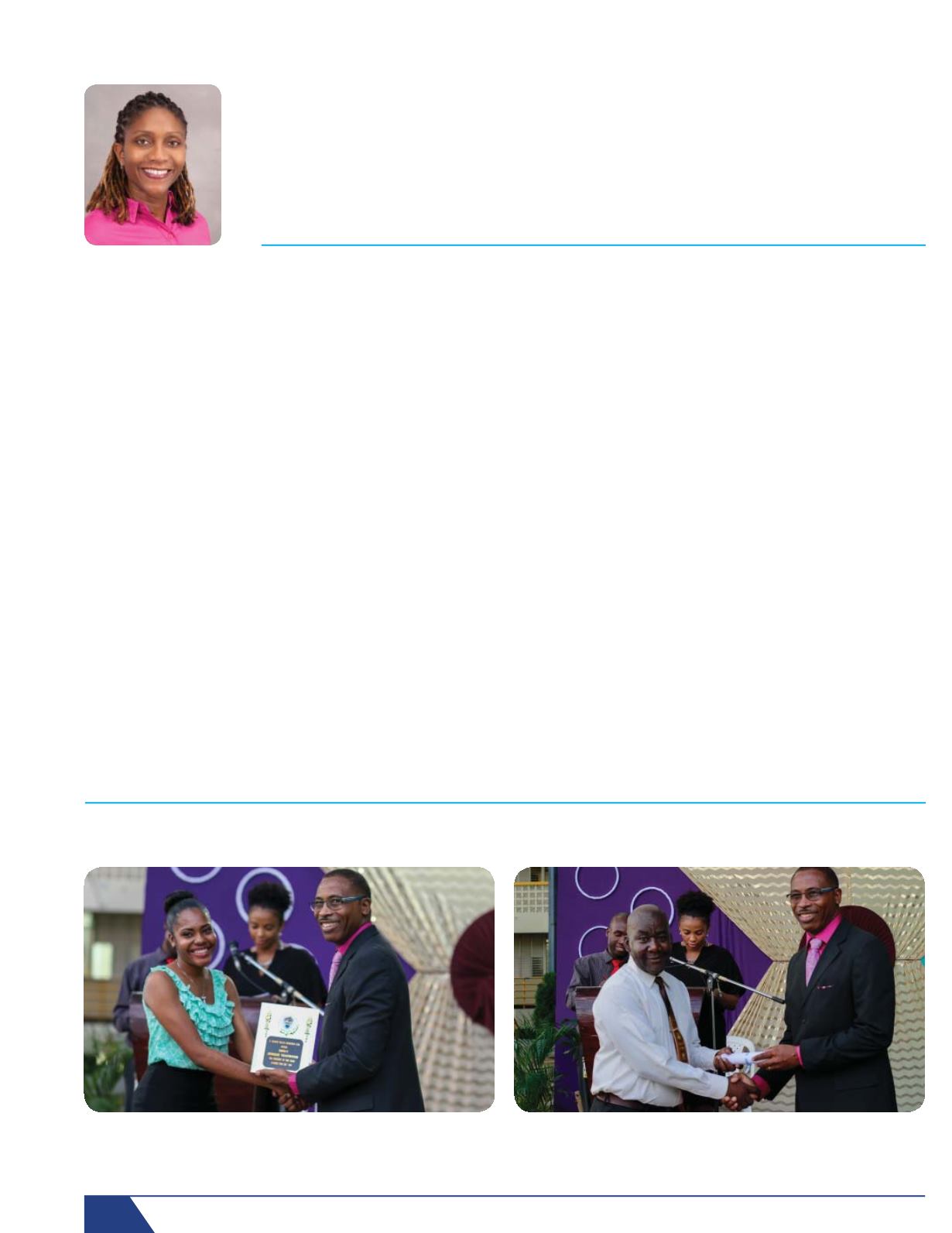 VOICES Bi-Monthly Magazine of the University of Technology, Jamaica |
April 2017
18
A
ccording to the WHO, physical inactivity is the fourth leading cause
of non-communicable diseases (NCDs) such as cancer, diabetes
and cardiovascular disease. Assuming an individual does not abuse
alcohol, smoke tobacco and eats well, chances are they can significantly
reduce the risk for a NCD by being physically active. Physical activity simply
means utilizing adenosine triphosphate (ATP) to engage the musculoskeletal
system to produce a movement. Despite the fact that the health benefits
of physical activity have been long established and are indeed inarguable
many people still posit numerous reasons for not engaging in such activities.
Informal discussions with staff members reveal that many people do not
exercise because, among other things, they perceive they do not have any
time, the exercise is boring, they cannot afford the gym or they have joint
issues.
A 2011 World Economic Forum publication indicated that Jamaica's
economic output is expected to be reduced by approximately US$17 billion
over the next 15 years. Additionally, the Ministry of Health has indicated
that treating NCDs results in significant out-of-pocket expenditure (1). The
average gym in Jamaica costs between 6000-7000/ month. Abdulkadri
et. al., estimated that the cost of treating diabetes in 2001 was US$ 221
million and represented 2.66% of Jamaic's GDP (2). This cost represents
about 35% of the contribution of agriculture to the Jamaican economy. So
let us do the math. According to Zhang et. al., approximately US$1330 is
spent per person per year for diabetes care (3).
A gym membership on the other hand costs approximately US$651 per year
(assuming an exchange rate of US$1 = J$129). This means the excuse of
not being able to afford it means we are foregoing tomorrow's health to
hold on to insignificant savings today. What we truly cannot afford is the
economic burden NCDs place on the Jamaican economy.
We therefore need to get moving. Below are simple tips that do not require
a gym membership, is easy on the joints and results in the production of
mood elevating endorphins. The first thing you need to do is get good shoes
– whether low impact or high impact – our feet bear the brunt of our activity
and so we must ensure that they are adequately protected to reduce the
occurrence of bunions, stress fractures and plantar fascitis. Next, turn up
the music and enjoy whatever elevates you –whether that is Kirk Franklin or
Beenie Man. Research by Nayak et. al has shown that music has the ability
to enhance mood and consequently aid in rehabilitation. Therefore, in order
to get moving and keep moving it is advantageous to set the mood. This
has the potential to reduce the feelings of disinterest and boredom some
may associate with exercise.
Finally, just start moving. If you are just starting out, are overweight or have
an injury then go slow. Simply walking at a pace at which you can maintain
a conversation is adequate. Invest in a treadmill or stationary bike and walk
or ride while you watch the news - the time will speed by. If you cannot
afford the bike or treadmill, get up and walk around your house during each
commercial break. I challenge you therefore to take one small step (a few
actually) towards a healthier you. It could save your life (and your bank
account).
Dr. Kamilah Hylton is the Dean of the Faculty of Science and Sport,
UTech, Jamaica
Moving towards better health:
prevention is better (and cheaper) than cure
By Kamilah Hylton
Faculty of The Built Environment Awards Top Students
Student of the Year Awardees:
From left, Caribbean School of Architecture (CSA) Student of the Year Miss Jenique Yearwood accepts the E. Nadine Isaacs Architect
Limited Award from Dr. Garfield Young, Dean, Faculty of The Built Environment and at right Leroy Rowe, Student of the Year, School of Building and Land Management
(SBLM) and Dean's List Awardee is presented with the Jentech Award.