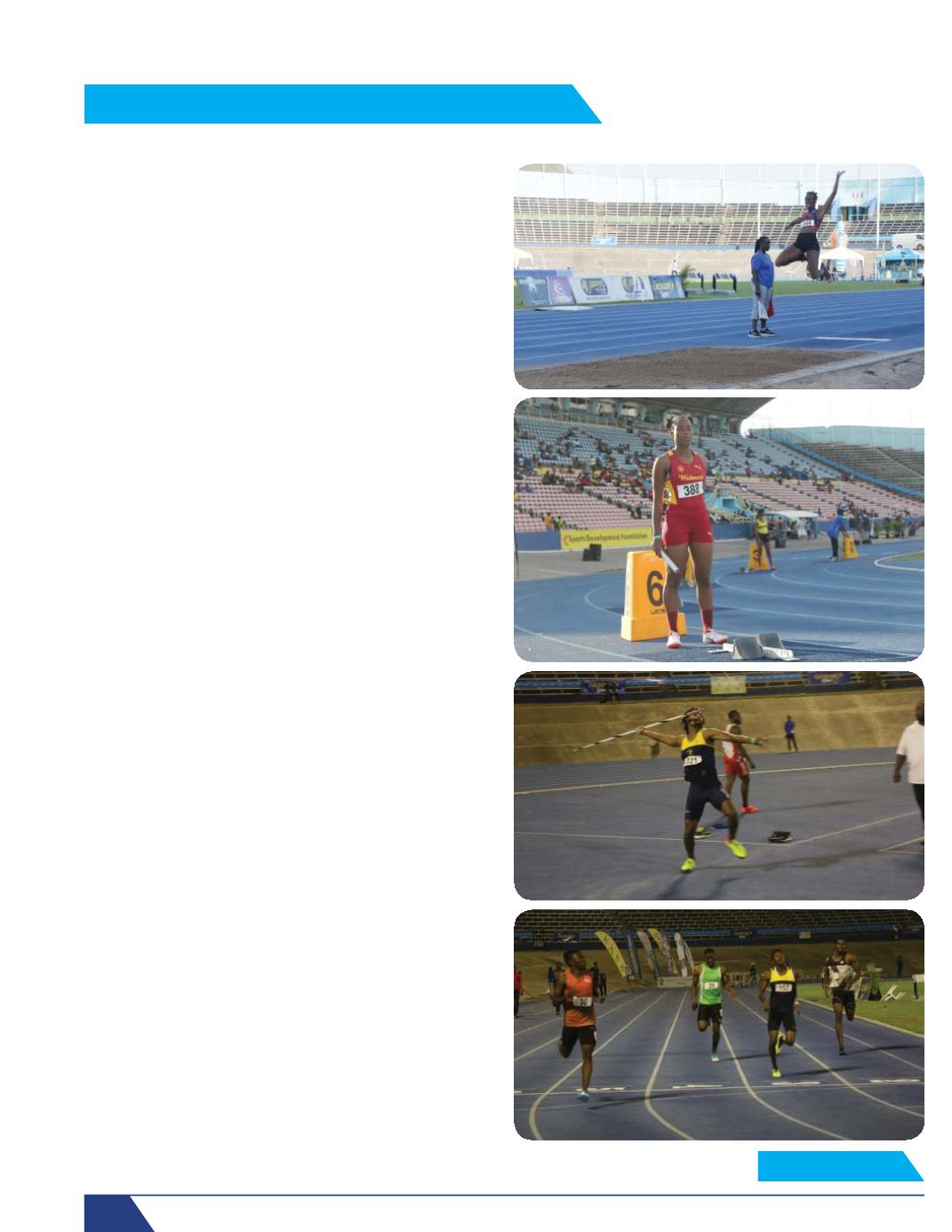 VOICES Bi-Monthly Magazine of the University of Technology, Jamaica |
April 2017
14
U
Tech, Jamaica Knights led the contingent of athletic talent that treated
spectators to an exciting Grand Prix style Meeting at the staging of the
9th University of Technology, Jamaica Track and Field Classic held on
Saturday, April 15, 2017 at the National Stadium.
Billed "Clash of Champions", the 9th Track and Field Classic featured senior
athletes within the collegiate system, along with top athletes outside the
collegiate circuit including paraolympians. The event was also structured
to provide a feeder system for top primary, preparatory and high school
athletes to compete and to give athletes an additional chance to prepare for
the Penn Relays. The Meet also provided preparatory race competition for
athletes preparing for the World Relays held in the Bahamas, April 22 – 23,
2017.
Participating colleges were UWI, GC Foster, The Mico University College
alongside the UTech, Jamaica Knights. Rising star athletes from EXED also
participated along with top athletes from Racers Track Club, Sprint Tech,
Akan and Cameron Blazers clubs.
Results
Double Olympic sprint champion and UTech, Ja. Knight Elaine Thompson
clocked a fast 10.75 seconds to win the women's 100-metre invitational.
Thompson, competing in her first 100-metre race this season, outclassed
her rivals to clock the fastest time this year. However, the time was not
officially recognised as the fastest this season because the 2.2 metres per
second wind reading was above the 2.0 allowable legal limit. Jura Levy
was second in 11.19 with MVP Track and Field Club's Christania Williams
taking third in 11.30.
Thompson after her race said, "it's my 100m season opener, and first I have
to give God thanks for taking me through injury free. I came out here just to
get my first 30 metres and take it from there, but I got a 10.75 with a 2.2
wind…there is more work and more room for improvement."
Kenesha Stephens of Racers Track Club won section one of the women's
100-metre invitational in 11.53 seconds, ahead of Shereca Hemmings
(11.59) of MVP Track Club. British sprinter Zharnel Hughes of Racers Track
Club won the men's 100-metre invitational after clocking the fastest time of
the four races. The wind was just over the allowable legal limit for Hughes
when he won section four in 10.08 (2.3m/s) to easily beat his Racers Track
Club training partner Jevaughn Minzie, who recorded 10.19.
MVP Track and Field Club sprinter Nesta Carter and UTech, Jamaica Knight
Tyquendo Tracey who both competed in section three, recorded identical
times of 10.18 seconds. Tracey was adjudged the winner of that section
and as a result finished second overall with Carter, third overall.
See full results of the 9th Annual Track and Field Classic posted by
sponsor, On di Run Events at
http://ondirun.com.jm/civicrm/event/
info?reset=1&id=284
Other sponsors of the 9th Track and Field Classic were Nike, Lucozade
Sport, ICool, TVJ Sports Network, KLAS ESPN, Hitz FM, RJR, Jamaica
Observer and Guardian Group.
Athletes in action at the Track and Field Classic
Cont'd on page 15
Champions Shine at 9th Track and Field Classic... cont'd from page 13