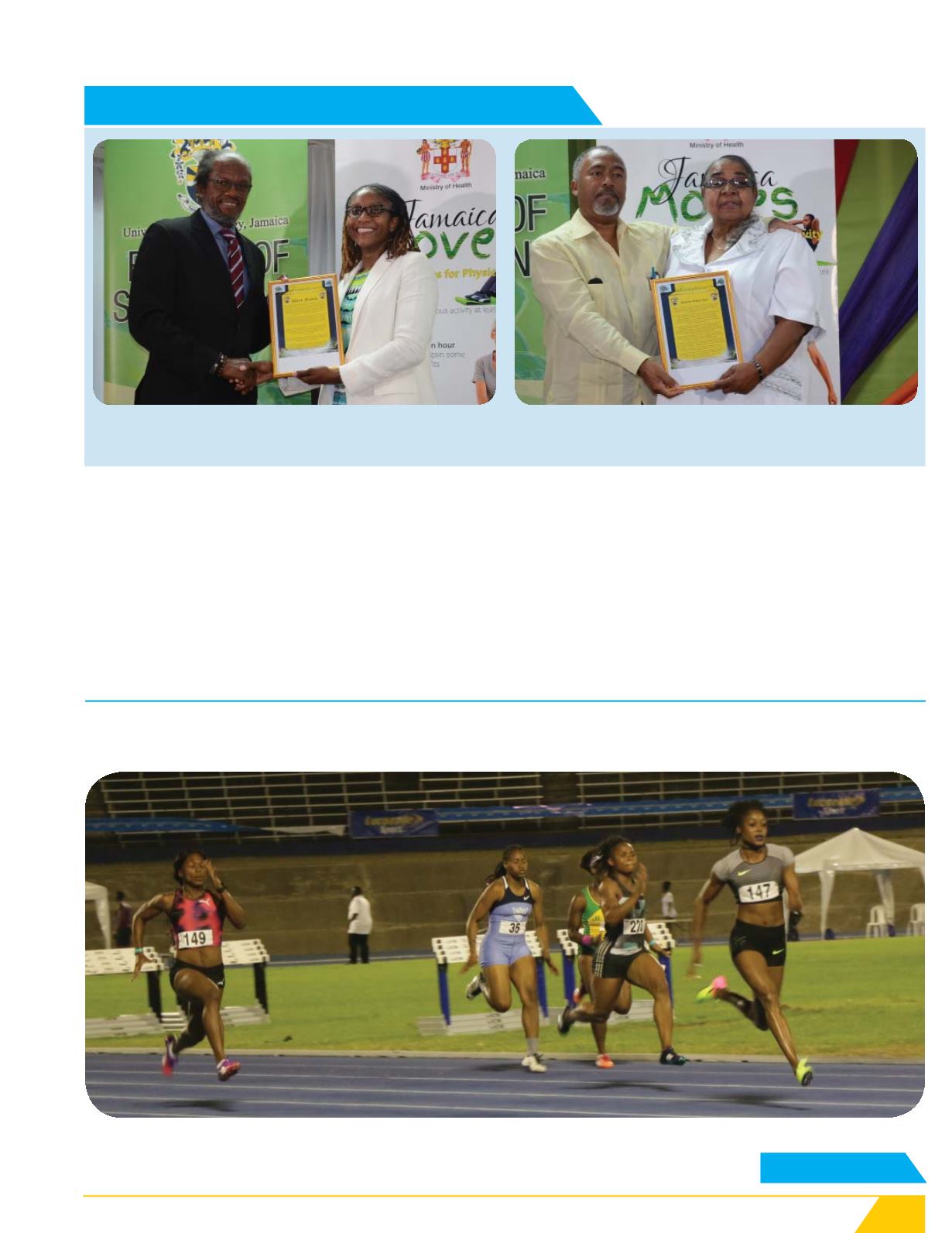 13
April 2017
| VOICES Bi-Monthly Magazine of the University of Technology, Jamaica
Cont'd on page 14
Dr. Kamilah Hylton, Dean, Faculty of Science and Sport presents the Sport
Stalwart award to Mr Alfred "Franno" Francis, road running guru.
Dr. Patrick Williams, Vice-Dean, Faculty of Science and Sport presents the Sport
Stalwart Award to sports all-rounder Mrs. Yolande Geddes.
Dr. Tamu Davidson, Director of Non-Communicable Diseases and Injury
Prevention in the Ministry of Health delivered the keynote speaker at the
opening ceremony on behalf of Hon. Dr Christophe Tufton, Minister of
Health. Other speakers at the Conference included:
• Prof. Stephen Vasciannie, University President
• Ms Andrea Giselle Burbano Fuertes, Programme Specialist for Social
and Human Sciences/Gender Focal Point, UNESCO Cluster Office for the
Caribbean
• Dr. Kingsley Chin, Professor and Orthopaedic Spine Surgeon, FIU/FAU/The
LESS Institute and Managing Partner/CDO KIC Ventures Investment Firm
• Ms. Catherine Carty, UNESCO Chair Manager at the Institute of
Technology, Tralee, Ireland
• Mrs. Vanessa White Barrow, Programme Director, Dietetics and Nutrition/
Child Care and Development Division, College of Health Sciences
• Dr. Donna Marie Wynter Adams, Lecturer/Pharmacologist, School of
Pharmacy, College of Health Sciences
• Dr. Derrick McDowell, Sports Medicine Physician
• Mr. Errol Lynch, renowned United Kingdom –based Tuina massage
practitioner and Chinese medicine specialist.
7th Annual Caribbean Conference on Sport Sciences... cont'd from page 12
Champions Shine at 9
th
Track and Field Classic
Double Olympic sprint champion and UTech, Ja. Knight Elaine Thompson (foreground) on her way to winning
the women's 100-metre invitational.