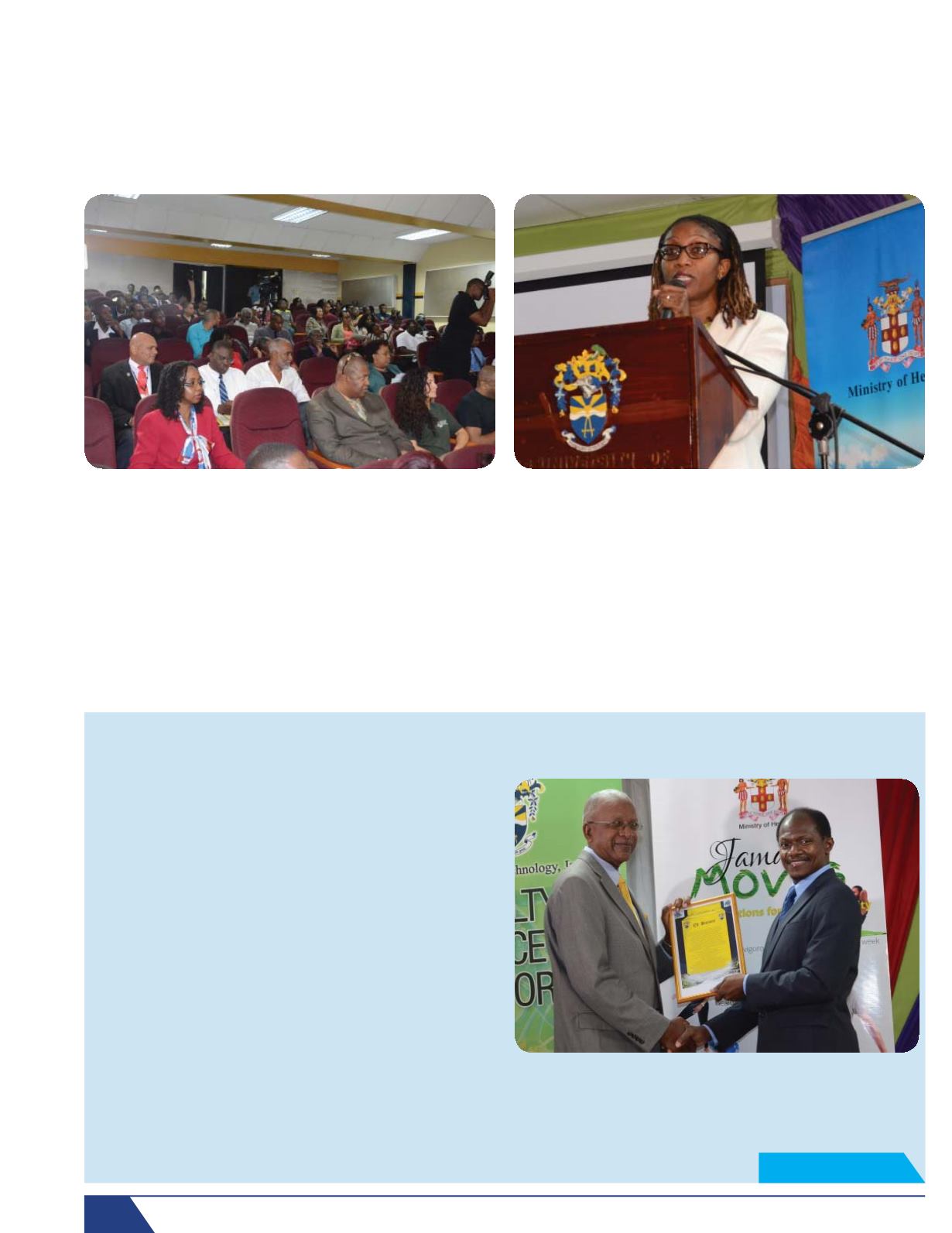 VOICES Bi-Monthly Magazine of the University of Technology, Jamaica |
April 2017
12
7
th
Annual Caribbean Conference on Sport
Sciences Focuses on Physical Activity & Health
Sport Stalwarts Honoured
T
he Faculty of Science and Sport hosted the 7th Annual Caribbean
Conference on Sport Sciences on Wednesday, April 12, 2017 at the
UTech, Jamaica Papine campus under the theme: Physical Activity
and Health: Moving from Prescription to Prevention. The Conference was
held in association with the Ministry of Health and UNESCO.
True to the its theme, the successful one-day conference provided
participants with a balanced mix of presentations on developments in
research and best practice interspersed with bursts of actual physical
exercise led by both presenters and specially invited groups.
Dean of the Faculty of Science and Sport, Dr. Kamilah Hylton in her welcome
told the large gathering of coaches, physical education practioners, students
and members of the sporting fraternity that the conference's focus on
physical activity and health was being held against the background of
alarming data related to the spiralling rate of non-communicable disease
(NCD) and the attendant burden on economies, especially in low and middle
income countries.
Dr. Kamilah Hylton, Dean Faculty of Science and Sport welcomes participants to the 7
th
Annual Caribbean Conference on Sport Sciences hosted by the Faculty on
Wednesday, April 12, 2017 at the UTech, Ja Papine campus.
During the opening ceremony of the conference, the University
honoured three national stalwarts who received special plaques
and citations in acknowledgement of their contribution to the
development of sport – Mr Edward Barnes, veteran sports
broadcaster with over 40 years of active service in the field of
journalism, Mrs. Yolande Geddes-Hall, all-rounder who represented
Jamaica in four different sports, namely cricket, netball, table
tennis and softball and opened the doors for females in sport and
Mr Alfred "Franno" Francis- the face of road running in Jamaica
who has popularised and professionalised corporate running
events through his company Running Limited which has helped to
make healthy living a movement among people of all walks of life,
ages and stages.
Responding on behalf of honorees, Mr Barnes thanked the
University for "taking the time to recognize what we do," noting
that this acknowledgement is sufficiently the greatest honour for
him.
Prof. Colin Gyles (right) Deputy President, presents the University of
Technology, Jamaica Sport Stalwart Award to Mr Ed Barnes, Veteran
Broadcaster.
Cont'd on page 13