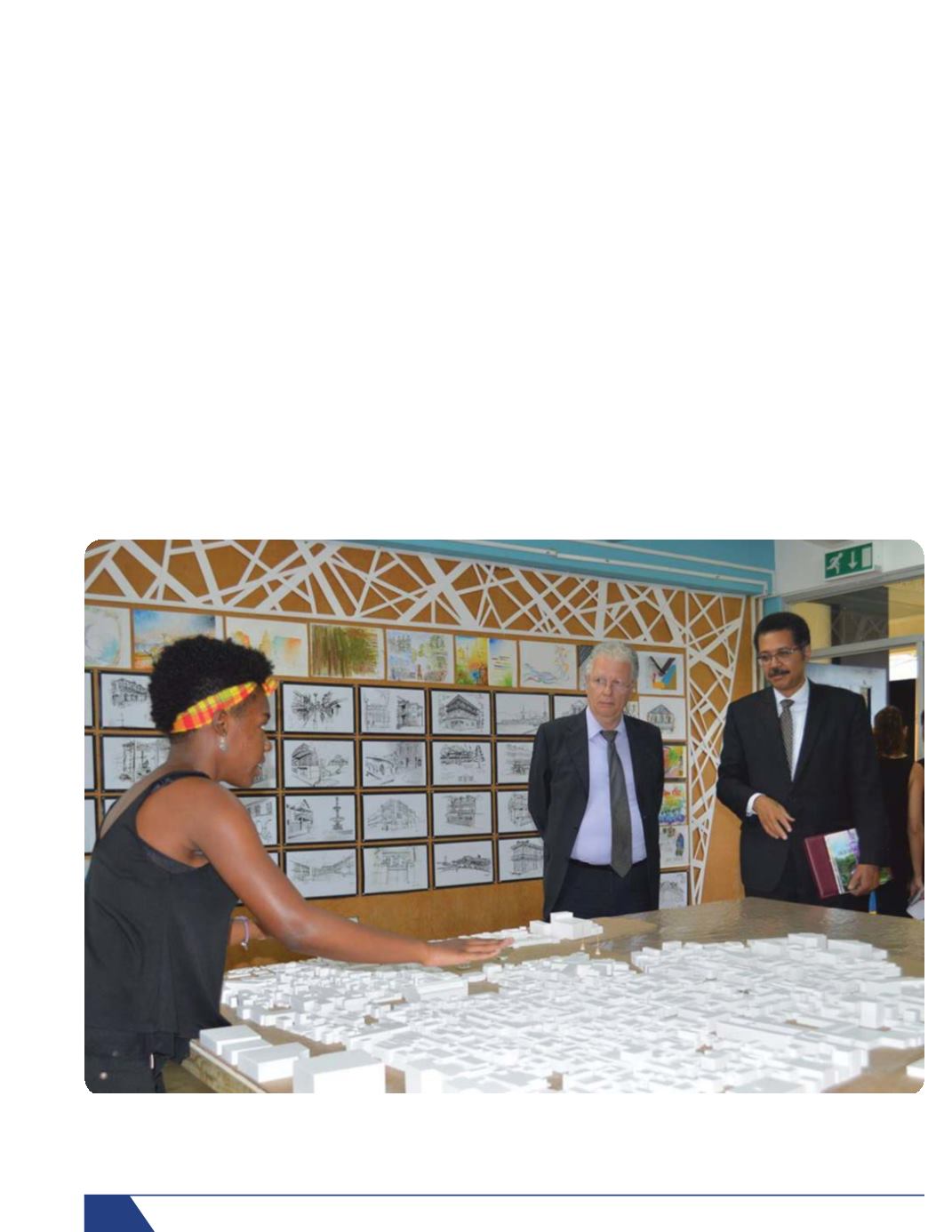 VOICES Bi-Monthly Magazine of the University of Technology, Jamaica |
April 2017
10
CSA Study Tour in Guadeloupe
T
wenty-seven third year students from the Caribbean School of
Architecture (CSA) in the Faculty of The Built Environment participated
in a study tour of Point-à-Pitre, Guadelope from January 26 – February
7, 2017. The two-week study tour of the city of art, history and culture
enabled the students to gain first hand perspective on the architectural
history of Point-à-Pitre.
The students in their report noted that "from an academic standpoint, the
opportunity of a study tour gave us different perspectives on architecture,
synthesizing tangible observations of the development, shape, urban
character, urban fabric and civic imagination of Pointe-a-Pitre as a reflection
of its inhabitants."
Each day started with a walk through the city of Point-à-Pitre sketching
interesting aspects of the architecture. The students were divided into
groups to examine the landmarks of the city, pathways, nodes, edges,
architectural elements, etc. The information was documented through
sketching perspectives, sections and floor plans to comprehensively
articulate how people interact with their built environment.
"With major landmarks as the primary focus, the city was examined in
quadrants by teams that identified the street fabric, building setbacks,
typologies present, and pathway intersections. The findings were presented
at the end of the day to our lecturers who discussed with us how to
interpolate the information by recognizing how people use spaces and
what qualities created the atmosphere for transition or pause. We were also
urged to understand the cultural narrative which showed the birth of the city
and its evolution," the students reported.
The study tour is central to the curriculum employed in the Bachelor of
Arts Degree in Architectural Studies. On their return to the University, the
students were required to make a presentation of their findings. Their
presentations form the basis for their studio decisions during the rest of
the semester. Each student was required to design an intervention on a
designated site in Pointe-à-Pitre.
The students were accompanied on the CSA study tour by Mr. Franz-Joseph
Repole and Mr Alfred Shaw, part-time Lecturers, Architecture.
3
rd
year CSA student, Madison Powell explains the model of Pointe-à-Pitre that formed part of the students' presentation following the study
tour of Guadeloupe. Listening intently are His Excellence Jean-Michel Despax (centre) French Ambassador to Jamaica and Prof. Stephen
Vasciannie, President, CD, President.