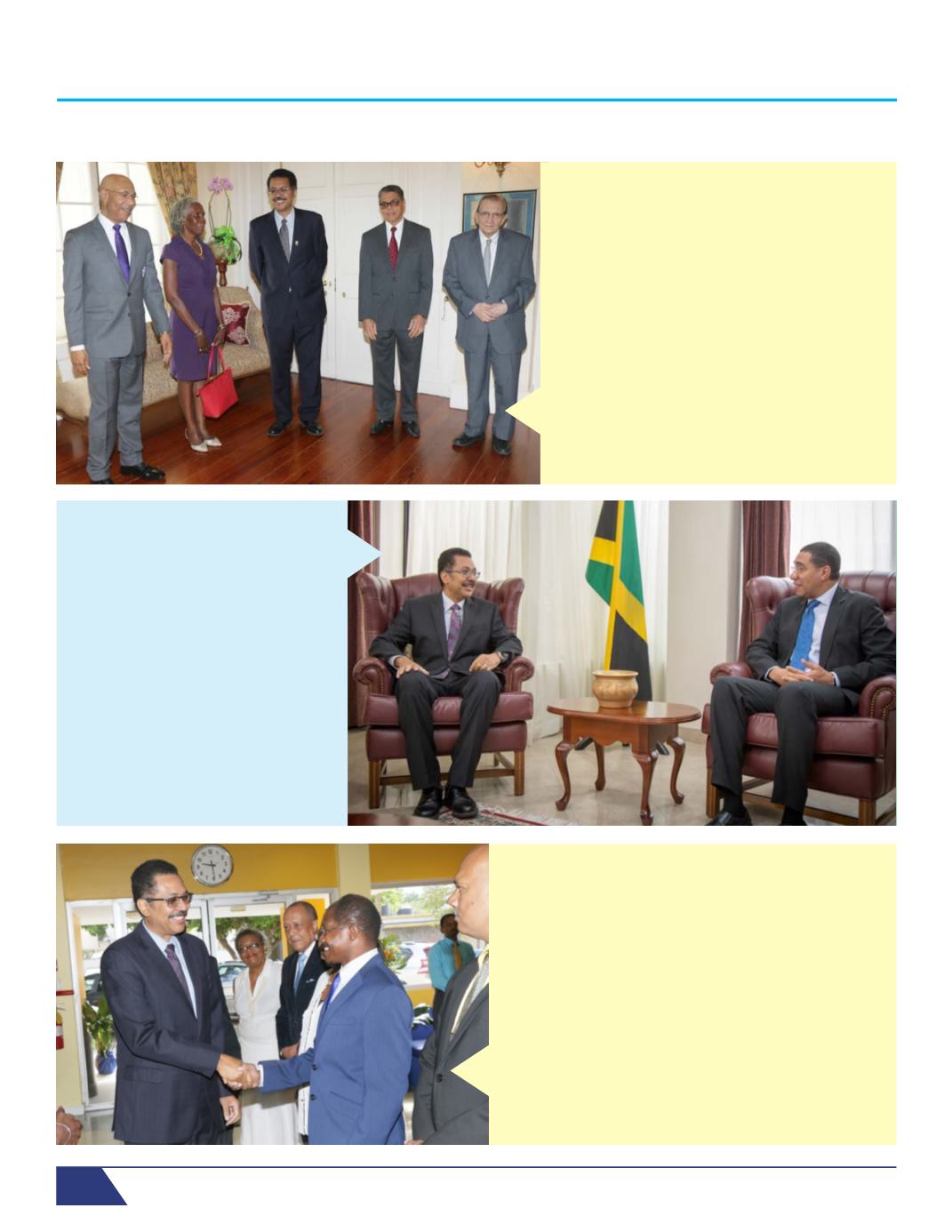 VOICES Bi-Monthly Magazine of the University of Technology, Jamaica |
February 2017
8
HIGHLIGHTS: President's Onboarding
President Vasciannie Meets Stakeholders
COURTESY CALL ON THE GG:
His Excellency the Most Honourable Sir Patrick
Allen, ON, GCMG, CD (left), Governor General
shares pleasantries with Officers of the University of
Technology, Jamaica who paid a Courtesy Call on
him at King's House on Thursday, February 23, 2017.
From left are Dr Elaine Wallace, University Registrar,
Prof. Stephen Vasciannie, CD, President, University
of Technology, Jamaica, Mr Richard Powell, Pro-
Chancellor and the Most Hon. Edward Seaga, ON, PC,
Chancellor.
FIRST DAY ON THE JOB:
Prof. Stephen Vasciannie, CD (left), newly appointed President of
the University of Technology, Jamaica (UTech, Ja.) is welcomed
by Prof. Colin Gyles (2nd right), Deputy President on his arrival
at the Papine campus on Monday, January 3, 2017. Sharing
in the occasion from left, are UTech, Jamaica Council Member,
Hon. Shirley Tyndale, OJ, Mr. Aldrick McNab, Mrs. Sharon Hay-
Webster (partially hidden) and Mr. David Drysdale, University
Librarian.
COURTESY CALL ON THE PM:
Prof. Stephen Vasciannie, CD (left) in
conversation with Prime Minister, the
Most Honourable Andrew Holness,ON, MP
during a courtesy on the Prime Minister
on Tuesday, January 31, 2017 at the
Office of the Prime Minister, Kingston.
Prof. Vasciannie was accompanied by
Mr. Richard Powell, Pro-Chancellor and
Mr Aldrick McNab, Member of Council,
UTech, Jamaica.