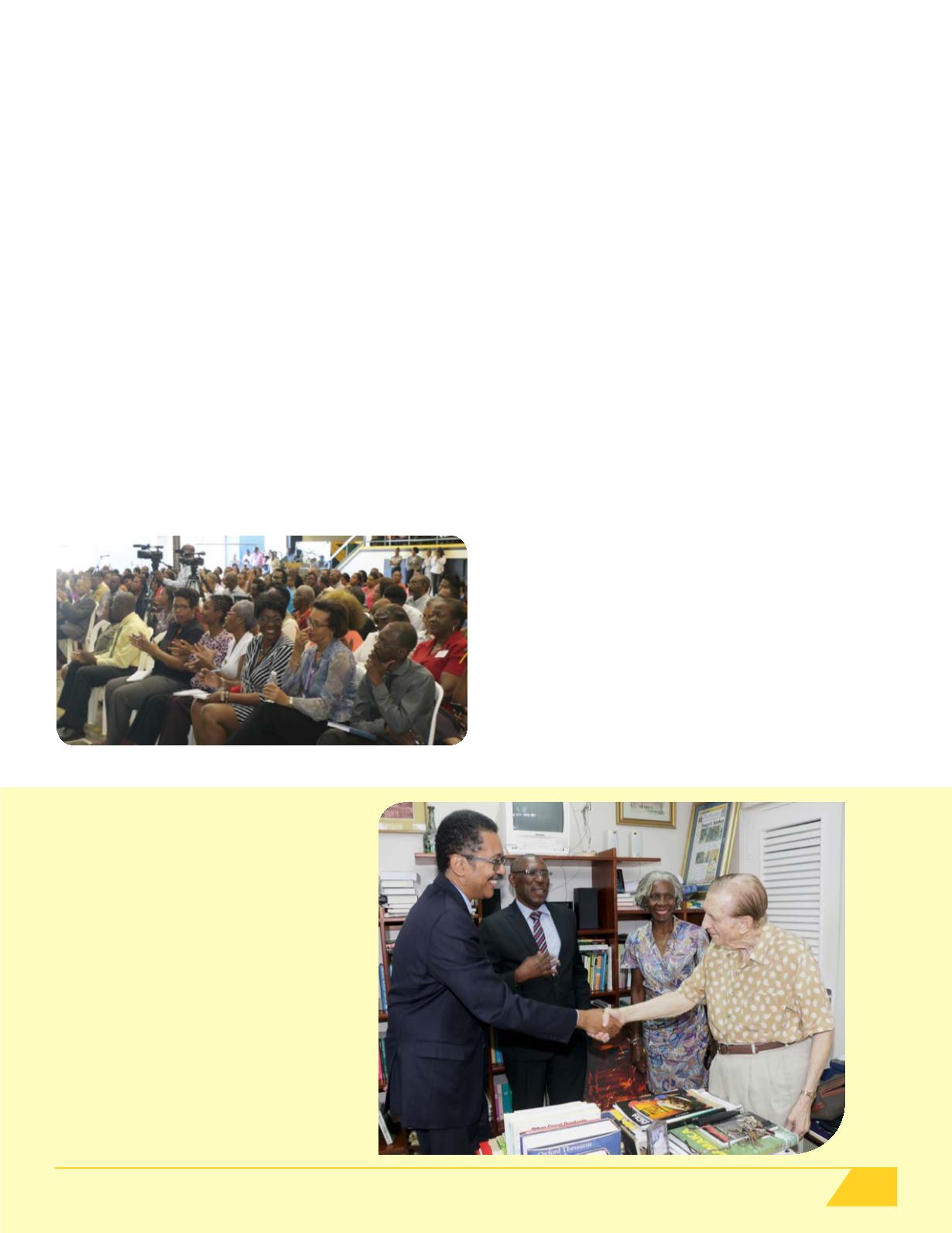 5
February 2017
| VOICES Bi-Monthly Magazine of the University of Technology, Jamaica
of his personal vision in working together with both internal and external
stakeholders to ensure the good name, reputation and advancement of
UTech, Jamaica.
Meetings with Internal and External Stakeholders
Turning his attention to some of the varied issues and concerns which
have been raised by internal and external stakeholders during a series
of meetings and courtesy calls since taking up office on January, 3, Prof.
Vasciannie noted that he will engage in further discussions before putting
forward a detailed statement on the various matters.
Prof. Vasciannie specially thanked his predecessor Prof. Colin Gyles who
acted as President for the period August 2015 to December 2016 for his
"hard work in holding the fort" and for being a source of information about
developments at UTech, Ja. He also expressed gratitude to Dr. Haldane
Johnson who acted as Deputy President during that period and extended
appreciation to the Council led by Pro-Chancellor Mr. Richard Powell who
was key in his recruitment as President, as well as to University Registrar,
Dr. Elaine Wallace and Deputy Chairman of Council, Mr. Michael McAnuff-
Jones "who have been instrumental in providing guidance and insight."
Student-Friendly Environment
The new President's well-received address was punctuated with nodding
approvals and spontaneous applause as he outlined a number of operational
areas he would like to see bolstered. Among them - an enhanced student-
friendly environment and the promotion of student scholarship, interests
and learning. He also called for greater focus on independent research and
publishing that will feature aspects of the work of UTech, Jamaica in the
context of the Jamaican society.
Referencing an held opinion that UTech, Jamaica should "focus on
technology and scientific matters and leave other subjects to other places,"
Prof. Vasciannie emphasized that "our focus on technology and scientific
matters need not prompt us to ignore other issues," pointing out that
areas such as business related studies leading to commercial activities
are of profound significance to Caribbean societies. Prof. Vasciannie also
noted that UTech, Jamaica should maintain its commitment to teaching
and research in the humanities, law and other areas which are not purely
scientific. "There is no case for any one institution having a monopoly,
by right, over any area of study in a Jamaica committed to competition,
increased opportunities and enhanced enrolment for students," he affirmed,
to loud applause from the large gathering of staff present.
Alternative Funding Opportunities
Prof. Vasciannie called on stakeholders to work more assiduously to
promote alternative sources of funding, citing greater partnership with the
private sector at home and abroad within the ambit of "good governance
practices and transparency."
He ended his remarks with an appeal for reconciliation and healing within
the University community. "I suggest that we work calmly and carefully to
heal the breaches that may exist within our community," he said, adding that
"reconciliation does not require us to abandon our principles and values, but
it requires us to listen to each other." Noting that "UTech has made valuable,
practical contributions to the lives of thousands of Jamaicans," he called for
a "redoubling of our efforts to continue our major contribution to national
development, to serve our students, to enhance research and innovation
for development, and to improve social understanding as Jamaica seeks to
move from the Third World to the First."
A robust question and answer session followed in which the President
responded to questions and comments made by members of faculty and staff.
CALL ON THE CHANCELLOR:
The Most Hon. Edward Seaga, ON, PC (right) Chancellor,
University of Technology, Jamaica (UTech, Ja.)
welcomes Prof. Stephen Vasciannie, CD, President,
University of Technology, Jamaica (UTech, Ja.) during
a courtesy call on him on Friday, January 6, 2017 at
Mr. Seaga's Distinguished Fellow Offices at UWI, Mona.
Prof. Vasciannie was accompanied by Michael McAnuff-
Jones, Deputy Chairman of Council and Dr Elaine
Wallace, University Registrar. The courtesy call on the
Chancellor was part of a series of on boarding activities
to introduce Prof. Vasciannie to the University's internal
and external stakeholders.
HIGHLIGHTS
Members of staff at the president's frst staff meeting.