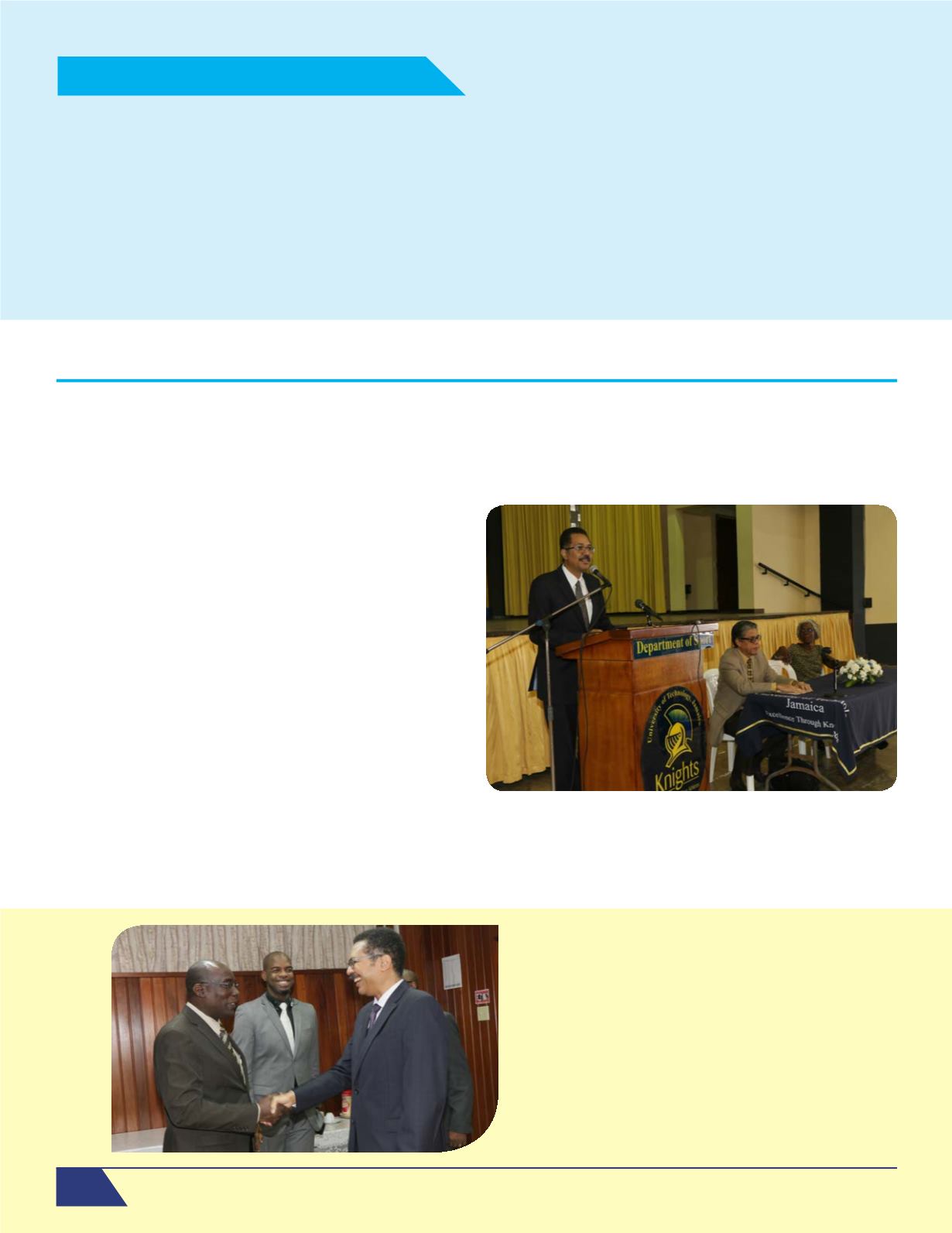 VOICES Bi-Monthly Magazine of the University of Technology, Jamaica |
February 2017
4
WELCOME ON BOARD:
Senator the Hon. Ruel Reid, CD (left), Minister of Education, Youth and
Information and Prof. Stephen Vasciannie, CD, President, University
of Technology, Jamaica (UTech, Ja.) share a hearty laugh during a
courtesy call on the Minister at the Ministry of Education on Thursday,
January 5, 2017. Prof. Vasciannie took up office as President of UTech,
Ja. on Tuesday, January 3, 2017. Looking on is Robert Miller, Senior
Advisor to the Minister.
A
capacity audience of members of faculty and administrative staff
turned out at the Alfred Sangster auditorium, UTech, Jamaica's
Papine campus on Tuesday, January 10, 2017 for an introductory
meeting with new President, Prof. Stephen Vasciannie, CD.
In his wide ranging address to staff, Prof. Vasciannie shared his personal
vision for his stewardship as President of the University, which he
emphasized, will be anchored by an inclusive approach to decision making.
"It is prudent for me to continue consultations with the various stakeholders
of the UTech, Ja. community with a view to ascertaining your perspectives,"
he said, adding that "I will seek to find out your own vision for the institution:
where are we now, in your view? Where should we seek to go? And what
are some of the constraints that limit the great potential that UTech, has in
serving Jamaican society and the wider Caribbean."
The incoming President articulated his intention to oversee an "inclusive
institution where attention is paid to the views of the different stakeholders."
To thunderous applause from the gathering, Prof. Vasciannie underscored
that his
modus operandi
will be one of open channels of communication,
"transparency, fairness, justice and integrity" as principled components
HIGHLIGHTS
HIGHLIGHTS: President's Onboarding
Vasciannie Shares Vision for UTech, Jamaica
at First Staff Meeting
Prof. Stephen Vasciannie, CD (at podium) President, delivers his inaugural address
to members of faculty and staff during a general staff meeting held at the Alfred
Sangster Auditorium, UTech, Jamaica Papine campus on Tuesday, January 10,
2017. Seated at the head table are Mr. Richard Powell, Pro-Chancellor, who
introduced the President and Dr. Elaine Wallace, University Registrar.
been a member of the Board of Scotiabank Jamaica, and has chaired the
Boards of Scotia Investment Jamaica and of his alma mater, Kingston
College. Between 2012 and 2015, he served as Jamaica's Ambassador
to the United States of America and Permanent Representative to the
Organization of American States (OAS). In the latter capacity, he was elected
Chairman of the Permanent Council of the OAS for the period August to
October 2012, and as Chairman of the OAS Committee on Juridical and
Political Affairs for the year 2014 to 2015.
Ambassador Vasciannie's standing in International Law was also recognized
when he was elected by the United Nations to serve on the UN International
Law Commission for the five-year period from 2007. Throughout this period,
which saw his election to serve as General Rapporteur of the Commission
in 2010, he played an active role in the codification and progressive
development of International Law.
He has published several books and more than 40 articles in international
and regional journals of scholarly research, and has served as a consultant
to various international organizations on questions of law and public policy.
For his services to Jamaican Education, Law and International Relations,
Ambassador Vasciannie received the national award of Order of Distinction
(Commander Class) in 2015.
Ambassador is married to Lisa and they have two sons.
President cont'd from page 3